Although 2020 has been a tough year for business, we've worked hard to help our clients respond and adapt to the global pandemic. As a Diamond HubSpot Partner Agency, we use the platform's powerful tools and methodology to help businesses drive leads and growth. Earlier in 2020, Inbound FinTech picked up HubSpot Impact Awards for both Sales and Website Design. And in Q3, we were excited to find out that we'd won two more HubSpot awards for Marketing and Integrations.
Learn more about these awards and how our talented team uses the HubSpot platform to transform the digital strategies and performance of Financial Services businesses.
HubSpot awards for creating significant impact for clients
So, what are the HubSpot awards we won and what do they represent? In Q3, HubSpot recognised the success of the multi-faceted marketing strategies we created and implemented for a well-known FinTech analyst firm and our integration work for a client we migrated from Salesforce to HubSpot.

HubSpot hands out Impact Awards for excellence in the following areas:
Marketing
Sales/Sales Enablement
Integrations Innovation
Website Design
Service
Our double success in the Q3 HubSpot Impact Awards follows on the two other HubSpot awards we won in Q1 (Sales) and Q2 (Website Design). Check out our award-winning case studies for Sales and Website Design:
HubSpot award for marketing transformation

The HubSpot award for Marketing recognised the transformative strategies we planned and rolled out for a leading FinTech analyst and publisher, IBS Intelligence.
We audited the client's website and content and, based on our research and the goals of the business, we utilised various tools and tactics, powered by HubSpot's Marketing Hub, to drive significantly more leads and nurture them effectively. Our research, analysis and data-driven campaigns delivered impressive performance improvements across a range of metrics, setting them up for ongoing success and optimisation.
The client was impressed by the vast automation capabilities available in HubSpot and the insights, segmentation and personalised communications made possible. We streamlined their processes and empowered their team to make the most of the platform's tools.
"HubSpot's marketing tools are extremely useful for carrying out digital marketing activities across different channels. All our marketing efforts can be tied into one campaign, helping us to analyze performance effectively and add context to the metrics. I can segment contacts in the CRM, based on lifecycle stage and web activity for more personalized communications. This improves email marketing metrics, goal conversions and delivers more MQLs and SQLs for the Sales Team." - Priyanka Wani, Marketing Manager at IBS Intelligence.
Learn more about the award-winning marketing strategies here: How HubSpot's Marketing Tools Got Results for IBS Intelligence in Just 3 Months.
Award-winning HubSpot integrations project

Our recent HubSpot award for Integrations was for the innovation demonstrated and seamless delivery of a HubSpot migration for Pusher (a top app notifications provider). In migrating the client from Salesforce to HubSpot, they required integrations with five other software platforms for data consolidation.
The award recognised the technical expertise and strategic planning demonstrated in the migration, in which we ensured there would be no downtime for the client. The Sales Team was able to hit the ground running on HubSpot from day one, thanks to our HubSpot training, sales enablement and smooth integration.
The client was extremely happy with the results of the migrations and the data consolidation enabled by the integrations. Here's some thoughts from the Sales Team:
"Switching to HubSpot made a massive difference to the team. We no longer spend half our day trying to find the data we need - it's available to us through HubSpot reports. The CRM is really easy to use, and having all the data in one place has made our jobs so much easier. Inbound FinTech has been a pleasure to work with, supporting and guiding our team throughout the process." - Pusher Sales Team
Learn more about the award-winning migration project here: How to Migrate from Salesforce to HubSpot in Under 6 Weeks.
Secrets to our success?
These two recent HubSpot awards make it four HubSpot Impact Awards in one year! And we're not done yet. Plus, Inbound FinTech was also named Best FinTech Marketing Agency in 2020 in Wealth & Finance magazine's annual FinTech Awards.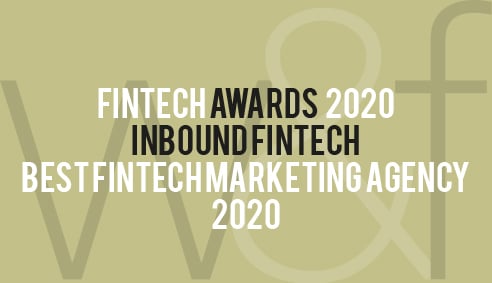 So, what are the secrets to our success? Well, we combine deeper sector knowledge of the industry in which our clients reside, and the pain points and challenges they face, with a data-driven approach that ensures our clients' goals and the needs of their ideal customers (buyer personas) are aligned and addressed in every plan, strategy and campaign we deliver.
From a HubSpot perspective, we've built a talented and experienced team of HubSpot experts, who know the platform inside out, with knowledge of all the latest features and capabilities across HubSpot's Marketing, Sales, Service and CMS products.
Here's what's Coman Doyle, Principal Channel Account Manager at HubSpot said about Inbound FinTech's recent achievements:
"Winning one award is considered excellent, so I don't know what we would call winning two at the same time. Exceptional? Spectacular? Incredible? - maybe all of them. It also cannot be ignored the level of work, commitment and skill that a HubSpot Partner needs to win these awards - they beat out hundreds of Partners that also met the criteria to even be considered for the awards. Hats off to Sheila Mitham, Maria Milea and the wider team at Inbound FinTech. Another brilliant and deserved award."
Inbound FinTech Managing Director, Maria Milea Inbound FinTech and CEO Sheila Mitham were bowled over by the latest HubSpot awards for Marketing and Integrations, with Maria saying: "I am SO proud of everything that we have achieved so far. Q4, bring it on!" While Sheila said she was "over the moon" and looking forward to more success and growth, saying "our HubSpot journey continues".
Summary: How we can help you drive growth with HubSpot
The agency has enjoyed fast growth since being founded in 2017, becoming a HubSpot Diamond Partner in early 2020 and winning six HubSpot Impact Awards during this time, alongside various other marketing awards. Our growth is closely tied to our clients' success. The awards we've won recognise the impact we've delivered for clients through our effective use of the inbound methodology, HubSpot's CRM platform and its powerful growth tools.
We specialise in driving digital growth for FinTech and Financial Services businesses, from start-ups to SMEs and established brands. Our technical expertise also enables us to manage transformational CMS and CRM migrations, as well as modern website development and website redesign projects.
If you'd like to discuss a project with us, speak to our HubSpot experts today. We can talk through your key business challenges and goals, offering advice on how to grow your business.
---
Inbound FinTech is an award-winning Financial Services marketing agency and a Elite HubSpot Partner. We have an HQ is in London, but we're a hybrid agency with a global team and client base. Our diverse team has a wide range of skills and expertise to drive leads and growth for businesses through data-driven strategies. We also design and build high-performing business websites and offer tech migrations and integrations. Get in touch to discuss a project. Existing HubSpot users can request a free HubSpot portal audit.