In a time period of 3 months, we generated significant marketing results for IBS Intelligence using HubSpot's Marketing Tools. This case study outlines how we worked closely with them to achieve both their sales and marketing goals, and demonstrates how HubSpot's marketing tools can be used to improve key website performance metrics.

The client: IBS Intelligence
IBS Intelligence is a leading FinTech industry analyst and publisher, offering comprehensive coverage of the world of FinTech. The company has offices in the UK, America, India and the Middle East, and creates reports and publications to help organisations and professionals to stay up to date with the latest news, trends and expert insights from the industry.
Find out how we improved IBS Intelligence's sales process in our article How to Use Sales Automation Tools to Increase Efficiency and Boost Revenue
The challenge
IBS Intelligence approached us looking for an experienced digital marketing agency to evaluate their website and offer marketing recommendations to make it more effective at attracting visitors and generating leads. We started working with the client in June 2019, focusing on auditing their website, optimising their marketing strategy and setting up their HubSpot marketing portal.
Marketing Goals:
20% of all monthly newsletter subscribers to take an annual journal subscription

10% of website news consumers to take an annual journal subscription

25% of people requesting a journal sample or showing interest in specific reports to buy the reports or become journal subscribers

Major on-page and off-page SEO optimisation of top 25 product/expertise/offering pages

Complete UI/UX optimisation on key pages, including ecommerce pages

Automated workflows for journal subscriptions and research reports

Reduce website bounce rate from 80% to 70%

Increase interaction rate on social media posts by 25% (LinkedIn and Twitter)

Increase traffic to top 5 research reports pages from blogs (using HubSpot)
How we used HubSpot to achieve these goals
Once we understood the marketing goals the client wanted to achieve, the platform of choice was very obvious: HubSpot's Marketing Hub. HubSpot software not only allows for automation and a place to consolidate all marketing efforts, but also gave us the data and insights we needed to achieve and show progress on the client's goals by acting as one source of through for all marketing and sales efforts.
Buyer personas
Before we jumped into executing major marketing campaigns, our first step was to define the client's buyer personas. We surveyed key people in the business to understand their main buyer personas and their typical online journey. Our marketing strategy was backed by the identified personas.
Clean data
So that we could have an accurate view of where we stood and the results we needed to achieve, our next step was to clean up the database and assign thousands of contacts to personas, based on specific properties, behaviours and demographics. We then created lists and automation workflows to ensure all existing and future contacts are assigned properly. Persona questions were added to HubSpot forms in order to future-proof segmentation through this automation.
Marketing Automation
We made use of HubSpot's many automation tools so that we could save the team time and get closer to our marketing goals in a shorter space of time:
We used the social media tool in HubSpot to schedule social posts and monitor the impact

Using the HubSpot email and workflow tool allowed us to set up nurturing campaigns which would nurture contacts automatically

Automated emails were set up to deliver reports and journal samples that impacted the velocity at which leads were moving through the funnel

We used relevant content to nurture leads from organic and paid campaigns

We spent time developing and customising the clients' marketing dashboards, offering a clear view of the impact of marketing activities and on sales performance

We assigned contacts to key buyer personas, giving the client more perspective around its target audience

Results
At the time of writing, we have made great progress in meeting and exceeding the marketing goals set out by IBS Intelligence. As a result of our marketing campaigns, combined with our sales enablement work, we managed to achieve results in the following key areas:
Increased the number of website sessions per month by 35% and the average time on page by 130%

Increased number of contacts generated through online sources (organic, direct, paid)

Increased the conversion rate from MQLs to SQLs, Opportunities and Customers

The lead hand-off process from Marketing to Sales was optimised to allow closed-loop reporting and to ensure that no opportunities are missed

18% increase in revenue from online sources
Comparing Google Analytics metrics from September to November with those in June to August (before we implemented any of our sales enablement and marketing campaigns), we achieved these headline results: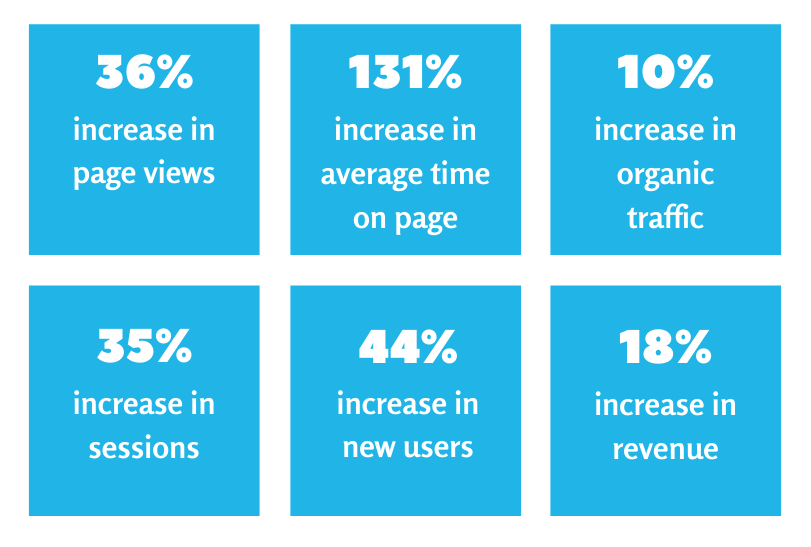 Forms submissions increased 1,856% after we have implemented HubSpot forms. The average monthly form submission between July and October was 50, while in November there were over 1500 submissions!
Form submissions over a five month period after implementing HubSpot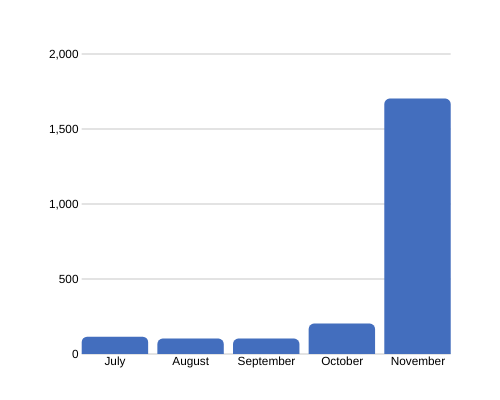 What the client said about HubSpot and the impact of Inbound FinTech's strategic marketing work
IBS Intelligence's Marketing Manager, Priyanka Wani, spoke about HubSpot's marketing automation tools:
"HubSpot's tools are extremely useful for carrying out digital marketing activities across different channels. What's amazing is that all our marketing efforts can be tied into one campaign, which helps us to analyze performance effectively and add context to the metrics. HubSpot's buyer persona-based approach helps us customize messaging to what's most relevant to the audience. I can slice and dice the contacts within the CRM, based on their lifecycle stage and web activity for more personalized communications. This improves email marketing metrics, goal conversion rates and results in more MQLs and SQLs for the Sales Team."
Listen to Priyanka talk more about the project, the impact Inbound FinTech has made and how HubSpot's automation features have improved business performance:
Summary
With a solid strategy in place for both marketing and sales, IBS Intelligence will continue to generate high-quality leads through a solid nurturing funnel that is now fully automated. We have removed the headache of sorting through data on numerous platforms, and it is now easy for the IBS Intelligence team to assess their marketing efforts and make informed decisions.