Automation is a powerful tool for Sales and Marketing teams alike. For businesses of all types and sizes, automation can be used to streamline processes and optimise performance. In this blog post, we outline how we used HubSpot's sales automation tools and leveraged sales enablement techniques to transform the sales process of a global FinTech analyst firm.


Project and goals
Our initial project with the client was all about auditing the website, optimising the marketing strategy and onboarding them on HubSpot. However, during our evaluation, we identified the need to overhaul the existing sales processes, with the support of HubSpot's Sales Hub and sales automation tools.
Sales goals:
Consolidate, integrate and migrate all sales data into one unified platform - HubSpot - from three sources where information was being stored: Excel, WooCommerce, and Salesforce

Improve lead quality by consolidating, cleansing and segmenting all data available and by implementing lead scoring

Full adoption of HubSpot as the new CRM and sales platform

Automate and improve the sales process by implementing HubSpot Sales Tools: templates, documents, meetings, sequences and snippets

Automate lead routing and assignment by regions and countries

Implement abandoned cart workflows and specific sales notifications to improve conversion rates and reduce the number of lost contacts

Automate replies after orders are placed on WooCommerce

Implement attribution reporting for the entire sales funnel and pipeline in order to better understand the source of valuable leads, closed deals and lost deals

Sales teams to be aware at all times of new WooCommerce orders, with full ability to report on new orders, orders' statuses, and successful order completions

Product category alignment and grouping to allow for a clear overview of products in the system, how many were sold, time-frame of sales, and the associated sales person (previously inaccessible data)
The solution
Sales automation tools
We used Sales Hub Pro to set up new sales processes and encouraged the Sales team to make use of Sequences. We created a new e-commerce sales pipeline using HubSpot and integrated it with IBS's e-commerce product library. Almost 100 different automated deal workflows were created, for different product categories and subcategories, due to the large product offering of the client.
Training
As part of our sales enablement project, we set up training workshops by region with each team on the Sales Hub. The Inbound FinTech team conducted this training across four different time zones in five cities, and covered the full set of sales tools offered by the HubSpot sales platform.
The IBS Intelligence Sales Team expressed the impact of specific tools on their processes:
"HubSpot's sales automation tools help us understand our prospect's needs and behaviour closely, helping us to maintain regular conversations with them. Features like email tracking, snippets, quotes and documents are great for sharing information and providing us with valuable statistics, such as time spent on each part of the interaction. And we learn about what is most engaging or concerning for prospects. Sending quotes is informative and enable us to share a video to explain the proposal, rather than just sharing figures as plain text."
The sales enablement implementation in the IBS Intelligence sales process
Automation and pre-qualification in the sales process
By replacing all existing forms with HubSpot forms, we used workflows to assign new contacts by region and notify the right salespeople on key activities of existing contacts and new conversions.
During our sales enablement training, we implemented automation and pre-qualifications via lists, properties and workflows to auto-assign leads and set reminders to follow up leads when required.
Buyer personas
The new pipeline and sales process was built on the foundation of new buyer personas defined by key members of the sales team in workshops hosted by IFT.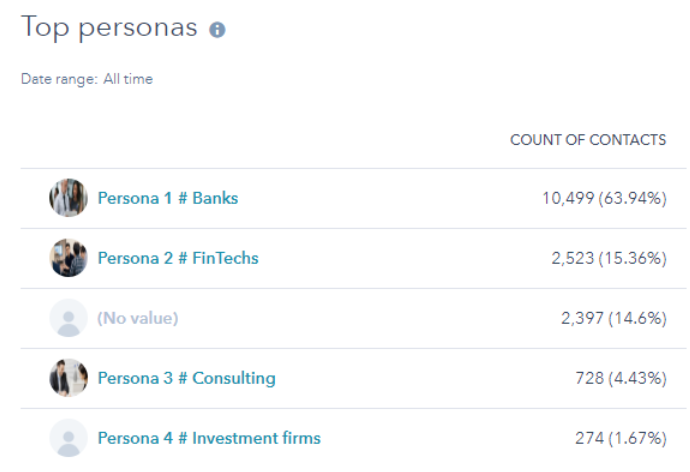 We cleaned up the database and assigned thousands of contacts to personas, updated forms and created lists and automation workflows to ensure all existing and future contacts are assigned properly. We implemented lead scoring through the HubSpot scoring tool and used the scores to dictate the lifecycle criteria.

Reporting and platform integration
We created country- and product-specific reports based on key metrics. This was done by creating lists with filters for phone numbers, IP addresses and shipping details, then a workflow to populate a property used for reports and nurturing.
We integrated WooCommerce into HubSpot to get the data we needed and used lists, properties and workflows to capture the data. We created clear reporting dashboards and datasets to make it easier for the senior management team to get a comprehensive and full business overview.
The results
All the goals of the project were achieved. The prospecting process has been significantly simplified and improved. We've shortened the time period for closing deals.
With HubSpot's lead scoring and lifecycle stage triggers, the Sales team can quickly identify and approach sales-ready prospects. We have managed to also influence the number of deals created (which went up by 20%) and the number of upsells to existing clients through the bespoke sequences that were built.
After our HubSpot sales tools training was complete, we put together a workbook for the client, which included details on how each tool can improve processes and how to use them.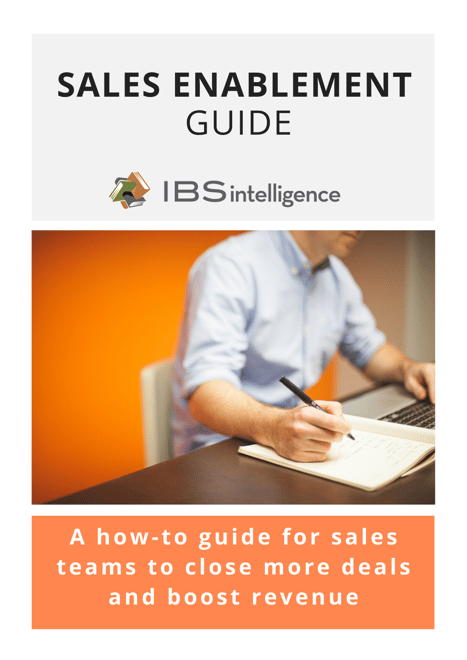 What the client said about HubSpot and the impact of Inbound FinTech's sales enablement work
Watch IBS Intelligence's Marketing Manager, Priyanka Wani talk more about the project, the impact Inbound FinTech has made and how HubSpot's automation features have improved business performance:
This case study won a HubSpot Impact Award for Sales for the project's impressive results and the transformative impact of our strategies.
Summary
Sales enablement improved the way our client is prospecting and helped them keep track of renewal dates. The project enabled the business to see all employees' work in one place, offering more clarity and accountability. Sales team members are now approaching prospects more efficiently and closing deals in a shorter time.
We created a cultural shift in the Sales team through sales enablement techniques. They embraced HubSpot's sales automation tools once we'd demonstrated the benefits and proved the impact on process efficiency. Individuals spend less time on admin and more time on selling and delighting.
Want to super-charge your sales process with automation? Speak to an award-winning HubSpot Elite Partner today!
---
Inbound FinTech is a leading digital growth agency for FinTech and Financial Services companies. We've helped countless businesses to transform their sales processes with HubSpot's automation tools and our proven strategies. We offer a wide range of services from inbound marketing and sales enablement to CMS builds and website design. If you'd like to discuss sales enablement, speak to our experts today!