In the Financial Services industry, businesses need comprehensive visibility over their pipeline to efficiently manage and nurture leads, opportunities and customers. HubSpot and Salesforce are two market-leading CRMs but which is most suited to your FSI business? In this HubSpot CRM vs Salesforce comparison, we explore the pros and cons of both platforms and the key factors to consider if you're looking at migrating your business to one of these options.
How do HubSpot and Salesforce compare on key CRM requirements and considerations?
So, HubSpot CRM vs Salesforce - how do the platforms compare on the main factors Financial Services businesses are interested in, like the ease of use, pricing, flexibility, scalability and support? Let's look at each of the key considerations below.
User-friendliness
The HubSpot CRM platform is renowned for its ease of use and user-friendly features, and when it comes to streamlining your sales process, usability is key. HubSpot's basic version, which is free, can be set up in minutes without going through a long-winded sales process before you even get to look at a workflow. In Financial Services, time means money and Sales teams don't have lots of disposable time for learning a new, complex tool. The intuitive functionality gets teams up and running with the CRM quickly and efficiently.
Salesforce offers powerful customisation capabilities that allow businesses to implement the tool in a way that best suits them. But to get the most out of the customisation, Sales teams need significant training. In complex business environments with unique sales pipelines, this degree of customisation can be beneficial, but the initial time and effort required for optimal set-up mean it will take longer for teams to adopt and even longer before its benefits are really seen.
Cost-effectiveness
HubSpot includes all the CRM features you need at its advertised price - you can then pay for specific Hubs, which offer department-specific functions that can be added to the base CRM. Free seats are available for team members who just need visibility into activities, without the full set of tools, so key stakeholders can access certain data without needing to purchase new licenses. HubSpot's pricing is significantly more affordable than Salesforce, especially when broken down by users, and runs on a pay-as-you-go subscription basis, with the price per user decreasing further when reps commit to longer-term contracts.
Salesforce charges for every user, per month and requires paid add-ons for essential features. Aligning your Marketing and Sales teams, giving executives visibility into reporting or reps access to a shared inbox, comes at an extra cost. Unfortunately, these are rudimentary requirements of a CRM and without this level of alignment and visibility, entire pipeline processes can be compromised. Its pay-per-seat model can be extremely expensive for companies with large Sales teams.
Data visibility and reporting
Both platforms offer extensive visibility over data, leads, progress, actions and analytics, giving businesses comprehensive reporting and granular dashboards.
HubSpot's reporting capabilities and data visibility features can help Financial Services businesses track their sales funnel and gain a better understanding of how they spend their time. Reps can quickly identify the most useful data points for generating new business, which can save a lot of valuable time. And when it comes to analysing that data, HubSpot offers Sales, Marketing, and other teams, clear visibility and quick and easy ways to dive deeper, identify key insights and pull reports and custom dashboards.
Salesforce's level of data insight is comparable to HubSpot's, and both boast easy to use drag-and-drop functionality. But Salesforce offers a greater number of variables in its reporting and more data visualisation options in its dashboards.
Scalability
HubSpot offers flexibility for growth across Marketing, Sales, Service and Operations teams. As your business grows, so do your needs across these departments. HubSpot consolidates all these functions and streamlines processes within a single platform, so you can easily grow your businesses in line with your CRM. With a flexible data structure with custom objects, you can scale up with ease as you grow, without months of custom development work.
Although Salesforce offers endless customisation opportunities, CRMs that are not properly integrated can slow processes down significantly, especially when the level of customisation required calls for more admin support and developer resources, which can hinder a company's agility when it comes to scaling.
Support and training
HubSpot offers 24/7 support by phone, email and chat, plus a dedicated Customer Success Manager - all as standard, at no extra cost. Additionally, HubSpot Academy, one of the best online learning platforms, is available for free for further insights and support, and the thriving HubSpot community means insightful and up-to-date forums can help you find answers quickly.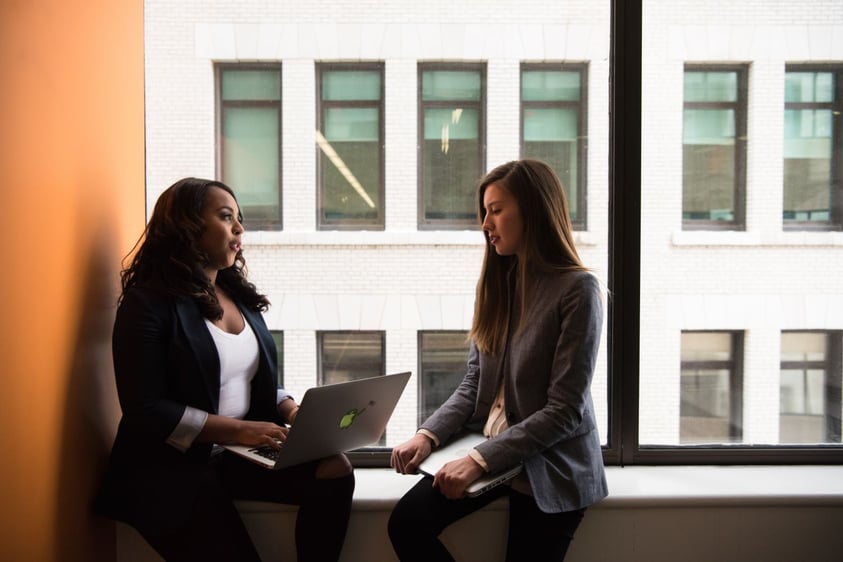 Salesforce offers a two-day response time for standard support, with options to pay for additional support. For 24/7 premier support, Salesforce charges 20% of your net contract price and additional feature access comes in at 30% of your net contract price. So when selecting a Salesforce support plan, carefully forecast what level of support your team will need.
Lead management and nurturing
With HubSpot's intuitive lead generation tools, you can start generating and nurturing leads in no time. Generating useful insights for lead activity recommendations is easy through:
Automated workflows
Predictive lead scoring
Smart notifications
Unlimited deal pipelines
Shared filters
A custom report builder
Custom dashboard capabilities for individual accounts
What's more, because of HubSpot's focus on inbound and content marketing, its content management system enables effective lead generation through content that automatically feeds directly into the CRM with no additional effort from your teams.
With Salesforce's lead generation and nurturing functionality, you can set up lead assignment rules, automatically add leads to nurture marketing lists, and set security access levels so that only authorised users can see certain data types. It also automatically scores leads based on factors like lead source and website behaviour, but when it comes to content marketing for lead generation, separate tools need to be leveraged and integrated into the CRM.
Ecosystem and integrations
HubSpot offers a wide range of integrations with top applications like G Suite, Slack, Office 365 and MailChimp. HubSpot even has native integrations with Salesforce, which means reps won't have to leave their existing CRM to manage projects and tasks. HubSpot's open API and ever-growing ecosystem make it easy to integrate with the other tools, without needing ongoing developer support or a system administrator, which also positively impacts costs long-term.
HubSpot's App Marketplace takes the same approach to third-party integrations as it does its own software – focusing heavily on power, ease of use, and quality. Installing and configuring integrations via the marketplace is simple with over 500 apps and integrations, many of which are native integrations.
Salesforce's AppExchange is the largest and broadest CRM app marketplace, offering a wide variety of options for different requirements. AppExchange is a fast and easy way to extend Salesforce with over 3,000 apps and integrations.
Both platforms have excellent add-on functionality through an extensive app ecosystem and offer open APIs and developer tools to help you tailor your CRM to your business.
HubSpot and Salesforce CRM feature comparison
What about the key features offered by HubSpot and Salesforce? Check out the table below:

HubSpot CRM vs Salesforce: The verdict
While Salesforce offers considerable customisation opportunities for businesses with more complex processes and sales cycles, the additional integrations needed to become a more holistic CRM, as well as the training required for optimal usage, make it an expensive option, in terms of costs, time and resources.
HubSpot's all-in-one capabilities and intuitive design make it a hugely effective CRM for aligning Sales, Marketing, Service and Operations teams' efforts across the customer acquisition and retention cycle. Additionally, its training and support offering make adopting the tool easier and more cost-effective for teams with limited time and budget, but still looking to migrate to an efficient customer management solution.
Key benefits of HubSpot CRM for Financial Services
Let's look at the key benefits of the HubSpot CRM that empower teams operating in the Financial Services sector.
Powerful and seamless automation capabilities
HubSpot boasts extensive automation capabilities, including lead nurturing, lead scoring and campaign tracking capabilities. These features help reps quickly identify the top leads so they can deploy their resources more effectively when generating new business.
Ease of use to empower teams to maximise productivity
HubSpot is consistently ranked as the most user-friendly CRM and B2B software. By combining powerful features with intuitive UX, HubSpot is appealing to Financial Services businesses and teams because of how easy it makes customer relationship management processes.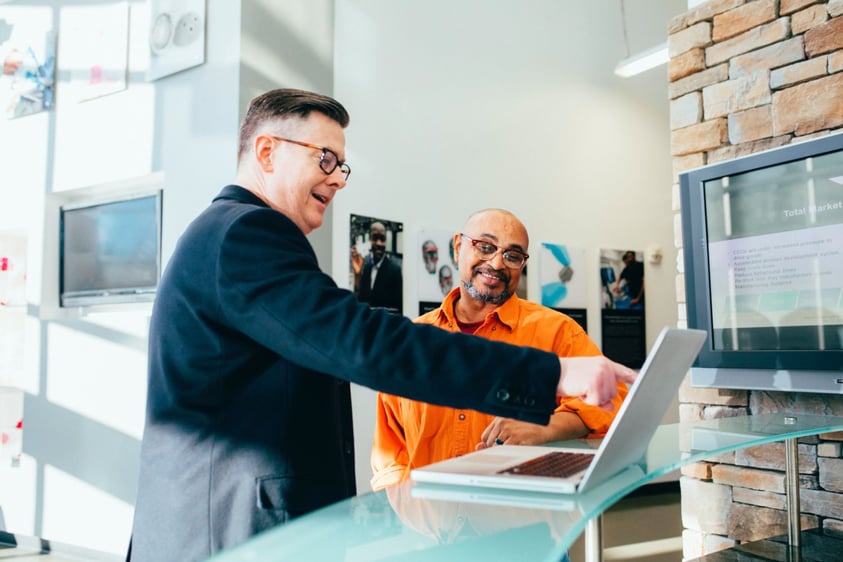 All-in-one platform for aligning teams and processes
HubSpot's CRM Platform and supporting Sales, Marketing, Content Management and Service Hubs have all been built by HubSpot from the ground up, in one convenient code base. Recently, HubSpot also added Operations Hub - a unified toolset that connects apps, cleans and curates customer data, and automates business processes under one central CRM platform, helping companies to be more efficient, aligned and adaptable, and deliver a friction-free customer experience.
Summary
The HubSpot CRM platform is ideal for FinTech and Financial Services companies. It offers unparalleled lead nurturing capabilities through its Sales, Marketing and Service enabling Hubs, but even its base CRM platform functionality offers comprehensive capabilities that make customer acquisition, management and retention easier.
HubSpot is also a more affordable option than Salesforce. This makes it perfect for FSI businesses operating with a lean Sales team that don't want to overspend on their CRM solution but still seek a simple onboarding and seamless CRM support. Overall, HubSpot's power, affordability and ease of use are driving increased adoption in the Financial Services sector.
How Inbound FinTech can help with CRM migrations and integrations
We've supported countless businesses with HubSpot migrations and integrations with the likes of Salesforce, MS Dynamics and other popular platforms, to increase visibility, alignment and sales efficiency. Explore our HubSpot CRM onboarding, integrations and migrations services. If you'd like to speak to a HubSpot expert about the platform or a project, feel free to contact us.
---
Inbound FinTech is an Elite HubSpot Solutions Partner and digital growth agency, based in the UK's financial district but with a hybrid global team. Our HubSpot onboarding and integration capabilities help FinTech and Financial Services businesses to increase performance and grow fast. Get in touch with our team to discuss a project or find out more about our digital growth services.