Are you wondering which content management system (CMS) is best for your business? We discuss the strengths and benefits of two of the leading and most effective CMS platforms on the market: HubSpot CMS vs WordPress. Discover why they are popular choices for Financial Services companies, especially if you're prioritising content creation and digital lead generation.
Whilst WordPress is a popular open-source CMS that gives users a platform to build on with custom solutions, HubSpot CMS takes the pain out of managing your website and allows you to focus on building data-driven marketing campaigns and compelling content to drive growth.
In the B2B world, your website needs to be a lead-generating machine and a source of insights for your ideal customers (personas). So, choosing the right CMS is vital for your business growth, as it needs to enable your marketers to create content that attracts and converts leads. Below, we compare HubSpot CMS vs WordPress across key criteria and discuss their benefits for businesses in the Financial Services space.
What is HubSpot?
If you're intrigued by inbound marketing, HubSpot probably comes to mind. HubSpot is a cloud-based CRM designed to optimise your inbound marketing strategy and generate high-quality leads, help align Sales and Marketing teams, foster sales enablement and boost ROI. Essentially, it's a software platform built to help your companies market and sell products/services more effectively and grow at scale.
HubSpot was founded back in 2005 as a resource for marketers, offering tools and resources to help companies utilise inbound marketing. Whilst the company has developed over time, its primary goal remains true to its roots - to attract, nurture, convert and delight customers through targeted content. The platform empowers marketers to do this at each touchpoint in the buyer's journey.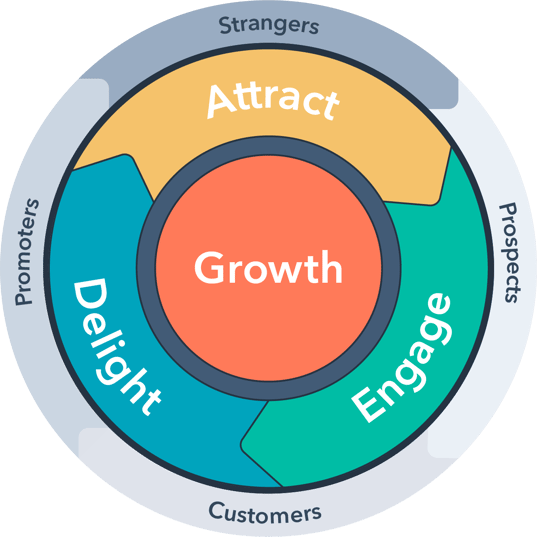 HubSpot facilitates website hosting, social media posting, blogging, email marketing, and much more, combining everything into one single platform. With this all-in-one solution, every marketer in your company can leverage the various tools to nurture qualified leads until the leads can be passed on to your Sales team. This facilitates a seamless experience and helps companies turn warm leads into delighted customers.
What is WordPress?
WordPress was created in 2003 to improve the website's functionality without modifying its core source code, which is great for those without coding experience.
As an open-source CMS, licensed under GPLv2, WordPress enables anyone to install, use or modify the WordPress software for free. It's a popular tool for those without any coding experience who want to build websites and blogs.
WordPress is a versatile CMS that can be used for a variety of purposes including blogging, eCommerce and business and portfolio websites. Its interface includes basics like content creation tools but requires plugins for additional functionality like sitemaps, SEO and analytics.
Comparing the benefits: HubSpot vs WordPress
As a brief overview, when comparing HubSpot CMS vs WordPress, HubSpot is a streamlined marketing solution first and foremost, whilst WordPress is a flexible CMS solution, with a certain amount of marketing capabilities. However, HubSpot has evolved to provide extremely flexible content creation and management capabilities.
Both platforms have different strengths and weaknesses, depending on the user's goals and objectives, and the best platform for your Financial Services business will depend on your specific requirements. Below we compare the two CMS platforms over some of the key factors for consideration.
Blogging
WordPress began as a platform for blogging, so they know how to make creating and publishing blogs easy. It provides multiple themes to choose from, however, depending on the theme or template selected, we recommend hiring an experienced developer to make layout changes or edits. In addition, if you want to optimise your content for search engines then you'll have to install plugins, which can create a security risk.
In comparison, HubSpot's CMS Hub was built from the ground up as a resource for marketers, providing an easy-to-use interface that enables you to write, optimise, publish and analyse blog content in one place. When using HubSpot, you won't need to install extra plugins or software to optimise content for search engines or to serve attractive-looking content on both desktop and mobile - it's all included.
Content creation
WordPress enables simple and functional text-based content that is easy to create. However, additional layout changes will likely require additional resources or templates. Also, for marketing analytics tools, such as A/B testing, WordPress requires plugins.
HubSpot CMS enables you to start with one of the thousands of themes available or build your own from scratch with easily modifiable content through drag-and-drop layouts. The solution enables you to create a seamless digital experience for your customers, which scales with your business.
Both are great options for content marketing, but the best platform for your organisation depends on your specific needs. Whilst WordPress is an easy platform to use for simple content creation purposes, HubSpot offers more dynamic features for modifying content.
Content marketing is now crucial in Financial Services because customers demand trustworthy insights and expertise on the products or services they're looking to invest in. Using content like thought-leadership blogs, for example, helps to position your brand as an authority on key topics pertinent to your business offering. And CMS capabilities need to make the content creation, monitoring and optimisation process as streamlined as possible.
Ease of use
WordPress gets its reputation from its simplicity. It provides many ready-to-use themes and layouts, and depending on the specific theme selected, setting up a functional professional website without a web developer is an easy task. However, mobile optimisation and more complex website updates will likely require additional software and developer skills.
Like WordPress, HubSpot CMS was designed for usability. Equipped with a multitude of built-in marketing tools, you can easily get up and running with your latest marketing strategy and create content without the need for plugins or coding. Many drag-and-drop features simplify content creation.
SEO
WordPress doesn't come with native SEO functionality, but its Yoast plugin is really helpful and the effective SEO tools give writers and marketers the best chance of their content performing and ranking high in search engines.
HubSpot CMS comes robust with SEO features built-in to the platform with no plugins needed, including a real-time SEO recommendations tool integrated with Google Search Console, which offers easy ways to improve your content and inform your SEO strategy by leveraging data directly from Google. The strategy tool also is ready-made to help you build content pillars and topic clusters.
Optimised website content will help you drive better results for your digital marketing strategy. Traditionally, Financial Services businesses have relied on industry events, affiliates and traditional marketing methods to generate leads for new business. But in a digitised world, SEO is vital for website lead generation, so it's important to ensure all your content is well-optimised for organic search.
Analytics
WordPress CMS offers basic analytics and different plugins are available to provide deeper analytical capabilities but often marketers using WordPress will still also require more robust and dedicated solutions, such as Google Analytics.
With HubSpot CMS, all the analytics you need are built into the platform, enabling you to easily measure your website performance and ROI. Depending on your subscription, you can gain access to even more sophisticated data analytics with more advanced reporting. A single source of truth for data can be achieved by the range of HubSpot integrations available.
Comprehensive analytics empower companies in the Financial Services space. Due to the typically long sales cycles in the industry, ensuring maximum return on your digital marketing efforts means leveraging the insights gleaned from your analytics to better nurture leads and improve your strategy and approach. So, your CMS platform needs to offer comprehensive data visibility and actionable insights.
Security/hosting
As an open-source platform, WordPress has limited security features, therefore, when using WordPress, you'll need to manage the speed, security and reliability of your site independently.
HubSpot CMS comes with premium hosting and security features. With standard SSL certificates, a web application firewall (WAF), a global CDN, and 24/7 security and threat monitoring, HubSpot will protect your website, without any extra effort on your part.
When comparing HubSpot CMS vs WordPress on security, it's clear that website maintenance and keeping your site safe and user data protected will require more time, effort and cost with WordPress.
All-in-one platform
The HubSpot CRM platform was built from the ground up for marketers. Therefore, when using HubSpot CMS, you'll receive all the tools you need to create a seamless digital experience for your customers out of the box.
With WordPress, to create your company's digital experience, you'll need to download various plugins to meet your specific needs. Although plenty of flexibility is made possible, custom development work is inevitable to ensure that these tools work together and provide value for your business.
Customisation
Although WordPress has many free themes to choose from, without editing code they're not easily customisable to achieve the brand feel you want and can be difficult to work with. However, with paid WordPress themes, you'll also receive a theme editor that will alleviate the workload.
With HubSpot CMS, you'll be able to use an on-page editor, which won't need technical experience to make important edits. However, if you want to get technical, you have that option too. In addition, similarly to WordPress' theme editor, HubSpot has a template marketplace with pre-built templates and modules.
In the Financial Services industry, brand reputation plays an important role in your business success, so ensure that all of your online touch points are instantly recognisable. This may require greater customisation capabilities than businesses in other industries, so the more customisable your CMS platform, the more success you'll enjoy.
So, when comparing HubSpot CMS vs WordPress on customisation capabilities for Financial Services businesses, HubSpot is the clear winner.
Pricing
As an open-source platform, WordPress' basic price is free, but there are necessary, hidden costs to consider, including important features like hosting, security, plugins, and regular maintenance to ensure your site is fully secure. And these can add up quickly and should be considered in depth when deciding which CMS platform is best for your business.
With HubSpot, there is a range of pricing tiers available that will depend on your business' size and needs. HubSpot's core website management tools are free, whilst the CMS Hub Starter package is £21 p/m, Professional is £330 p/m and Enterprise is £990 p/m, which can be paid monthly or yearly. Let's take a quick look at what each option gives you:
With HubSpot's free tools, you'll be able to build a secure, optimised website with easy-to-use content management tools.
The Starter package gives you HubSpot's secure website builder with access to themes, the drag-and-drop editor and the reporting dashboard.
The Professional tier offers access to HubSpot's entire CRM platform, including content tools, premium hosting and security features, regular updates and maintenance, support, and extensive marketing and reporting features. Plus, you'll have full ownership over your content and data in HubSpot.
The Enterprise level has additional features to help you build a powerful digital experience for customers with access to advanced features like:

Custom objects records
Web app development features
Adaptive testing capabilities.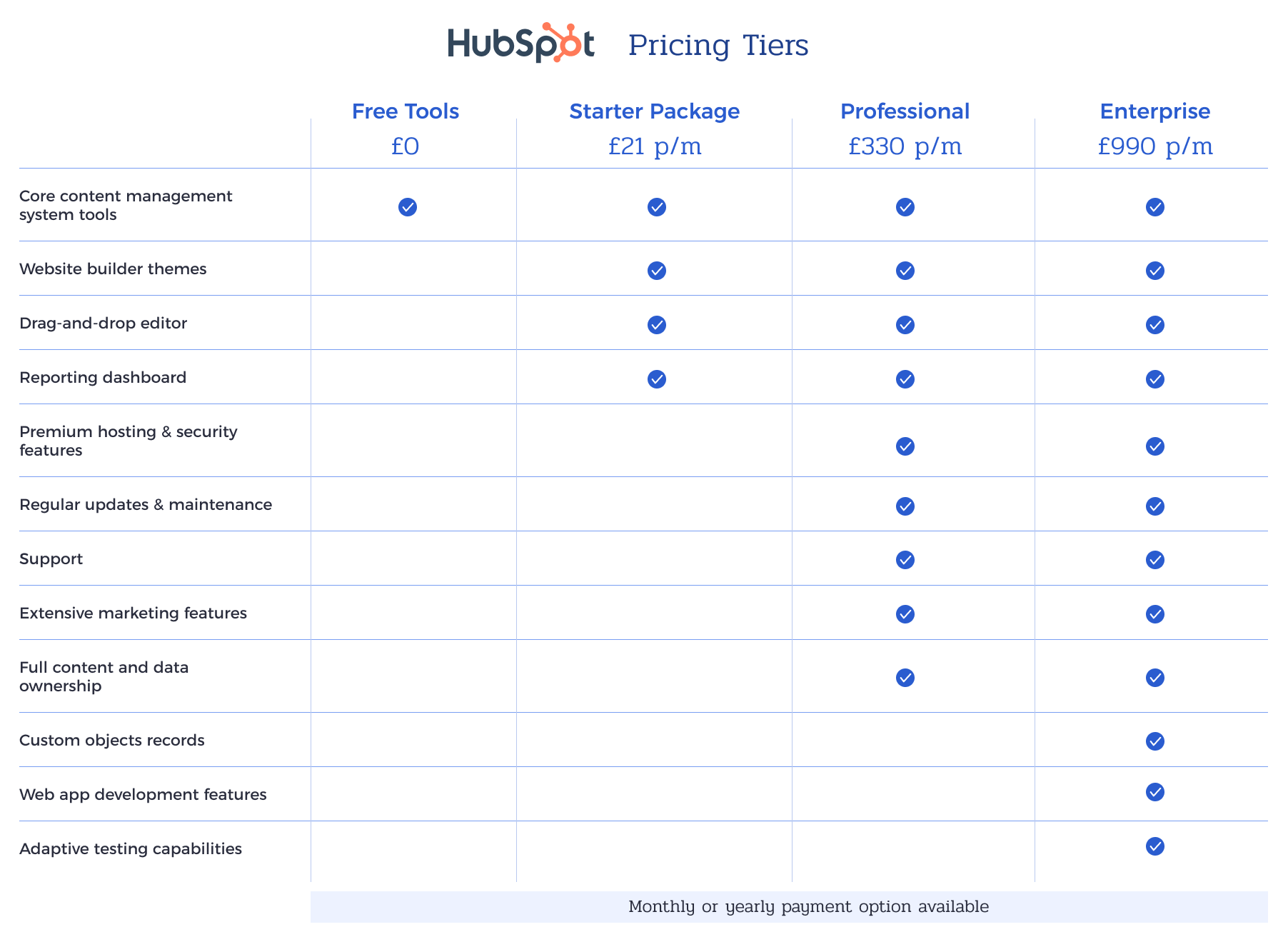 As mentioned, whilst the WordPress CMS is initially free, costs can quickly add up with all the necessary, paid-for add-ons. For example, popular hosting platforms for WordPress like Pantheon have basic plans available for £45 p/m, performance plans that go up to £1000 p/m, and custom elite plans. The plan you choose will depend on the number of pages, traffic and storage you need.

In addition, depending on your business requirements, you'll need to download specific plugins when using WordPress. For example, if you were to install 24 of the most popular plugins for your WordPress website (those that are commonly used), you'd pay between £257 p/m and £1196.52 p/m.
HubSpot CMS vs WordPress - The Verdict: Which CMS platform is best for Financial Services businesses?
So, HubSpot CMS vs WordPress, what's the verdict? As you can see, when choosing the right content management system for your business, both platforms have different benefits, therefore what's right for you will depend on your specific organisational needs. However, it's clear that over most of the key considerations and criteria, HubSpot has the edge.
Whilst WordPress is good as a reliable and flexible CMS solution, HubSpot's advanced built-in features enable you to create a seamless digital experience for your customers as well as easily create, manage and optimise your website content. HubSpot is a fantastic choice for Financial Services businesses, as it can empower your content marketing strategy, inform your approach through thorough analytics, support your unique customisation needs and help you grow and scale your business with ease.
Inbound FinTech is an award-winning digital agency for FSI companies and can help your company to build a beautiful and high-performing website that attracts, nurtures and converts leads on either HubSpot or WordPress. Explore our web development and design services and content marketing pages or contact our friendly team for more advice on choosing the right CMS platform.
---
Inbound FinTech is an Elite HubSpot Solutions Partner and digital growth agency, based in the UK's financial district but with a hybrid global team. Our HubSpot onboarding and integration capabilities help FinTech and Financial Services businesses to increase performance and grow fast. Get in touch with our team to discuss a project or find out more about our digital growth services.