Every business should have a content marketing plan, however big or small, and whatever the size of your organisation. Content marketing for Financial Services companies can help to build brand awareness, address the pain points of your target audience and differentiate your offering from competitors in the market.
There's a misconception that it's hard to create engaging content for businesses in sectors like Banking, FinTech and Finance Services. In truth, there is so much you can do to attract prospects with content marketing – so get planning your content!

In this blog post, we explore the key benefits of content marketing for Financial Services companies and offer 10 top tips for creating effective marketing content and campaigns:
1. Build detailed personas for your target audience
Creating detailed personas for your business builds the foundation of any good content marketing campaign. Knowing who your key personas are and understanding their interests, needs and challenges, helps you to create content which appeals to them and addresses their pain points. Your content shouldn't just be telling stories that you want to tell, it should also be offering readers and viewers information and guidance that's relevant to their interests and buying decisions.
What are personas?
Business personas are fictional profiles of your ideal customers, but despite being "fictional", they are drawn from your experience, your customer feedback and research, and industry insights. Build out your personas with profile information related to their age range, job title, goals, challenges and pain points, plus other relevant information, such as their typical social channels and media consumption.
Here's an example B2B persona profile from the Financial Services industry to give you an idea of how yours might look: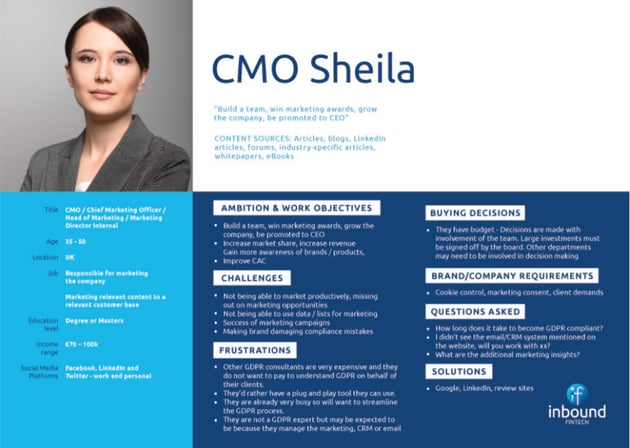 2. Consider the inbound methodology
Creating content is a key component of inbound marketing strategies. Good content, which is targeted at personas and their lifecycle stages, helps to attract the right prospects that are likely to engage with your business and the products and services it offers.
What is the inbound methodology?
Inbound is all about making your content a magnet for attracting your target audience. Getting consumers and businesses to visit your website and engage with your content and communications, across a range of different channels.
The inbound methodology is the process of enabling your key personas to find your content (primarily organically), and nurturing them down the funnel and stages of readiness to buy, from strangers to visitors, leads to customers, and eventually promoters.
Within this process, the inbound methodology – employed by marketers – moves prospects through the "Attract", "Convert", "Close" and "Delight" lifecycle phases. Across these phases, businesses should create content for each stage of the buyer's journey ("Awareness", "Consideration" and "Decision"), to help move them down the funnel, to become customers. Then comes the retention work, post-conversion, where you should encourage brand loyalty and advocacy.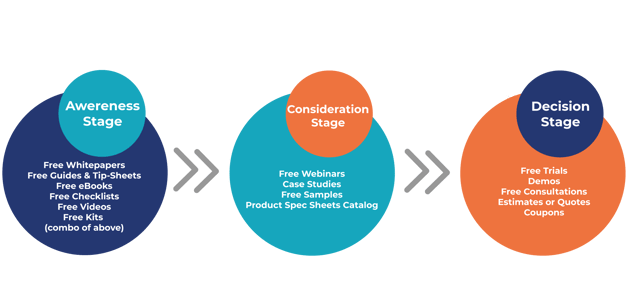 HubSpot is the master platform for inbound marketing. The company has been practising the inbound methodology for years, helping businesses to supercharge their organic growth through its CRM platform, which provides a powerful combination of "hubs", namely Marketing, Sales and Service (customer service).
At IFT, we are a Diamond-Tiered HubSpot Partner, having used the platform for years, onboarding and supporting Financial Services businesses on the software and its wide range of tools for driving traffic, leads and boosting revenue.
More recently, HubSpot has focused on the evolution of content marketing and SEO, encouraging companies to develop "content pillars", which are hubs of content built around a focus area, relevant to your business, which have lots of "cluster" content feeding into it, again magnetising leads to key pages which help prospects navigate around your website and find the most suitable content that triggers an action and moves them closer to engaging with your Sales team.
Learn more about Inbound with our Ultimate Guide to Inbound Marketing for FinTech and Financial Services Companies.
3. Create content that addresses your personas' needs and challenges
We've mentioned the importance of establishing your key personas. Addressing their needs and challenges is how you can attract personas, either through SEO or when prospects come across content on social platforms, or via other sources, and engage them with information relevant to them and their intentions.
From a decision-making point of view, helpful and authoritative marketing content helps prospects to understand more about the problem they're looking to solve, the solutions that are available to them and how your business offers those solutions.
As a professional organisation, creating quality content is always a must. Mobile Monkey provides us with a comprehensive list of 15 Content Marketing Tools to Create, Promote, and Manage Content Like a Pro. Sending the right messages to the right audiences across different platforms, scheduling and managing social media posts, designing quality images and videos, managing SEO performances, or driving quality leads are just a few of the multiple advantages offered by these useful tools. Whether you're just starting to learn how content marketing works or you're already a pro, this list of 15 tools will help you boost your creativity and increase your efficiency.
4. Focus on each stage of the buyer's journey
Talking of the decision-making process, there are different stages of "readiness to buy" for which your content marketing plan should focus on. When planning your content, you may want to concentrate on each stage of the buyer's journey separately or incorporate each stage within a large-scale content marketing plan. Either way, each piece of content you create needs to be crafted with the buyer's journey stage in mind, as it will dictate content's tone, the level of information you offer and the type of content used.
Here are just some of the typical content formats to consider for each of the stages in the buyer's journey:
Awareness stage
Blogs
Ebooks
Free videos
Checklists
Consideration stage
White papers
Case studies
Webinars
Reports
Product specs
Decision stage
Pricing details
Demos
Free trials
Proof of concepts
Product/vendor comparisons
Selecting and creating the right content for each stage of the buyer's journey, and displaying the content to prospects at the right times, perhaps via paid activity or nurture workflows), helps to move them down the funnel towards a sales conversion.
5. Become a Finance industry thought leader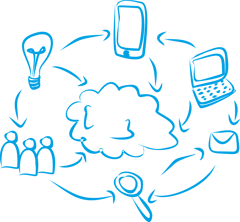 Companies in the Financial Services industry should seek to be a genuine thought leader in their sector, especially as FinTech and Financial Services can be complex and decision-making for buyers can be a long process. Ensuring that your organisation (and key individuals within it) is viewed as a thought leader and go-to source of insights and expertise can really help to increase your website traffic, improve domain authority, boost your social following and build brand trust.
For B2B companies, thought leadership is paramount, especially if your services are high-value and involve cutting-edge technology and long-term investment. Make your brand and resources a trusted hub for information, advice and financial solutions. Boosting your reputation and building trust from thought-leadership content gives you an easier task in convincing prospects to purchase, especially the deeper they go into the buyer's journey.
If you produce regular thought-leadership content, get it out there on social media channels and groups, and encourage people to subscribe to your blogs or email newsletters. If you build your database, you can utilise the power of email marketing for nurturing prospects and leads with thought-leadership content.
6. Make your content SEO-friendly
Content marketing for Financial Services companies largely serves to feed your website traffic, social channels and email engagement. Ensuring your digital content is SEO-friendly is crucial. Creating a load of great content for your business and not getting it seen is a huge missed opportunity.
Many factors go into improving SEO and ensuring your content is as searchable and visible to your target audience as possible. These factors include:
Technical set-up

On-page optimisation

Keyword strategy

Page tags and meta descriptions

Image optimisation

Page speed

Link quality/accuracy
However, your overriding priority when creating SEO-friendly content is making sure that it's keyword-rich (based on keyword research) and that it uses the right language and tone, which your personas would use and search for. Content relevance is key.
There are lots of great tools available to businesses to boost SEO ranking and performance, including Moz, SEM Rush, BuzzSumo and Screaming Frog. You can find out more about SEO and how to improve website SEO to drive high-quality business leads in our guide.
7. Increase domain authority with link building
Good domain authority is important kudos for brand reputation and SEO. Your content marketing activity can help to increase your website's domain authority in a number of ways, and link building should play a key role in your content strategy.
Here are some of the key elements of a good link-building strategy:
Outreach – contacting other reputable websites and brands for potential opportunities for content collaboration, co-branded promotions, guest blogs and/or webinars and links, is called "outreach" and it can really enhance your content strategy
Backlinks – link building is all about acquiring backlinks for your website, generating traffic and (when getting backlinks from sites with high domain authority) earning you SEO brownie points from Google
Guest blogging – guest posting on blogging sites or business sites is a great way to increase your content's reach and gain backlinks for your website and social platforms
Link building takes time and requires strategic thinking and patience but it can really pay off long-term.
8. Plan out strategic social and content calendars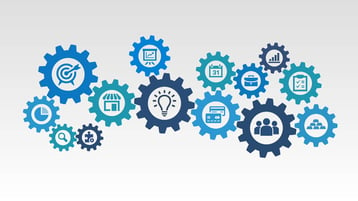 Once you've started to plan some potential topics and content types to create, it's good practice to put together a content calendar, planning out your content creation, keywords, deadlines and target audience. When this is in place, you can create a social calendar, based on the content plan, outlining the key channels to promote the content on and the social copy you want to use and share on different channels.
For your content calendar, list out some of the following:
Content topic
Content type
Target persona
Primary keywords
Lifecycle stage
Campaign name
Campaign goals
Owner
Deadline
Status
We recommend using shared spreadsheets to map out the content plan, whilst using a content planning tool, such as Asana, Trello or Clickup, to plot and coordinate your plan, assigning tasks to members of your team.
With your social media calendar, again a shared spreadsheet is useful for mapping out the copy and relevant links, images, dates and channels, from which you can bulk upload social posts to whichever social scheduling tool your business uses, from Hootsuite and Buffer to HubSpot.

9. Incorporate video into your content marketing plan
The power and relevance of video marketing is growing at a fast rate, across all industries, and there are lots of ways to utilise this video content, such as:
Explainer videos

Live broadcast

Demo videos

Brand storytelling

About us videos

Case study videos

Post-webinar video recordings

How-to tutorials

"Ask me anything" live videos

Quick-win videos (tips, advice, strategies)

Business/industry news announcements

Behind-the-scenes/exclusive content videos
Engagement rates for video content far outweigh that of other forms of content, plus video is much more effective in helping brand messages stick. Just look at this compelling statistic:
Viewers retain 95% of a message when they watch it in a video compared to 10% when reading it in text (Insivia).
Video marketing is increasingly favoured by businesses, whilst social platforms and search engines are rewarding curators within their algorithms. So, there should be no further encouragement needed to add video into your Financial organisation's content marketing strategy.
10. Amplify organic content with paid campaigns
Creating SEO-friendly, inbound-led content will only get you so far in a short space of time, especially in the B2B world. Inbound is a long game, which is about increasing your traffic and attracting your target audience to your content over a long period, across each stage of the buyer's journey. That's why creating evergreen content is vital. But any successful content marketing strategy incorporates paid activity, as it supports your growth and helps your content get in front of more of the right people.
Creating paid campaigns, whether via Google AdWords, Facebook Ads or Sponsored LinkedIn posts, helps to amplify your content and laser-focus your audience targeting.
Organic content should be the backbone of your content marketing plan. It feeds your social channels, website traffic and gives you email marketing fuel, but investing budget into paid campaigns is the way to use and repurpose your content, to drive your lead pipeline. Utilise the wide range of targeting capabilities that paid channels and platforms now offer businesses.
Summary
We hope these content marketing tips for Financial Services companies have given you plenty of food for thought to inspire your next content marketing plan. There are lots of different factors and things to consider, regarding tone, targeting and types of content to create. Whether your aim is to drive more leads, boost brand awareness or increase conversions, keep your personas front of mind.
Inbound FinTech has worked with countless FSI companies, using its tried and tested inbound methodology and GamePlans to create effective marketing campaigns that drive online growth and generate quality leads.
Want to learn more about effective content marketing for Financial Services and how to improve your existing marketing strategy, why not get in touch with us today!
Inbound FinTech is an award-winning digital growth agency, based in London, UK, in the heart of the Financial District. Our experienced team of marketing specialists helps FinTech and SaaS companies to drive quality leads and grow their business online, through inbound marketing, SEO, PPC and account-based marketing strategies. IFT is a leading Google Partner, Elite-Tiered HubSpot Partner and a recent B2B Lead Generation finalist for the 2018 LinkedIn Marketing Awards.