For any modern business, your website is the first port of call when it comes to generating leads and telling your story. But in today's competitive FinTech landscape, just putting a website out there and hoping for the best isn't going to get you the MQLs you need. That's when you need to consider the growth-driven design methodology.
Before we go into the methodology and how it works, let's discuss why your website should be built with growth in mind and the role it should play in your approach to lead generation.
Thinking about your business website as agile and ever-evolving
As any marketer knows, putting together a website, or revamping one, is a complicated, time-consuming and often expensive process. There's a mountain of stakeholders to manage and opinions aplenty flying around, while writers, designers and developers swap templates back and forth. When you're finally done, often late and over budget, everyone is glad to see the end of the project.
However, the truth is that your website is never 'finished'. Consumer preferences, market conditions and technology are continuously evolving. Creating an effective lead generation machine, therefore, requires measuring, testing, learning and iterating to find what works. That's the core of growth-driven design methodology.
Pioneered by HubSpot, the original disruptor in online inbound marketing, growth-driven design (GDD), reduces the risks associated with traditional web design by aiming for continual, impactful site improvement instead of one big deadline. The goal is to launch quickly, then use real, user-centric data to test what works, improve and deliver ongoing value that boosts conversions, engagement and efficiency.

Below, we outline how HubSpot's growth-driven design works in practice.
The three phases of growth-driven design methodology
The growth-driven design methodology consists of the following three phases: Strategy, Launchpad, and Continuous Improvement. Each stage builds on the next, helping you guide the development and execution of your website to achieve your lead generation goals.
1. Strategy
The first step in growth-driven design methodology is to have an understanding of your audience, their needs and goals, how your services can meet those goals and what your website needs to do to engage them. Creating a well-thought-out financial services marketing strategy is the foundation of your whole project, setting the parameters for everything that comes next.
Key questions to consider in your strategy include:
What are our goals: Firstly, you need to align your website with your overall business goals. After all, the project isn't just meant to deliver a pretty shopfront - we're creating a lead-generation machine. Decide how the website will enable your wider business success using a framework, like

SMART

, to ensure your goals are appropriate and usable in the wider commercial context.
Who is our audience? Identifying your

ideal customer persona

is key to creating the right experience for your users. Research their challenges, needs, workflows and habits so you can build an experience that aligns with the way they work. This can include the goals within their businesses, when they're likely to visit your website, how they like to buy and what blockers they need to overcome to reach a buying decision.
What do we want to test? The key difference with growth-driven design methodology is continuous improvement. Set a range of assumptions at the start – this could be around user flow, conversion rates, design decisions, language or a range of other factors. Pick a manageable range which can be effectively tracked and iterated, based on what you already know about your market, your business and your website.
What do we launch with? Once you have your goals, audience and testing factors decided, you can outline your initial launch version. The main thing to remember is that this is not your forever website, this is a testing ground or Launchpad.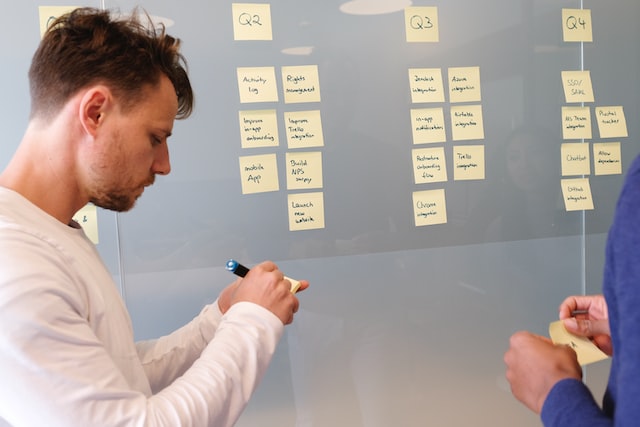 2. Launchpad
Once your strategy is in place, the next phase of growth-driven design methodology is to get your first iteration out there. Aim for a website that looks and performs better than what you have today. But don't try and build the perfect product - perfection is a journey here.
Once you've launched - and some teams turn it around in as little as a month - it's all eyes on the metrics. Examine your assumptions from stage one, using HubSpot's visibility and testing tools to find what's working and what can be improved.
3. Continuous Improvement
Calling this a stage is slightly misleading – it's more of a cycle that will keep running. As the final phase of the growth-driven design process, this is the cycle where you regularly build, test, learn and repeat implementing changes, features and strategies on your website to help it move directionally towards your business goals.
By honing in on the factors that have the highest effect on conversions you can turn your website into an increasingly effective Financial Services lead generation machine based on actual data rather than outdated assumptions, staying ahead of your competitors and delighting your customers.
This is an ongoing responsibility, so working with an expert growth-driven design methodology development and marketing partner like Inbound FinTech can help you structure and optimise your programme.

How to make your website into a lead generation machine
The strength of growth-driven design methodology is the ability to test and learn well beyond the limitations of traditional web design. Achieving this requires choosing the right factors to implement and improve. After all, there are as many options for testing as there are web design capabilities. However, key focus areas for testing to reach lead generation machine status should include:
User experience: Your website should be easy, clear and even enjoyable to use in terms of

user experience

. The design, copy and layouts should help users find what they need and guide them to the best destination. For testing, this can include different CTAs, copy, page titles, imagery and design choices.
Performance: It can also cover key metrics such as load times, bounce rate, user flows and conversions, on the technical side, making sure your website is working with users, not against them.
Conversion offers: To generate leads, you need to learn what makes your users tick. Test CTA locations, content offers, phrasing on buttons and different types of CTA to find which catches your users in the right area at the right time.
Retention: When looking at lead sources, ensure that the way you bring them in matches what they find on arrival, including messaging, design, graphics and calls to action.
Taking advantage of growth-driven design to generate leads
In the race to generate leads for your business, your website should be the most powerful tool in your arsenal. Growth-driven design methodology makes your website more accurate, flexible, agile and, eventually, effective by helping you make smarter decisions.
Companies that can adapt to changing commercial conditions have the chance to move faster than competitors and meet consumers where they are now, rather than 6 months ago when the website was last updated.
Evolving your website in line with your customers requires a keen eye on data and the right methodology, which is why businesses choose to partner with growth-driven design methodology experts like Inbound FinTech. To find out more about how growth-driven design can turn your website into a lead-generation machine, talk to our Website Design and Development experts.
Inbound FinTech is a leading digital growth agency for the FinTech and Financial Services industry and an elite HubSpot solutions partner. We offer various HubSpot services and a wide range of other digital services, including web development and design. Explore our agency's solutions or get in touch to learn more about how we use HubSpot and the growth-driven design methodology to power business growth.