With the Financial Services sector waking up to importance of inbound marketing for driving online growth and successful lead generation, HubSpot is the ideal CRM platform for businesses in the industry. Whether you're considering using HubSpot or you're an existing HubSpot user looking for guidance, this blog has lots of great insights to leverage HubSpot for B2B Financial Services marketing success.
We've outlined 25 expert tips for using HubSpot and its many tools to generate business leads and revenue in the Financial Services industry.
1. Embrace the inbound methodology
HubSpot's inbound methodology has helped countless brands to supercharge their organic lead generation and grow their businesses online. The Finance sector has been slow to adopt inbound marketing strategies, but now FinTech and Financial Services companies are starting to realise the need for a customer-centric approach to lead generation.
What is inbound marketing?
Well, inbound marketing is all about attracting the right audience to your website organically and nurturing prospects down the funnel, to become customers and even advocates.

Here is HubSpot's inbound methodology below: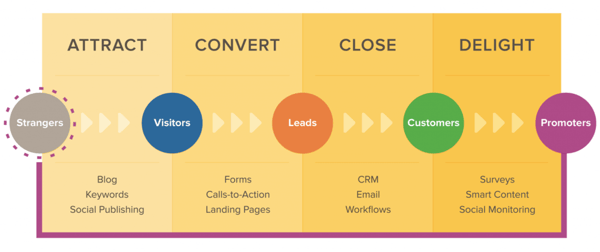 There are five types of contacts within the customer lifecycle: Strangers, Visitors, Leads, Customers and Promoters. The inbound methodology focuses on attracting your key personas and converting them into customers, before turning customers into promoters of your business.

Learn more about inbound marketing strategy in our comprehensive Ultimate Guide to Inbound Marketing for FinTech.
2. Craft buyer personas for your business
Defining and scoping out your company's buyer personas is fundamental in HubSpot's inbound methodology and forms the foundations of your content and campaign planning.
What are buyer personas?
Buyer personas are your ideal customers. These hypothetical profiles outline customer pain points, challenges and goals. Crafting buyer personas for your business is integral for running successful inbound marketing campaigns.

Buyer personas enable businesses to tell their ideal customers' stories, helping to define the content required to target to these personas. HubSpot allows you to input buyer persona profiles, to segment and target them effectively.
3. Create content for each stage of the buyer's journey
You should target your business personas with content across each stage of the "buyer's journey". Here's HubSpot's buyer's journey outlined below: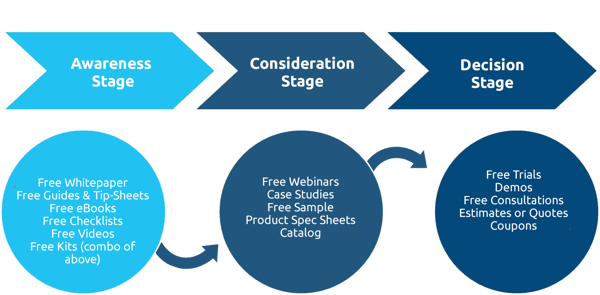 Awareness stage content, such as blogs, guides and checklists, generates interest in your brand and provides useful information, news and strategies to help your personas solve problems.

Consideration stage content focuses on helping prospects who are already aware of solutions and are seeking products and services which provide these solutions. Content like case studies, webinars and audits demonstrate your successes and expertise.

Decision stage content should convince prospects about the value of your service offering and your key differentiators. Free demos, trials and even pricing lists help prospects make buying decisions.
Engaging your audience throughout the buyer's journey is vital for successful B2B Financial Services marketing, especially if your sales cycle is a lengthy one.
4. Build campaigns in HubSpot and assign content to your campaigns
Creating evergreen content is the key to lasting success with inbound marketing, as it helps your website to become a magnet for attracting quality prospects and driving traffic long-term.
47% of B2B buyers read 3-5 blog posts or pieces of content prior to engaging with a sales person. (Source: DemandGenReport)
HubSpot's Campaigns tool allows marketers to plan inbound campaigns and assign content to campaigns, to track performance and report on goals, targets and KPIs.
5. Optimise your content with HubSpot's SEO tools
Creating content targeted at your key personas is an SEO-friendly approach, which ties in with inbound marketing. SEO is all about enhancing your website content and ensuring that it ranks highly when your personas search for subjects, products and services relevant to your business offering.

There are lots of factors to consider in your SEO strategy, including the following:
Keyword research/optimisation

URL structure

Meta data

Content structure, readability and relevance

Image and page tags

Internal links

Link building, backlinks and outreach

Localisation
HubSpot has native SEO tools which highlight how well-optimised your content and pages are, providing recommendations on how to improve them. We cannot underestimate the key role that SEO plays in B2B Financial Services marketing.
Take a look at our blog on the importance of SEO for Financial Services marketing.
6. Leverage the power of video marketing
Video marketing should be a key part of your content strategy. HubSpot enables users to insert and embed videos, to leverage the power of video content, whilst you can also integrate video tools, such as Wistia.

Here are some great ways to use video for driving and converting business leads:
Explainer videos and product tutorials

Video testimonials and user generated content

Brand storytelling and social engagement

Vlogs

Live video and Q&As

Exclusive news, updates and access
Viewers retain 95% of a message when they watch it in a video, compared to 10% when reading it in text. (Source: Insivia)
7. Nurture leads with HubSpot's range of automation workflows
Marketing automaton is an essential part of successful inbound marketing campaigns. Automation enables businesses to drive targeted interactions with prospects and customers, based on data from your HubSpot CRM, list segmentation and behavioural triggers. HubSpot has a range of workflow recipes for beginners and good customisation capabilities for more sophisticated automation campaigns, to nurture financial industry leads with email.
B2B Financial Services marketing success relies on your ability to nurture leads and turn MQLs into SQLs and opportunities. Automation enhances your lead nurturing strategy's sophistication.
8. Set up lists for automated triggers and email segmentation
List segmentation gives marketers the ability to create targeted and automated email campaigns. HubSpot's Lists feature has a vast level of data filtering to enable granular segmentation for retargeting contacts within your database.
9. Get compliant with HubSpot's GDPR features
HubSpot has in-built GDPR features to ensure your processes are compliant with new data processing rules. Although HubSpot cannot magically make your business GDPR compliant, the platform offers handy tools and guidance to help you comply with data privacy, cookie use and marketing consent requirements.
10. Use HubSpot's email tool to deliver successful email marketing campaigns
Whether you want to send email newsletters to your entire subscriber list, targeted campaigns or automated trigger emails, HubSpot's Email tool offers a range of features to help businesses to deliver effective email marketing campaigns. Email remains a key channel in B2B Financial Services marketing.

You can A/B split test your emails, add personalisation, optimise for mobile devices and use smart send options, whilst leveraging automation functionality to nurture subscriber relationships.
11. Utilise HubSpot's content previews to optimise for mobile and other devices
HubSpot also has preview functionality for web pages, blogs and other content, such as lead flows, helping you to optimise content across a range of devices – improving readability and visual impact.
12. Leverage HubSpot's sales tools to assign tasks, create SLAs and communicate with leads
HubSpot's Sales tool helps FinTech and Financial Services businesses to get their Marketing and Sales teams working together seamlessly. Users can assign tasks (manually and automated) and set SLAs to ensure SQLs are followed up. You can also implement meeting booking features on key pages and content, using SalesPro, helping you convert more leads into customers.
In B2B Financial Services marketing, processes and teams need to be aligned to give businesses the best chance to convert leads into customers.
13. Improve your CRO with lead flows and smart content
Lead flows and smart content are effective CRO tools for maximising the impact of your content and campaigns. Lead flows are customisable popovers, promoting content and capturing data, which can be placed on any website page.

Smart content is a feature that can be used throughout your website, helping to tailor your user journey, according to lifecycle stage, website visits and a range of other dependencies. In B2B Financial Services marketing, you want your leads and prospects to take actions on your key website pages. Lead flows and smart content are great ways to encourage further engagement.
14. Optimise your landing pages and forms
Landing pages that contain forms to capture contact details (and other relevant information about prospects) should contain the following elements based on HubSpot best practice:
A compelling header

An image or video

Clear reasons and benefits for accessing the content

A persuasive call to action

An optimised data capture form
Your HubSpot Forms should contain relevant fields to capture details that identify your personas and help you understand more about your audience, and nurture them effectively.
15. Create compelling calls to action with HubSpot's CTA buttons
Calls to action can really influence conversion rate. You can optimise your CTA button positioning, colour and text, using persuasion tactics, to convince website visitors or email recipients to click through to key content. HubSpot's CTA builder enables marketers to customise call-to-action buttons and even create visual CTAs.

You can also deploy smart CTAs, which display customised buttons to different visitors based on data stored on their HubSpot contact record, or from information known about their device type, country, referral source or preferred language.
16. Customise templates from a modular and HTML level
There are lots of great free-to-use page templates in HubSpot to suit your needs, but you may want to add more features and deliver a specific visual look. This can be achieved by customising templates, either at a modular level (with HubSpot's range of content modules), or via the Design tool – where HTML can be updated, and stylesheets can be developed.
17. Manage social media with HubSpot's social scheduling and monitoring tools
You can combine your social media marketing efforts effectively within HubSpot, as the platform allows brands to link up business and personal accounts for Facebook, LinkedIn, Twitter, Google+ and Instagram, to create and schedule social posts.
HubSpot's Social tool also enables companies to monitor social activity, carry out social listening and analyse engagement performance.
18. Integrate your inbound marketing activity with paid social channels
Although inbound is primarily an organic marketing approach, paid social enhances the impact of your inbound content and helps you to target your personas effectively on key social channels. In B2B marketing, channels like LinkedIn are great vehicles to drive ad campaigns that amplify your best marketing content and target prospects where they are active.

You can you use your HubSpot contact data and utilise social pixels to retarget website visitors, according to their actions, whilst you can integrate Facebook ads directly with the HubSpot CRM. This increases the amount of leads you can generate from your inbound content and drives more conversions for your Financial Services marketing campaigns.
19. Embrace Smarketing: align your sales and marketing processes
The term "Smarketing" was coined by HubSpot's Sales Director Dan Tyre. Smarketing is the business approach of aligning marketing and sales processes. A common issue in the financial industry is the disconnect between Sales and Marketing.

HubSpot's portal enables businesses to set-up a Smarketing framework, including workflows, automated triggers, lead scoring, SLAs and contact communication visibility.
20. Consider account-based marketing
Have you considered using account-based marketing to target the key people within relevant organisations that you really want to engage with your business? It's a really effective approach in the B2B space and for Financial Services marketing.
What is account-based marketing?
Account-based marketing (ABM) is a hyper-targeted marketing approach, directed towards a pre-defined group of key decision-makers for specific accounts.
92% of companies recognise the value in ABM, describing the approach as a B2B marketing must-have. (Source: DemandBase)
Due to the investment required by businesses seeking FinTech products and SaaS solutions. FinTech vendors must develop strong relationships with prospects, whilst even qualified leads require a lengthy nurturing period and sales process. HubSpot's CRM has the capabilities to run effective account-based marketing, which is another great reason to use HubSpot in the financial industry.
21. Create content pillars to enhance SEO
SEO has evolved in recent years, due to the influence of voice search, mobile search and changing browsing behaviours. Heightened expectations demand more sophisticated SEO strategies, and content pillars are an effective way to boost traffic.
What are content pillars?
Well, content pillars are hubs for attracting your personas, focused around a key subject area, service or keyword. HubSpot's Content Strategy tool enables businesses to create content pillars and develop topic clusters, which feed into the content pillar.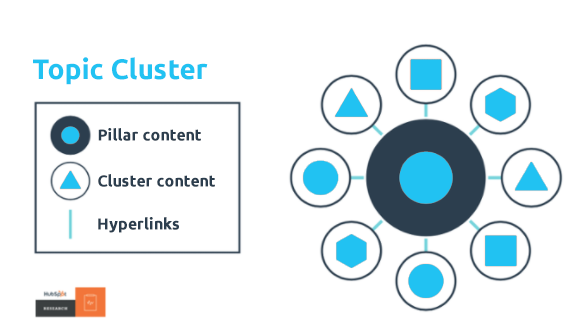 Once you've planned your topic cluster, you can create a content pillar page consisting of repurposed content from existing sources and newly-created pillar content. These hubs of useful information establish your business an industry thought leader, which is very important for successful B2B Financial Services marketing.
22. Reporting, analytics and performance
It's important to have a good level of visibility on how your campaigns are performing and which content is generating most traffic and leads.

HubSpot has advanced analytics tools that help you harness the extensive inbound marketing performance data available. This includes website visits, sources, click-throughs and form submissions, plus engagement rates for email campaigns and social posts. You can drill down into individual contact history, giving you granular insight in user behaviours, to nurture and qualify leads.
23. Don't forget customer service
Customer service is becoming an integral part of the customer journey. HubSpot has recently evolved its inbound funnel into a "flywheel", incorporating a Service Hub within the existing Marketing and Sales Hubs. See HubSpot's inbound flywheel below: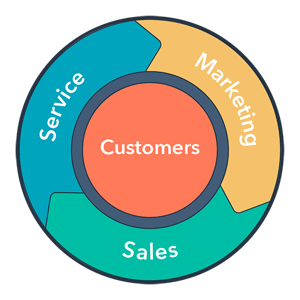 The Service Hub includes an inbox which unites messages across chat, email and other channels, to help teams collaborate and enable customers to interact with companies. Customer support tickets have enhanced automation capabilities, plus survey and feedback tools, and a new Service dashboard feature to report support performance.

HubSpot President and COO JD Sherman said the following about HubSpot's Service Hub:

"Your biggest untapped growth opportunity today is in fact your existing customers. With Service Hub, we're giving businesses the tools they need to tap into that opportunity."
24. Leverage HubSpot's support and tap into their knowledge base
HubSpot's own support network is an invaluable resource for users. HubSpot Support includes live chat, 24-hour-response email support tickets, and telephony support with highly-experienced customer service operatives. HubSpot also has an extensive knowledge base with easy-to-use instructions, including videos, to solve an array of support queries.
25. Work with a B2B Financial Services
marketing agency
Using an inbound marketing agency which specialises in FinTech and Financial Services gives your business a great advantage over its competitors. A B2B Financial Services marketing agency can significantly increase your content output and quality, whilst ensuring that it's targeted to your key personas.
Inbound FinTech can give you this competitive advance and we can improve your inbound strategy, support your content creation, add sophistication to your marketing campaigns and offer expertise on key marketing tools and platforms.
Learn more in our blog: 9 Reasons to Work with a Marketing Agency on Your FinTech Project.
Summary
HubSpot has so many great marketing and sales tools and our tips for using HubSpot for B2B Financial Services marketing success should help you to create an instant impact on the platform. Long-term, it's about embracing the inbound methodology and leveraging the content, channels and strategies that feed into it.
Watch our free on-demand webinar on how the right CRM for Financial Services can help you solve your key growth challenges today!
Inbound FinTech is an award-winning digital growth agency and Elite-Tiered HubSpot Partner. We help FinTech and B2B Financial Services companies to significantly improve their marketing performance. We can transform your lead generation process, boost website traffic and help you to attract and nurture your ideal customers through proven inbound marketing tactics and strategies