Between October 12th and 14th, HubSpot users, digital growth experts and business professionals from across the globe joined together to enjoy HubSpot's annual INBOUND event. Like last year, HubSpot hosted the event digitally, rather than from its usual Boston home, and it proved to be bigger and better than ever! In this INBOUND 2021 highlights blog, we reflect on the key takeaways from the event, including the coolest features, most inspiring sessions and what insights stood out for us.

Ahead of this year's we wrote an INBOUND 2021 preview, where we expressed our excitement for digital opportunities available at the event and the impressive array of sessions on the agenda. Well, it did not disappoint! INBOUND 2021 was an immersive, fully digital experience with a top-notch line-up of speakers sharing transformative insights and vast opportunities for learning, networking and connecting.
For HubSpot agencies like Inbound FinTech, the INBOUND event is also a chance to keep pace with industry trends and developments and gain insights into what's new and up and coming in the HubSpot community, arming us with cutting-edge knowledge and tools to make waves in the year ahead. Let's look at the highlights
INBOUND from anywhere
With attendees from 179 countries, representative meetups like Black@INBOUND and an accessibility-friendly conference platform, inclusivity was a key underpinning to this year's INBOUND event. Live sessions were scheduled to allow for attendance from across time zones, and Meetups were focused on specific peer groups such as HubSpot Partners, sales managers and recent graduates, ensuring there was ample opportunity to connect with like-minded professionals from across verticals.
The reach of the HubSpot's event also made it possible for attendees from anywhere to hear from inspirational speakers including Oprah Winfrey, who shared lessons on her journey to success, Spike Lee, who showed us that drawing ambition out of yourself and others takes more than drive and passion, but clarity and focus as well, and Cynt Marshall, who spoke on how to enact institutional change at a structural level to start leaving a legacy of opportunity.
"Your legacy is not your name on a building. Your legacy is every life you've touched. It's a heart print." - Oprah Winfrey

INBOUND 2021 highlights: Key takeaways from a packed agenda
From inspirational marketing and sales strategies to success stories of delivering powerful customer experiences, INBOUND 2021 was packed with cross-industry insights from some of the most successful business professionals and digital innovators. Let's explore some of INBOUND 2021's highlights, looking at key takeaways and insights we gained from HubSpot's digital conference.
Insightful sessions from expert speakers and brands
Killer SEO strategies and evolving trends
Our INBOUND 2021 key takeaways start with SEO expert Tony Verre's session on Killer SEO Strategies Through Product Design Methodology. He pressed home the point that that keyword-focused SEO is vanishing in favour of user-centric SEO strategies. With content creators encouraged to put the user at the centre of their strategies, Tony shed light on the value of Product Design Methodology for SEO, specifically mapping out user behaviours that result in desired outcomes through behaviour mapping, identifying internal and external user triggers with trigger mapping, and discovering and defining user pain points before developing and delivering a solution that solves user needs with the Double Diamond Model.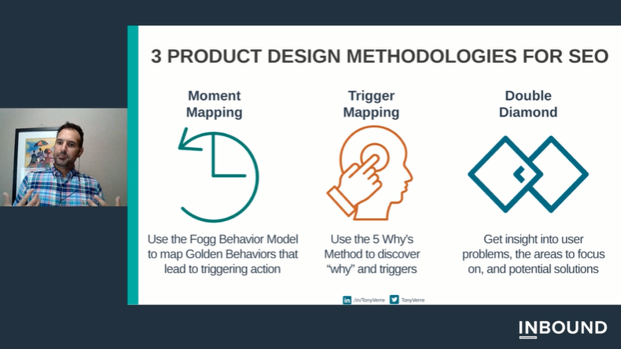 The future of video content
Canvas+Co's session on Creativity Thrives in Constraint: How Successful Brands Create Video Content, where the future of video content was unpacked and video platform best practices were explored, including always capturing attention fast, keeping up the pace, assuming mobile is the chosen device, using text to highlight key messages and adding CTAs.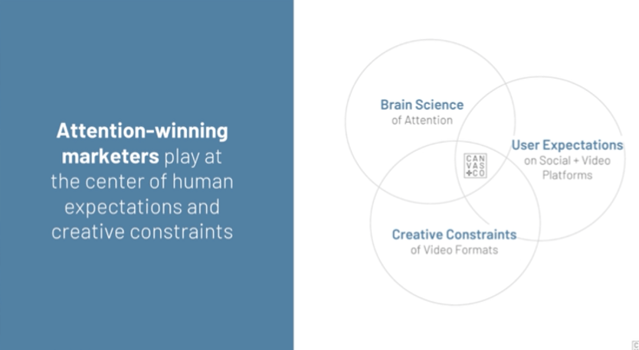 Busting email marketing myths
Jay Schwedelson from Worldata's session on Email Myths Busted! What's REALLY Working Now! revealed that trends such as the use of asterisks, comparisons, suspense and emoji bookends in subject lines, friendly 'from' addresses and free offers increase B2B and B2C email open rates. There were lots of great tips and insights for effective email techniques - we recommend marketers watch it back on-demand if you missed it.
How to become a trusted voice in your space
Marcus Sheridan from IMPACT's session on Trusted Content: 7 Steps to Becoming the Most Trusted Voice in Your Space was a really intriguing talk. It's so important these days for brands to build authority, demonstrate expertise and gain trust from their audience and customers. Here are his headline steps being creating and delivering trusted content:
Talk openly about which customers your solutions are (and are not) a good fit for
Talk about pricing, costs, rates, etc - if you don't teach your audience about pricing, who will?
Learn the skill of "disarmament"
Show your "secret sauce"
Be willing to compare without bias
Talk about negatives everyone is asking about but no one wants to address
Talk about the competition, without opinion but with facts
The HubSpot Spotlight Session at INBOUND 2021
In any INBOUND 2021 highlight piece, there has to be a focus on HubSpot's Spotlight session. HubSpot co-founders Brian Halligan and Dharmesh Shah and new HubSpot CEO Yamini Rangan. Dharmesh spoke to the importance of improved conversations with customers, highlighting that customers want to feel special and be cared for, which is why HubSpot is investing in ways to make their platform a more unified CRM, moving companies away from the fragmented "Frankensystem" that doesn't offer consistency or control.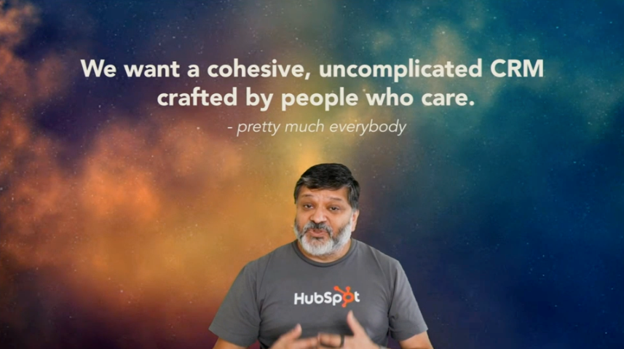 Yamini shared her thoughts on HubSpot's own adaptive approach to CRM: "There is a whole massive shift that's happening towards the buyer. Buyers want low friction, they want consumer-like experiences that are end-to-end. And therefore, the way we are approaching CRM is changing. It's much more about buyer empowerment, not seller enablement."
Brian had a tough year, after a lengthy recovery from a serious snowmobile accident, but was back to his smiley self during the Spotlight session. He reflected on a bit of an epiphany he had: "I was lying in the snow, not confident I was going to live, and running through my head was a Dalai Lama quote... 'Live a good and honourable life so you can enjoy it when you're an old person' and as I was running the movie of my life through my head, HubSpot is a relatively large part of my movie and I feel like we've built a good and honourable company and I'm proud of it… But there's so much more work to do to achieve our mission. Our mission is to enable millions of companies to grow better."
CRM updates and new releases announced at INBOUND 2021
We wrap up our INBOUND 2021 highlights and key takeaways with a look at HubSpot's announcements around new platform updates and feature releases. Echoing Yamini's sentiment of "customer-centricity is not an initiative, it is a way of being," HubSpot is introducing four new features and product updates to their CRM offering, with the aim of putting the "C" back into "CRM". Let's look at what was announced.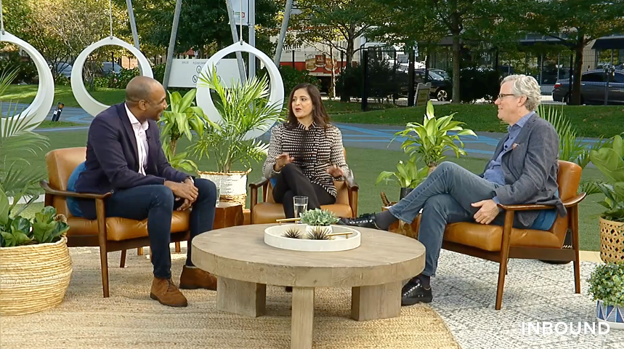 HubSpot Payments
From one-time payments to recurring monthly memberships, HubSpot Payments aims to give B2B clients' customers a seamless way to send payments quickly and easily through a connected buying experience.
Note: Currently, the open beta is only available in the U.S.
Operations Hub Enterprise
Available for purchase from November 1st, Operations Hub Enterprise introduces a new business intelligence feature called datasets that can help clients easily manage data and give more consistent and relevant insights. Ops leaders can curate data collections for greater reporting capabilities downstream.
We wrote an article earlier in the year about how Operations Hub is a key piece of the CRM jigsaw.
Sandboxes
A must-have for scaling companies, HubSpot's Sandboxes feature lets developers test and experiment with changes before deploying live to client accounts. The production-like portals allow integrations and themes to be tinkered with without affecting current setups or disrupting existing pipelines.
Customer Portals
Now in beta, Customer Portals allow customers to easily manage and view support tickets, quickly access and explore the client's knowledge base and gain more ownership over their service experience than before. Also, including custom feedback surveys, the solution can also be customised to fit unique client brands without any coding needed.

Learn more about HubSpot's new platform releases and updates announced at INBOUND 2021.
Beyond INBOUND 2021: Tools and knowledge to power future growth
We hope you enjoyed our INBOUND 2021 highlights and key takeaways. After a hugely exciting digital conference that educated and inspired so many, HubSpot Agencies like Inbound FinTech can look forward to an improved product offering from HubSpot to empower us and our clients to better reach their audiences and do more for their customers. Armed with new tools and knowledge, we're excited for the year ahead and equipped to handle any situation or shift in the industry. Innovative events like INBOUND make us proud to be a part of the HubSpot community.
If you're interested in how HubSpot can help your business, contact us for a free consultation. Or if you're an existing HubSpot user, but want to ensure that you're maximising its potential, you can request a HubSpot Portal Audit from our experts. We'll review your use of the platform and recommend how to optimise your performance.