HubSpot's flagship annual conference is back this year as a fully immersive digital experience and is set to be better than ever! As a highlight in the HubSpot community's calendar, it's an opportunity to connect, share and learn. INBOUND 2021 enables HubSpot users and partners to explore transformative business trends, have proactive conversations and gain actionable insights. And it empowers agencies like ours to better support businesses in today's fast-paced digital landscape. We've put together a short INBOUND 2021 preview ahead of the event.

Find out what's in store at this year's INBOUND event, the key themes covered in a packed agenda and the sessions we're looking forward to most at Inbound FinTech.
What is INBOUND 2021 all about?
Taking place between 12-14 October, INBOUND 2021 is a 3-day digital event featuring live and on-demand sessions with expert speakers from across industries, as well as meetups for networking and idea swapping.
A key benefit of INBOUND being a virtual event again this year is the increased global reach and access to this exciting experience. With expected attendees from 179 countries in 2021, INBOUND has never seen such a diverse audience. Content will be available in multiple languages and time zone-friendly Spotlight sessions will be hosted to ensure attendees joining from anywhere are accommodated, making HubSpot's flagship event more inclusive than ever.
You can register for either the Starter Pass or the Powerhouse Pass. More information on each can be found on the INBOUND 2021 registration page.
W
hat

to expect from this year's INBOUND event

The uniquely built conference platform has seen some upgrades and improvements based on feedback from last year's event, and now features individual profile access to curate your experience and give other attendees an idea of who you are, as well as your own customisable avatar! The platform also allows you to interact with this year's sponsors including AWS, Google, Atlassian and DocuSign.

Attendees can also look forward to HubSpot Academy sessions focused on HubSpot's tools and how businesses have benefited from maximising their use of the platform.

For those who look forward to INBOUND's inspirational talks from big-name guests, you won't be disappointed. INBOUND 2021's featured speakers include such stars as Oprah Winfrey, Spike Lee, Judith Heumann, Cynt Marshall and David Chang - so, you won't want to miss those!

View the full list of

INBOUND 2021 speakers here

.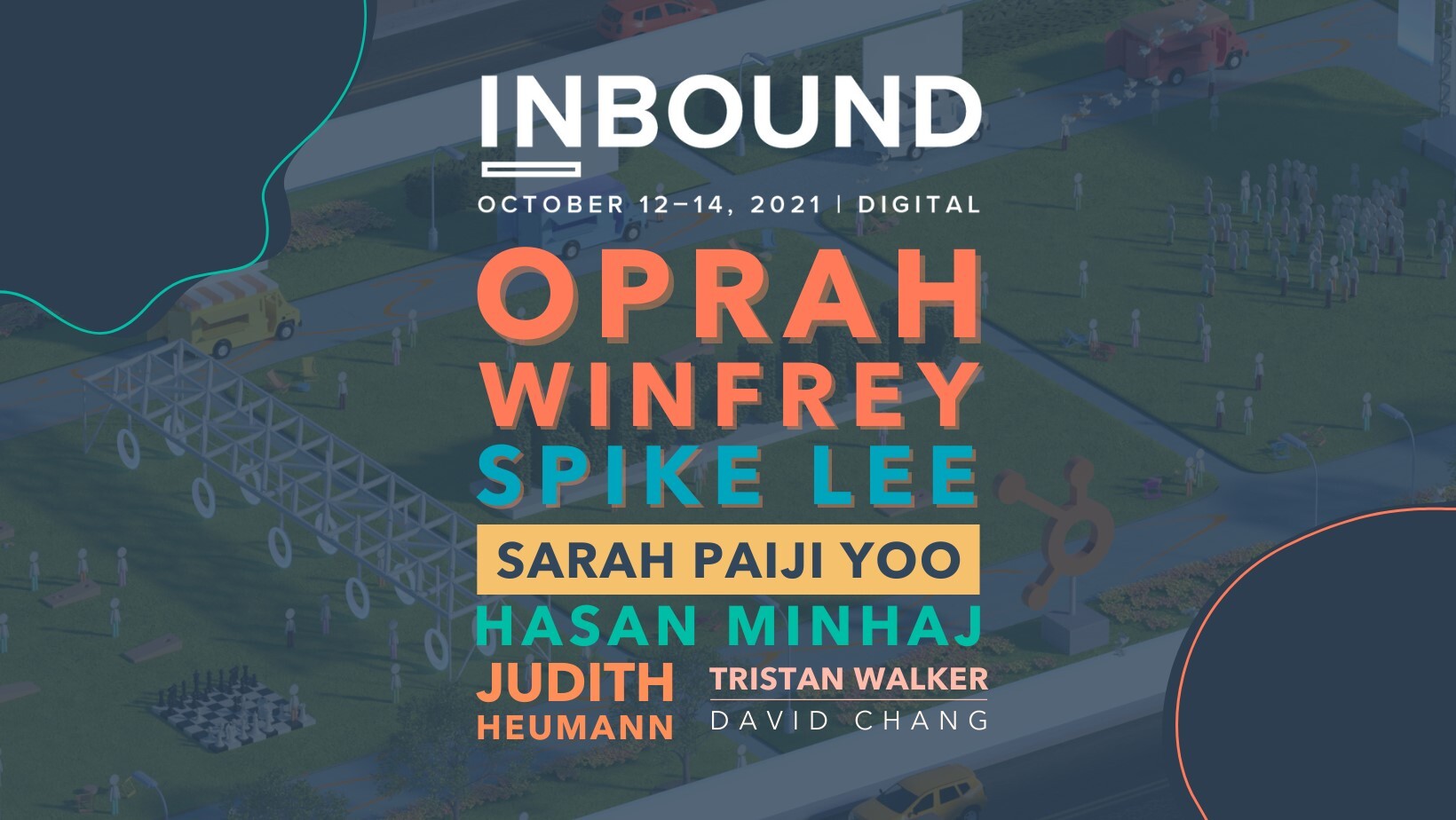 A preview of the key themes covered at INBOUND 2021
Building on conversations around thriving in a hybrid world from last year's INBOUND event, the HubSpot co-founders and CEO will be discussing the impact of software on businesses in a pandemic-affected world. Other industry experts from the likes of Stratagon, ARC, Shopify and LinkedIn will be exploring various topics from the continued influence of virtual to community building and CRM, and everything in between, providing insights across marketing, sales and customer success. Another key focus is the optimised use of popular inbound marketing approaches and tools and addressing the surrounding myths.
Here's a preview of some other key themes and topics to look out for during INBOUND 2021:
Google Ads, email marketing and demo booking tricks for optimised lead generation
Tips on running events, selling and working virtually
Sales and marketing growth hacks
Ask Me Anything sessions with leading industry experts
To plan your digital experience, check out the full INBOUND 2021 event schedule here.
Stay tuned for the big HubSpot announcements and new releases
As is the tradition at INBOUND, HubSpot will be making a number of big announcements about the platform during the event and we look forward to the full set of updates. For those seeking to increase their HubSpot platform knowledge and expertise, there will be recommended sessions to help guide pipeline building for Q4.
Keep an eye out for news of the latest product improvements and new releases to be unveiled during the conference and opportunities for deep-dive sessions in the weeks following INBOUND 2021.
What we're looking forward to most from the INBOUND 2021 event agenda
With a varied but comprehensive agenda, Hubspot's showpiece global conference is an exciting chance to experience an inclusive and relevant online digital marketing event led by expert thought leaders. But it's more than just marketing, just as HubSpot has evolved to become a CRM platform that empowers marketing, sales, service, content management and operations. Indulge in a smorgasbord of sessions covering a wide range of topics to suit all kinds of professionals looking to help grow their business.
It wouldn't be an INBOUND 2021 preview without us letting you in on the sessions we at Inbound FinTech are most excited about. Here are the talks that are tantalising our taste buds this year:
Killer SEO Strategies Through Product Design Methodology
How B2B Brands Grow: Great Marketing Drives Sustainable Growth for Companies
You're Getting Warmer... Using Content in the Sales Process Like a Pro!
Debate: Where to Start - Content Creation for SEO First or For Sales?
Get set for another incredible INBOUND event!
Packed with insightful sessions, inspirational spotlights and meetups, perfect for topic-driven networking with founders, future partners and business leaders, INBOUND 2021 is a great opportunity for the HubSpot community to stay up to date on all the latest solutions from HubSpot as well as developments in the industry.
As an Elite HubSpot Partner, we help businesses maximise the potential of the platform and its capabilities, ultimately delivering effective inbound strategies that drive high-quality leads and growth opportunities. If you'd like to improve the way your business uses HubSpot or discuss your business goals, reach out to us today. You can even request a HubSpot portal audit to assess your platform usage and identify how to optimise your performance.