HubSpot recently released an exciting product to its portfolio to help businesses to solve their operational challenges. HubSpot Operations Hub further enhances the platform and strengthens HubSpot's repositioning as an all-singing, all-dancing CRM to power business growth. It enables organisations to manage their entire process flow all under one CRM platform.
We explore the benefits of HubSpot Operations Hub, its key features and how it can empower Operations teams (and your business) to spend more time delighting customers, rather than being bogged down in a mire of manual processes.
Introducing HubSpot Operations Hub
HubSpot has rolled out its fifth 'hub' in its series of CRM products, the latest of which, Operations Hub, aims to empower companies to drive revenue and growth for their businesses thanks to the efficiencies offered by HubSpot's features.
The driving force behind HubSpot's latest Hub is to help businesses align operations, automate processes and scale at pace. HubSpot's Operations Hub lets you easily sync customer data and automate key business processes. Integration and syncing capabilities ensure you have a clean, connected flow of data and one source of truth - meaning systems, teams and processes work together seamlessly.
The flexibility and programmability of the data syncing and automation tools in HubSpot Operations Hub future-proof your business growth, allowing you to adapt to your customers' changing needs.
How Operations Hub fits into HubSpot's CRM portfolio
Operations Hub sits alongside the platform's Marketing, Sales, Service and CMS Hubs. And as is the case for the other products in HubSpot's portfolio, it plugs into the other Hubs to power this CRM suite.
Andy Pitre, HubSpot VP of Product and General Manager of Operations Hub, admitted that the company originally looked to introduce more features in the existing Hubs to support Operations teams, but soon realised that a dedicated Operations Hub was required to sufficiently cater to their needs. These days many Operations teams are overwhelmed. They want to drive impact for the business but they're caught up with lots of time-consuming (often manual) tasks, working across numerous systems. HubSpot aims to give teams the tools they need to move from siloed operations into a RevOps operations function.
The new product also further enhances the HubSpot CRM's flywheel model, which powers customer experience. Learn more about the flywheel in the video below.
The HubSpot CRM already boasts extensive automation capabilities across the different products, including workflows for nurturing campaigns and optimising your sales process. Operations Hub offers programmable automation to help you adapt and enhance your business processes and reduce customer friction.
Key Features and Benefits of HubSpot Operations Hub
HubSpot Operations Hub makes it easier than ever for your systems to work together, seamlessly and efficiently, thanks to clean and synced data that's reliable and consolidated.
The key features of Operations Hub include Data Sync, Programmable Automation and Data Quality Automation, all helping Operations teams to achieve a unified view of every customer interaction, enabling them to delight customers with great experiences.
Let's take a deeper look at these features and their benefits.
Data Sync

Data Sync keeps your apps and data in sync, without the need for third parties or complex code. As businesses grow, they become more complex. Teams utilise new tools and apps, data gets siloed, and this leads to inefficiencies that ultimately impact the end-user.
This two-way syncing engine powers Operations Hub and makes it easy for systems to work together. By connecting HubSpot to your tech stack, you can create customisable, user-friendly integrations between a range of different apps, to unite your customer data in a single CRM platform. Custom field mappings, filtering and historical syncing keep your teams aligned.
Traditional integrations sync data in one direction, but this is limiting for certain purposes. Data Sync is bidirectional and gives you full, intuitive control over how your data flows between apps. You can select one-way sync to make changes in a single tool and see it reflected in another or two-way sync if you want your data to flow continuously between systems. The syncs work in real-time to achieve a consistent flow of data updates.
The feature powers dozens of top integrations (and counting), from Microsoft365 and Zendesk to Mailchimp and Magento 2.
Key benefits of Data Sync
Keep your apps and data in sync with an out-of-the-box, code-free package
Two-way and historical syncing
Custom field mappings
Continuous sync for accurate, consistent, up-to-date information
Performs scans of your records every 5 minutes, making updates where required
Available in free HubSpot editions, with additional functionality in premium editions
Programmable Automation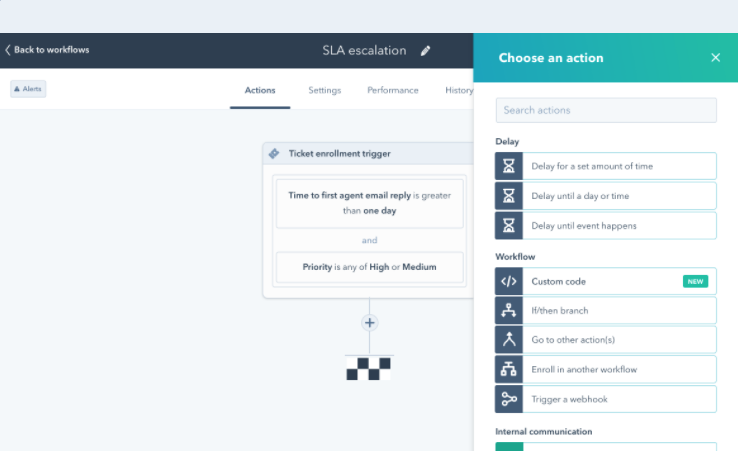 Scalability is something that so many businesses struggle with. Business growth increases process complexity, which demands efficient systems to support you in managing this complexity. Automation is vital.
HubSpot's Programmable Automation feature enables Operations teams to create custom automation using JavaScript to cater for every business process. Executing actions in HubSpot combines the ease of standard workflow actions with the flexibility of a custom in-house build.
This is big news for HubSpot users, as it goes beyond the already extensive set of predefined workflow options, meaning automation capabilities can now support almost any use case.
The feature also improves customer data security. Using various tools and processes leaves you open to data breaches. Programmable automation is built into HubSpot CRM, meaning data isn't unnecessarily sent to third parties.
Custom code options enable you to add secrets, which are encrypted and securely stored by HubSpot. This means you can create actions that access information in other systems, just like in the workflow applications available in most other HubSpot integrations.
Key benefits of Programmable Automation
Automation that's customisable to your company's specific use cases, like renewal management, discounts, etc
Programmable with JavaScript with no need for middleware
Less time spend on time-consuming, repetitive tasks
Enhanced lead scoring capabilities, incorporating data from other systems
Enrich your HubSpot records with data from third-party systems and integrated tools
Data Quality Automation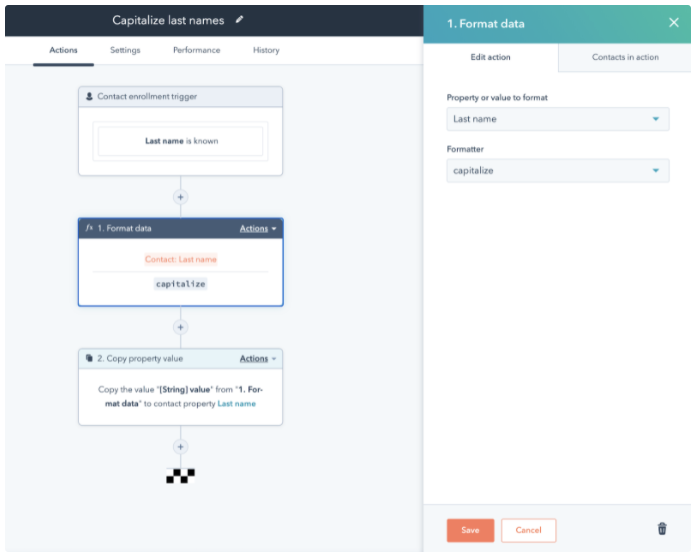 Poor quality data slows teams down and impacts the customer experience. With HubSpot's Data Quality Automation, you can cleanse your data automatically and reduce time-consuming manual data clean-up tasks. Automatically fix date properties, format names and more with these new out-of-the-box automation capabilities.
Operations teams require reliable qualitative data to work efficiently and deliver the right experiences for customers. But as your business grows, keeping on top of your data can become a challenge. Data Quality Automation introduces new workflow actions to help you implement and maintain clean, consistent data that fits your business' required parameters.
These automation capabilities extend beyond your HubSpot account. Data Sync integrations ensure clean and high-quality data flows into all of your other apps and systems.
Key benefits of Data Quality Automation
Reduces time-consuming data clean-up
Automatically cleanses data ongoing
Flexible workflow actions
Connects to Data Sync for a flow of accurate data between systems
Other tools and benefits of Operations Hub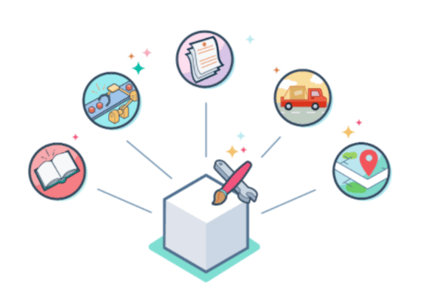 Beyond these headline features, HubSpot Operations Hub also has additional tools, such as Custom Properties, Workflow Extensions and Team Management and Permissions. Custom Properties allow greater flexibility and customisation for your data management and reporting.
Workflow Extensions enable teams to trigger actions in third-party systems, such as messages in apps like Slack or Zoom meeting invites - data syncs to reflect activity in HubSpot and your integrated systems.
Enhanced Team Management and Permissions in Operations Hub helps you ensure the right people have the appropriate access to data and features. As your company scales, your team structure becomes more complex and harder to manage. Global access is inefficient. Intricate team permissions improve organisational control and efficiency and minimise risk.


Summary
HubSpot Operations Hub is (for now) the last piece of the puzzle in HubSpot's flywheel model. Its unified toolset for Ops teams connects apps, cleanses customer data and automates key business processes. It brings everything together, ensuring processes are aligned and data flows seamlessly through integrated systems to keep everything working efficiently and to empower teams to deliver exceptional customer experiences and drive revenue.
Importantly, Operations Hub is designed and built to scale with businesses as they grow, thanks to extensive flexibility and customisation capabilities, powered by automation.
Is your business at a critical growth stage? If you'd like to know more about Operations Hub and how it could support your growth journey, get in touch with our HubSpot specialists. Or request a free HubSpot Portal Audit to get guidance on how to maximise your use of the platform.
---
Inbound FinTech is an Elite HubSpot Partner and digital growth agency, based in the UK but with a hybrid global team. We're a multi-award-winning agency specialising in helping FinTech and Financial Services businesses to grow. Speak to the team if you'd like to discuss HubSpot onboarding or integrations, or explore our range of digital services.