As part of our commitment to staying up-to-date with the latest trends and innovations in the FinTech industry, the Inbound FinTech team attended the Finance Magnates Africa Summit 2023 (FMAS23) in Johannesburg, South Africa, from May 8th to 10th.
With over 3000 attendees, FMAS23 was a vibrant and inclusive event that brought together industry leaders, traders, and FinTech enthusiasts from across the globe to explore the African FinTech landscape, empower retail traders, and unveil exciting opportunities.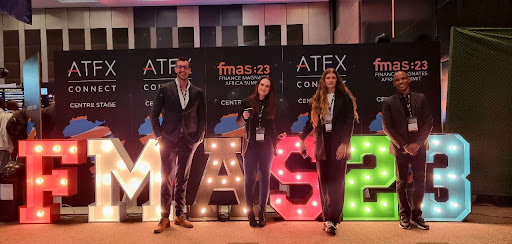 A Comprehensive Finance Magnates Summit Event Agenda
FMAS23 boasted a comprehensive agenda that catered to a variety of interests and verticals within the FinTech sector. As a highlight FinTech event on the 2023 calendar, the conference included prominent industry exhibitors and expert talks covering online trading, payments, FinTech opportunities in Africa, and blockchain and digital assets, ensuring a well-rounded exploration of the landscape in its current form. These panel discussions, fireside chats, workshops, and more provided attendees with in-depth insights into the world of finance and technology and the opportunities for growth in these areas worth exploring in Africa.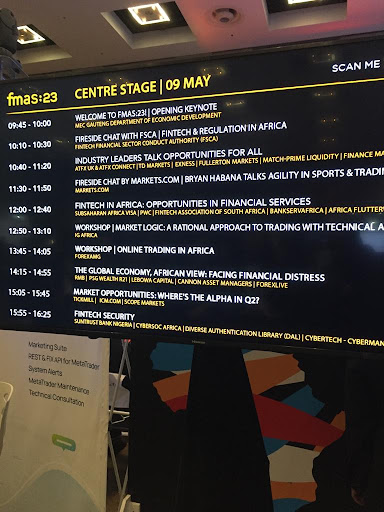 The sessions our team was most eager to attend included "Bryan Habana Talks Agility in Sports & Trading" where well-known South African rugby player, Bryan Habana, shared his insights on being agile both on the field and in the world of trading, and "FinTech in Africa: Opportunities in Financial Services", a talk featuring an expert panel of speakers from the likes of Visa and PwC.
Day three of the event saw an array of additional interesting talks, including "Payments Across the Continent: E-Volution in the Making" featuring payment experts from Africa and beyond, as well as "Trade GPT: AI and Innovation in Trading Technology", which shed some light on what AI can (and can't) do for traders.
Enhancing trading strategies and the importance of making informed decisions
With trading being a keen focus for all Finance Magnates Summit events, how to improve and extend trading strategies was, of course, top of mind for delegates. A key theme for FMAS23 was the importance of staying informed and trusting one's intuition when making trades, and attendees were reminded that making informed decisions requires staying up-to-date on market news, developments, and trends – which is crucial for identifying potential opportunities and risks in the financial markets.
Moreover, speakers at the event highlighted the importance of responsible and safe trading. They discussed common pitfalls that novice traders often fall into, such as overtrading, failing to manage risk, and ignoring key indicators, giving attendees a deeper understanding of how to avoid making mistakes that could lead to significant losses.
In line with responsible trading, speakers at FMAS23 also emphasised the importance of managing emotions while trading. Attendees learned how to identify emotions such as fear, greed, and impatience that can cloud their judgment and lead to poor trading decisions. By recognising and managing these emotions, traders can make more rational decisions that are based on data and analysis, which can prove more successful than going by emotion alone.
Africa's FinTech potential




Throughout this particular Finance Magnates Summit, discussions revolved around Africa's vast untapped potential in the FinTech sector and the FinTech opportunities abounding in Africa. According to an analysis by McKinsey & Company, Africa's Financial Services industry is expected to reach a value of $230 billion in revenues by 2025, and the success of fast-growing FinTech startups is being driven by increasing smartphone penetration, growing network coverage, a young and rapidly urbanising population, and rising investor interest.
However, with a significant portion of the population still unbanked and a majority of retail transactions conducted in cash, there is ample opportunity for growth and digitisation in Africa. Experts emphasised the need for forward-thinking governments, progressive legislation, and comprehensive ecosystems to drive FinTech adoption and educate the masses about the benefits of digitisation.
How open banking is revolutionising FinTech in Africa




A significant talking point that repeatedly cropped up in talks was around the potential impact of open banking on the African FinTech landscape. Open banking, which enables secure and authorised access to financial data, was highlighted as a catalyst for innovation, competition, and customer-centric financial services. FMAS23 overall shed light on how open banking can simplify payments, foster much-needed collaboration between banks and FinTech startups, and drive financial inclusion across the continent.
However, it's worth noting that cash remains the dominant payment method in Africa, followed closely by debit cards. Despite the growing popularity of open banking, there is still a lack of varied digital payment acceptance mediums and infrastructure across the region. Financial literacy and familiarity with cash transactions also contribute to the continued prevalence of cash. Nonetheless, there is a growing interest in utilising mobile phones for payments, with a notable percentage of the market already using, or planning to use, their mobile phones for in-store and online transactions.
How TradeGPT is shaping FinTech customer experiences




The event also delved deep into the groundbreaking implementation of ChatGPT in the dynamic and rapidly evolving FinTech industry. Esteemed experts and industry leaders showcased how this revolutionary technology, including state-of-the-art chatbots and cutting-edge, hyper-customised support bots, can profoundly transform the landscape of customer service, propelling it to new heights of excellence. With the remarkable capabilities of these AI tools, FinTech organisations can seamlessly elevate their customer support services, offering unparalleled levels of responsiveness, efficiency, and personalisation.
Other areas explored by experts that ChatGPT and other AI tools can revolutionise include:
Fraud detection and prevention: AI-powered systems like ChatGPT analyse real-time financial data, detecting fraudulent patterns and anomalies quickly. Machine learning algorithms enable continuous learning, improving the accuracy and efficiency of this detection over time, which empowers FinTechs to proactively prevent fraudulent transactions, enhancing their security measures.

Investment advisory and personalised recommendations

: ChatGPT and AI-driven tools enable personalised investment advice. By analysing market data, economic indicators, and customer preferences, these systems generate tailored investment strategies aligned with investors' goals and risk tolerance. This scales FinTech advisory services considerably, ultimately benefiting a larger client base than was previously possible.
By harnessing the potential of these advanced technologies, FinTechs can foster stronger customer relationships, boost customer satisfaction, and drive remarkable business growth.
Creating inclusive FinTech ecosystems by fast-tracking the adoption of new technologies




One of the key takeaways from FMAS23 was the importance of creating inclusive FinTech ecosystems in Africa. This refers to an environment that enables widespread access to and adoption of financial technologies, ensuring that all people are empowered with the necessary information and skills to embrace these advances. By fostering inclusivity, Africa can accelerate the adoption of new technologies and drive economic growth.
Access to financial services remains a significant challenge in many parts of Africa. Around 66% of sub-Saharan Africans don't have access to formal financial services. Inclusive FinTech ecosystems can help bridge this gap by leveraging innovative technologies such as mobile banking, digital wallets, and microfinance platforms. By providing accessible and affordable financial services, these technologies can empower Africans, both individuals and businesses, leading to improved financial well-being and increased economic opportunities.
Furthermore, inclusive FinTech ecosystems have the potential to enhance financial literacy and education. By leveraging technology to deliver educational content and tools, African people can acquire the necessary skills to make informed financial decisions. This, in turn, can promote financial resilience and reduce the vulnerability of individuals and communities to economic shocks.
Unlocking FinTech opportunities in Africa


Additionally, with inclusive FinTech initiatives, Africa can unlock the full potential of its population, driving economic growth and social progress. To build inclusive FinTech ecosystems, collaboration among stakeholders is essential. Governments, regulatory bodies, financial institutions, FinTech startups, and technology providers need to work together to create an enabling environment that supports innovation, safeguards consumer protection, and promotes financial inclusion. Partnerships with local communities and grassroots organisations can also ensure that FinTech solutions address the specific needs and challenges of different regions and populations.

By focusing on creating inclusive FinTech ecosystems, Africa can position itself as a global leader in FinTech innovation. The continent has already witnessed remarkable success stories, such as the rise of mobile money platforms in Kenya and Nigeria. With the right infrastructure, supportive policies, and collaborative efforts, Africa has the potential to become a hotbed of FinTech innovation, unlocking new opportunities and transforming the lives of millions.
Summary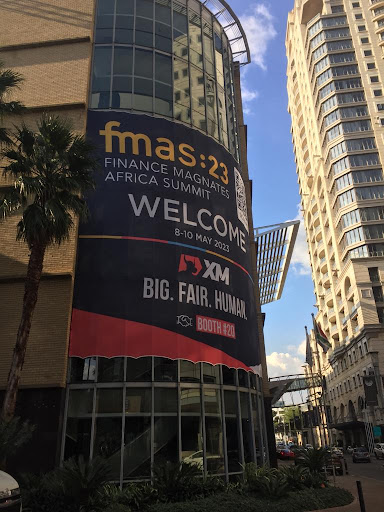 FMAS23 proved to be an extraordinary event that offered a wealth of insights into the African FinTech landscape and the opportunities on offer. The summit highlighted the need for tailored solutions in Africa's diverse financial ecosystem, as well as the impact of innovations like open banking and ChatGPT. As Africa continues its journey towards digital transformation, collaborations among governments, regulatory bodies, and industry stakeholders will be vital to create an enabling environment for FinTech growth and financial inclusion on the continent.

The Inbound FinTech team left FMAS23 feeling inspired and informed, with a deepened understanding of the importance of creating inclusive FinTech ecosystems to fast-track the adoption of new technologies and drive economic prosperity in Africa. By embracing FinTech and unveiling new opportunities, Africa is poised to become a global FinTech leader, revolutionising the financial landscape and empowering individuals and communities throughout the continent. Exciting times are ahead for the industry indeed!



Inbound FinTech is a leading digital growth agency and elite HubSpot partner that helps FinTech and Financial Services businesses reach their growth potential. If you would like to find out about our services and how they can help your business reach new heights, we'd love to hear from you.