We're excited to announce that our work for Apply Financial has seen us selected as a finalist for the 2018 LinkedIn Marketing Awards. We're competing in the Best B2B Lead Generation (Small Businesses) category – fingers crossed!
LinkedIn Marketing Awards 2018 recognition
Being announced as one of the LinkedIn Marketing Awards finalists for 2018 is recognition for our successful lead generation and account-based marketing campaigns (ABM) for Apply Financial, via LinkedIn. As their chosen marketing agency, Inbound FinTech helped Apply Financial to plan and implement hyper-targeted campaigns, which zoned in on key audiences and relevant organisations, addressing persona pain points at right times within the customer lifecycle.
The award category recognises small businesses on LinkedIn that are delivering on metrics that really matter, such as driving more leads, higher quality leads and revenue growth.
Apply Financial is a SaaS payment processing and validation company, based in the UK. For its LinkedIn campaigns, we helped them to target high-value banking professionals with compelling industry-specific case study content, tailored to their persona pain points.
The campaign
Together, we rolled out a mixture of paid and organic content to drive quality leads and boost traffic, creating maximum impact from a limited budget. Apply utilised a range of LinkedIn business tools, such as Sponsored Content and LinkedIn Lead Gen Forms, to increase alignment with sales – with results far exceeding all MQL and SQL targets.
The objective of the campaigns was driving net new leads and strengthening the existing pipeline, whilst the focus was on the quality of leads. The success of the campaigns was down to strategic targeting, close monitoring and testing to optimise the ads (and creative), and compelling lead nurturing – with the help of integrated HubSpot automation workflows.
We used the most relevant content for lead nurturing, to build trust and create a connection between the newly-generated leads and the Sales team.
As one of the three finalists named in the shortlist for the Best B2B Lead Generation (Small Businesses) award, we're super-excited about the awards and chuffed about the recognition – especially as there were thousands of companies vying for a place on the LinkedIn Marketing Awards' final shortlist.
Apply Financial's CEO, Mark Bradbury, welcomed the news and spoke about the impact Inbound FinTech has created for their business:
"We asked Inbound Fintech to help increase our brand awareness and services to banks in named countries, which matched our business/expansion model. They have created a net new pipeline of high quality leads for us and aligned Marketing and Sales too, which helps close the deals. We're delighted with the LinkedIn campaign results and look forward to a long-term engagement with the agency"
The LinkedIn recognition follows Apply Financial's recent induction into this year's Fintech Power 50 list.
Summary
The finalists and their campaigns will be judged by an eclectic panel of experts, ranging from creatives and strategists to media planners and leading B2B marketers. Winners will be announced on 5th December 2018.
There is a public vote for LinkedIn Marketing Awards' People's Choice Award, which is open to all finalists. To vote for us in the People's Choice Award category, head over the LinkedIn Marketing Awards voting page.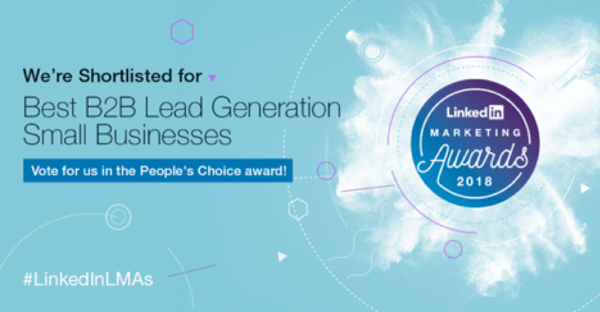 Inbound FinTech is an award-winning B2B digital growth agency, specialising in inbound marketing, PPC, paid social strategy, and account-based marketing (ABM). Based in London, in the heart of the Financial District, we help FinTech and SaaS businesses to plan customer-centric campaigns, focusing on personas challenges and pain points and business solutions. Get in touch to find out how we can help your organisation drive quality leads and opportunities.