Choosing a customer relationship management (CRM) solution for your business is no easy task. The marketplace is packed with options (some industry-specific, some not) and each platform has a mile-high stack of features that you need to carefully evaluate before you can even think about pitching to stakeholders, migrating data and onboarding staff. We look at 9 top CRM solutions for Financial Services businesses and the key considerations around suitability.
We understand that finding the right solution can seem overwhelming. That's why, in this article, we're doing some of the heavy lifting for you. Read on to discover:
The biggest CRM challenges in the Financial Services industry
Top CRM solutions for Financial Services businesses and why they're a good fit for the sector
The key questions to ask when choosing the right Financial Services CRM solution
What are the main CRM challenges in the Financial Services industry?
Many of the same CRM challenges crop up across the Financial Services landscape with regularity. Whether you're with a traditional bank, a disruptive challenger, a huge hedge fund, or a niche broker, customers will always be the lifeblood of your industry — and if they're improperly managed, business will stop flowing.

The most common challenges often stem from a lack of internal organisation. Misaligned goals, siloed teams and disparate data can all wreak havoc when you're trying to close lengthy, complex deals.

Meanwhile, if your teams don't know which customers to talk to as a priority, which leads to nurture and which accounts are at risk of churn, you could soon find that your attempts at growth will simply grind to a halt.

By centralising (and organising) your customer data in a Financial Services CRM solution, you can overcome many of these challenges and empower your teams to strengthen new and existing customer relationships.
---
Webinar: How the Right CRM for Financial Services Can Solve Your Key Growth Challenges
Want to streamline your sales process, optimise your communications and make the most of your customer data?

In this on-demand Inbound FinTech webinar, co-hosted by HubSpot, we explain how the right CRM solution for Financial Services can help solve your business' key growth challenges.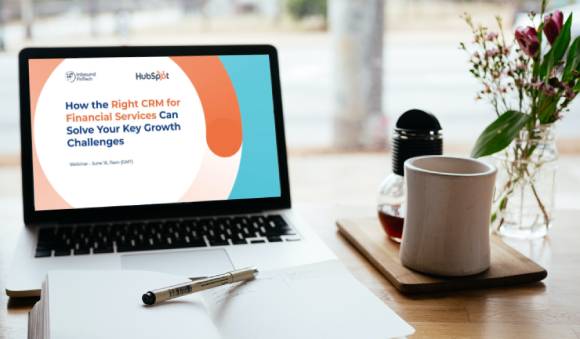 ---
9 of the top CRM solutions for Financial Services businesses
There are some excellent CRM platforms on the market right now. Some have been designed to meet the needs and challenges of companies in the Financial Services industry, while others can be customised to suit your sector's needs and demands.
At a bare minimum, a good Financial Services CRM solution should:
Streamline your organisation's flow of information, with everything in one place and readily available;
Enhance collaboration between teams and departments (insights and ideas must be quickly and easily shared);
Create personalised customer experiences across marketing, sales and support channels;
Identify areas of friction with your customer service and experience;
Maintain high levels of data security.
So, without further ado, here are 9 of the best CRM solutions for Financial Services to help you do that and more:
1. HubSpot CRM
HubSpot is one of the best CRM platforms for Financial Services, investment firms and insurance agencies.
Feature-rich and versatile, HubSpot makes financial customer data management simple and effective. It also provides a visual pipeline for sales tracking, a marketing suite for personalised email, content and lead generation campaigns, and extensive reporting capabilities to help you track business performance.
Furthermore, it's one of the most affordable options on this list. HubSpot is perfect for an FSI business with a lean Sales team that doesn't want to overspend on a CRM solution. With its basic, free version, you can test the water with the core functionality, while the paid-for versions range from the pared-back starter to the bells-and-whistles enterprise.
The bottom line? HubSpot's power, affordability and ease of use make it a clear choice for the Financial Services sector.
Key features:
Track customer conversations, outreach campaigns and support tickets in one place

Set up reminders to complete essential tasks and hit deadlines

Automate and enrich contact creation from multiple sources
---
Increase performance and grow faster with Inbound FinTech and HubSpot
HubSpot is our number one pick of CRM solutions for Financial Services - and with good reason. As an elite HubSpot solutions partner and digital growth agency dedicated to the Financial Services and FinTech space, we've helped countless businesses migrate to and integrate with the platform to increase visibility, improve internal organisation and boost sales efficiency. So, we know how effective it can be!
Learn more about our HubSpot onboarding, integration and migration services here.
---
2. Salesforce
The Salesforce platform is a powerful CRM tool used widely across Financial Services, Insurance and Banking, rivalling HubSpot in terms of name recognition, market share and functionality.
The CRM offers in-depth customer data insight, a range of data visualisation options in its dashboards and a wide array of reports.
And with almost endless customisation and integration capabilities, you can set up the platform to meet your particular needs. The flipside of this is that there can be a steeper learning curve when compared to the other CRMs on this list, and making the most of Salesforce often requires extensive training.
Read more about how HubSpot and Salesforce compare in our HubSpot CRM vs Salesforce comparison blog.
3. Microsoft Dynamics
Another all-in-one CRM platform, Microsoft Dynamics 365 offers a range of solutions for key business functions, including Marketing, Sales, and Customer Support.
If your Financial Services business already uses Microsoft 365, Dynamics will integrate with the other products in the suite, creating a seamless, single-platform solution. From there, you can generate multichannel marketing campaigns, nurture sales-ready leads, and coordinate your Sales and Marketing teams with planning and tracking tools.
And if your business has additional security needs (preventing you from storing data in the cloud), the MS Dynamics CRM can be installed on-premises. However, to make the most of the platform's functionality in this setting, you'll need specially-trained IT administrators.
Comparing CRM solutions for Financial Services side-by-side can be extremely valuable. Read our comparison blog: Microsoft Dynamics CRM vs HubSpot.
4. Affinity CRM
Used by over 2000 organisations, Affinity CRM powers sales pipelines by enabling Sales teams to make and close deals. Deep, enriched data and relationship and pipeline analytics help teams firm-wide to understand target founders, buyers and sellers, create opportunities for introductions and drive deal-making improvements.

By automating the entire contact creation and management process, Affinity claims to save teams up to 180 hours. The solution also supports effective collaboration through engagement history tracking, centralised pipeline activity, and automatic data updating and enrichment, all through an easy-to-follow CRM platform interface.
5. Zoho CRM
Zoho's CRM has a reputation for improving customer experience. Part of the wider Zoho ecosystem, it provides powerful contact management, workflow automation, lead capturing and scoring, and personalisation tools to enhance customer engagement and improve your sales and marketing output.
And with Zia, Zoho's in-built intelligent assistant, you can ask for predictions and suggestions to streamline the way you work. Zia can provide you with the best actions to improve financial analysis, grab charts and stats from thin air and suggest the optimal times for client follow-ups.
6. Keap
A robust CRM solution, Keap (formerly Infusionsoft) combines customer data management, marketing automation, sales pipelines, payments, and more, into a single, integrated platform.
One of the key features of Keap is the custom triggers and automated actions, helping you stay connected with prospects and customers with minimal manual data entry. You can also connect the platform with popular business applications like QuickBooks to leverage your existing customer and financial data.
7. monday.com
Growing in popularity, monday.com is an integrated sales and CRM solution that effortlessly organises your most important business data. Store prospect and customer info in one place and collaborate with your team to drive meaningful interactions.
The clean and attractive dashboard lets you drill down to a granular level, viewing individual contacts, detailed activity timelines and actionable insights. And the familiar drag-and-drop interface allows for almost endless customisation, so you can create tailored sales pipelines, customer onboarding, task management and much more.
8. Pipedrive
Created with insurance companies in mind, Pipedrive lets you build lean, digitised workflows, provide next-level customer experiences and streamline pipeline management.
The platform's features lend themselves to smooth sales operations within the Insurance industry. Agents can manage new claims from the easy-to-use dashboard while maintaining visibility over performance and deadlines.
Pipedrive also lets you automate document sending (keeping agents in the loop) and track email activity (including opens and clicks) to see how your prospects and customers are engaging with your business.
9. Total Expert
Also built specifically for lending and financial institutions, the Total Expert CRM platform offers integrated solutions for data, marketing, CRM and compliance. Driving productivity and high-touch engagement, Total Expert has been known to increase Sales teams' productivity by 15% and has the two-fold capabilities to improve customer loyalty and retention.

Total Expert provides intelligent automation, insights into contact behaviour, transactions and motivations, tailored communication capabilities and supports regulatory compliance with workflow approvals and Pixel tracking.
How to judge the most suitable Financial Services CRM solution for your business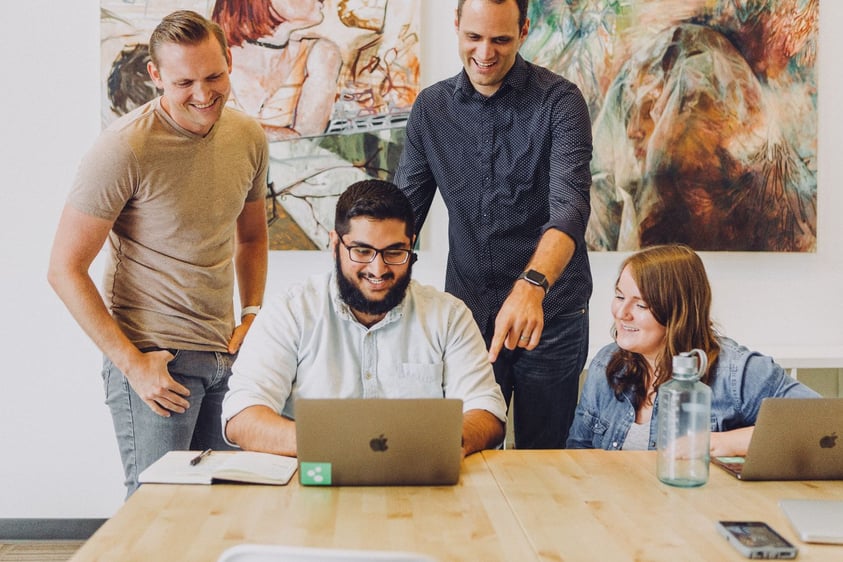 The 9 CRM solutions for Financial Services businesses we listed are the cream of the crop in our eyes. But not all of them will be the best fit for your company's specific needs. To pick the right CRM solution, you need to ask the right questions. Questions like:
Is this CRM solution affordable? Both now and in the future? Do you get everything you need for a price point that works for you, or are there additional costs to bring the platform in line with your needs?
Is this CRM secure? Customer data is sensitive, but when dealing with financial data, you need to be extra cautious. Does the CRM solution you're evaluating meet current security requirements and regulations?
Is this CRM scalable? A solution for now is good, but one that grows as your business grows is better. Will your prospective CRM solution be able to cope with your growth? Can the features easily accommodate adding significantly more customers and records?
Is this CRM customisable? Every business is different, so it's unlikely that a CRM solution will work perfectly out of the box. You need to be able to make adjustments to fit with your existing workflow.
Is this CRM user-friendly? User adoption is one of the biggest challenges when rolling out a new CRM. A steep learning curve can lead to pushback among your Sales, Marketing and Service departments, so you must ensure it's intuitive and easy to use from the get-go.


Is this CRM supported 24/7? And what if there are some user issues? You don't want to be left waiting for a resolution. Speedy support is a vital part of a CRM's offering. Waiting days on end for a fix could harm staff morale and jeopardise customer loyalty.
Summary
There's plenty to ponder when choosing from the top CRM solutions for Financial Services. You need to weigh up functionality, user-friendliness, cost, security and scalability to make the most informed decision.
From the 9 CRM platforms we've listed above, we believe HubSpot has the edge over the others when considering those factors. As an award-winning digital growth agency for the Financial Services industry and a top-tier HubSpot solutions partner, the Inbound FinTech team not only knows the transformational impact the platform can have for FSI businesses, we have the experience and deep sector knowledge to help you make the most out of its wide variety of capabilities and powerful tools.
If you're looking to enhance your CRM capabilities or migrate from your current CRM system, browse our CRM Integration & Migration Services for FSI Companies here.
---
Inbound FinTech is an award-winning digital growth agency and elite HubSpot solutions partner. Based in the UK but with a global team, our hybrid agency offers a wide range of digital services, from inbound marketing, SEO and lead generation to sales enablement, website development and integrations. We'd love to hear from you to learn about your business challenges and how we can support you.