Customer relationship management (CRM) systems are vital tools in the B2B space, as they offer great visibility over leads and prospects and enable Marketing and Sales teams to manage client relationships throughout the buyer's journey. There are various CRMs on the market, but in this comparison blog, Microsoft Dynamics CRM vs HubSpot, we focus on these two popular platforms and evaluate which is most suitable for Financial Services businesses.
Although both are considered all-in-one CRM platforms, there are key differences and various factors to consider when deciding which to implement in your own business, including ease of use, scalability, feature and functionality, and support. We compare the capabilities of each and where the platforms' strengths and weaknesses lie.
CRM challenges and benefits for Financial Services businesses
As technology evolves, businesses are embracing new solutions to better align teams and processes. When not aligned, your business will likely suffer from disparate data, siloed functions and reduced visibility - especially if certain data is stored in legacy systems.
An effective CRM allows businesses to:
Consolidate data
Cross-sell to target audiences
Personalise client interactions
Optimise internal processes and communication
Achieve visibility across core functions
Improve strategic decision-making
Better report on data and insights
While most CRM software enables businesses to more effectively manage the customer journey from the first touchpoint to long after a deal closes, you need to select a platform that best suits your unique requirements. Deciding on the right CRM for your business requires careful consideration regarding your current systems, sales process, specific needs and budget.
Comparing Microsoft Dynamics CRM vs HubSpot CRM
HubSpot's CRM offers a real-time view of a business' entire sales pipeline in a clean, easy-to-navigate visual dashboard. With solutions that help Marketing, Sales, Customer Service and Operations to all perform better, HubSpot includes extensive reporting, insights, deal tracking and full pipeline management. And because the platform has been built from scratch, it allows for a consistent user experience across functions and tools - a big advantage for new and cross-department users.
Microsoft Dynamics CRM offers products for a range of key business functions, such as Marketing, Sales, Customer Service and Field Service. If you're already a Microsoft 365 user, Dynamics integrates seamlessly into your ecosystem and creates a single platform solution in combination with other Microsoft 365 products. Additionally, MS Dynamics is one of the only CRMs with an on-premise version that can benefit businesses with security needs that prevent them from storing data in the cloud. However, to get the most out of the platform's functionality you'll need specially-trained IT administrators, which is an adoption and implementation challenge, especially for small businesses.
Advantages and disadvantages: MS Dynamics vs HubSpot
For this MS Dynamics vs HubSpot comparison, we look at the key factors Financial Services businesses should be concerned with when judging the pros and cons of these CRM platforms.


Ease of use
Ease of use is a crucial consideration when selecting a CRM, as the simpler the tool is to use, the easier it will be to implement amongst your teams. HubSpot is known for its user-friendliness, leading to a high rate of adoption amongst Sales and Marketing professionals. This rate of adoption has led to clients seeing an improvement in their data quality more quickly as a result.
While Microsoft Dynamics is a powerful CRM offering analytics and reporting capabilities that can fit just about any business need, its customisation process can be time-consuming and requires intensive training to master effectively. To combat this, hiring a dedicated admin expert to customise the tool to best align with your sales process is possible but would require more budget and lead time to implement.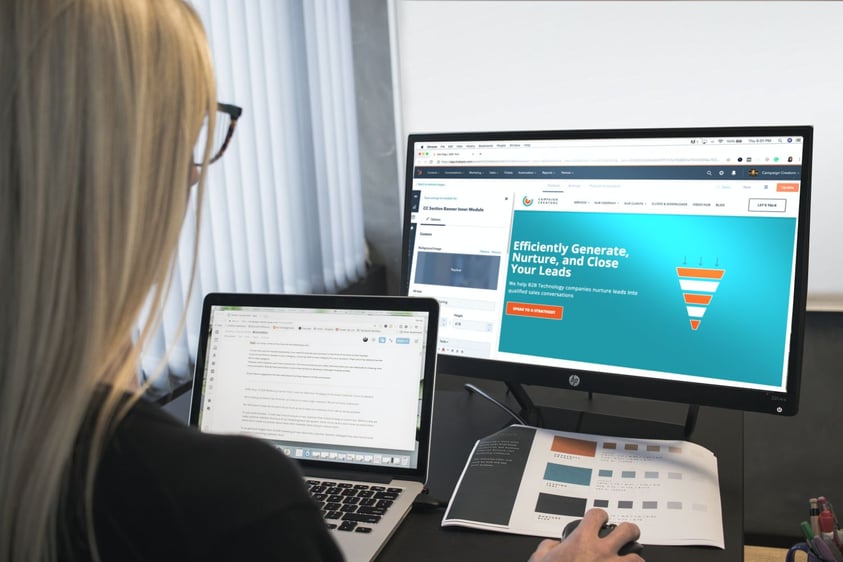 Scalability and customisation
If your future objectives include business growth that requires scalable solutions, then understanding a tool's scalability and customisation capabilities is a key consideration. HubSpot's CRM platform offers built-in flexibility, including custom objects, enabling users to add more layers of customisation as needed as their business grows. This makes the tool a good choice for companies that need to scale quickly as they acquire more customers and expand their market presence.
Microsoft Dynamics CRM offers many customisation features for large, enterprise-level organisations, including Power Apps tools that can meet complex business needs like the consolidation of production and manufacturing data. However, the basic price for Dynamics doesn't include these specialised tools. So, as your business scales, you'll need to budget separately for these.

Integrations
Integrating your tech helps to streamline processes, so ensuring your CRM can integrate easily with other tools is also an important factor. HubSpot offers Marketing, Sales, Service, CMS and Operations Hubs, as part of the same platform, which means all your customer data can be easily combined into the CRM without any silos. HubSpot's App Marketplace also includes over 500 apps and integrations that can easily be included in your set-up, and because many of these apps are native to HubSpot, they can be integrated into the CRM with ease.
The Dynamics Connectors Library also offers hundreds of apps and integrations for use with the CRM platform, and users have access to flow templates that help them to combine multiple integrations to achieve specific process goals. Again, these may need to be budgeted for separately from the CRM license itself, depending on your needs, but ultimately both HubSpot and Microsoft Dynamics offer exceptional and robust integration capabilities.

Support and training
When it comes to support and training to help ensure your teams are well-versed in a CRM's functionality and supported in their use of the platform, both HubSpot and MS Dynamics offer FAQs and forums, knowledge bases, email/help desk and phone support, and live chat support.
However, HubSpot's thriving community of users, educators and learners has led to the company offering extensive training opportunities through in-person, live online and webinar teachings, as well as documentation and videos, which are all easily available to the user base. Microsoft Dynamics CRM, while comprehensive and informative, only offers training documentation.
Additionally, HubSpot offers dedicated in-house support to customers that provides personalised service around the clock, whereas 24/7 support is only available to Dynamics users at an additional cost. HubSpot's extensive partner network also means that you have access to HubSpot experts and solutions partners, like Inbound FinTech, outside of HubSpot that can help you best manage the CRM.
Microsoft Dynamics CRM vs HubSpot - USP comparison


The verdict: HubSpot has the edge
When taking into account the key factors of this MS Dynamics vs HubSpot CRM comparison, we have HubSpot just in front.
Although Dynamics integrates perfectly with any existing Microsoft 365 environment and offers solutions for Field Service workers, its baseline cost doesn't account for any add-ons you may need as you implement it into your processes. This unpredictability around just how much budget will need to be set aside to effectively set the CRM up in your business is an issue.
Meanwhile, HubSpot offers solutions for Marketing, Sales, Customer Service and Operations within the estimated total cost, with flexibility and customisation features to meet your unique needs without needing add-ons, meaning more value for money. HubSpot CRM bends to your business, not the other way around.
Why HubSpot is the ideal CRM solution for Financial Services businesses
The general complexity of Financial Services offerings and the considerably longer sales cycle associated with the industry already make Sales, Marketing and Customer Service functions challenging. Opting for a CRM solution that's easy to implement and simple to use, and gives you more bang for your buck, can only enhance the already nuanced process of doing business in the Financial Services space.
Because its optimal usage requires integration with other Microsoft 365 products, MS Dynamics CRM can be limiting if your business doesn't already use Microsoft 365. HubSpot doesn't require any existing associated tool usage to be optimally adopted into your business, and its reputation for combining power with ease of use, its complete pipeline management capabilities, and extensive training and support offering make it an appealing solution for Financial Services businesses. So, if you're looking for a CRM that is robust, user-friendly and boasts a high adoption rate amongst salespeople, HubSpot is your go-to solution.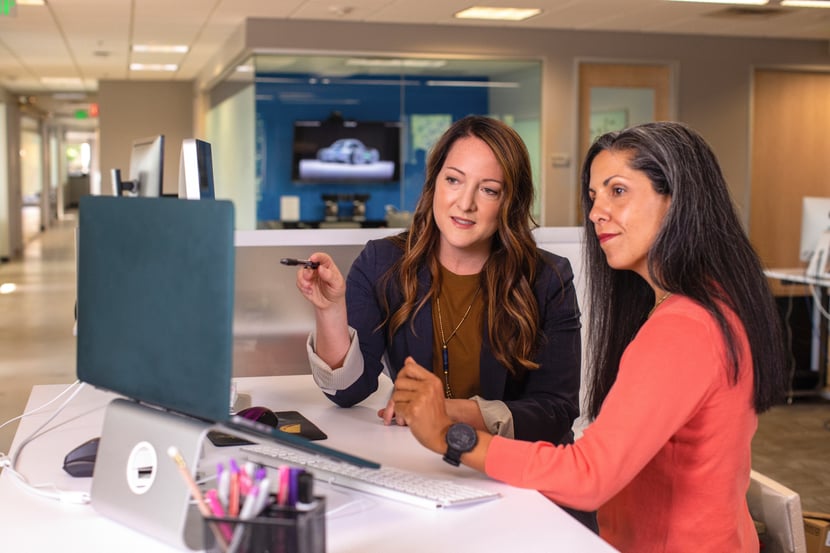 How Inbound FinTech can help with HubSpot CRM implementation and integration
When adopting and implementing the HubSpot CRM, you don't have to go at it alone. HubSpot's extensive partner network allows you to leverage existing HubSpot expertise to get your business growing faster.
As an elite HubSpot agency, the Inbound FinTech team knows the platform and its functionality inside out. This allows us to ensure our clients are set up properly in HubSpot, that their existing systems and third-party tools are integrated efficiently and that their teams are trained on how to best leverage HubSpot's range of tools.
As an experienced and award-winning HubSpot partner, we keep a close eye on new releases and updates and can offer ongoing support and strategy to ensure your business is consistently leveraging HubSpot effectively. Inbound FinTech also builds fully-fledged websites using HubSpot's feature-rich CMS.
Summary
Adopting a CRM solution is an invaluable addition to your tech stack; from offering visibility and insight into your funnel, alignment between your key teams and scalability for your business, the right CRM tool can do wonders for your business growth. When considering Microsoft Dynamics CRM vs HubSpot, HubSpot's widespread popularity amongst sales experts, all-in-one solutions offering and competitive pricing make it an excellent CRM solution for Financial Services businesses looking to grow without escalating expenses and complexity.
Integrating your business with HubSpot is so much easier with an expert HubSpot partner like Inbound FinTech. Our HubSpot onboarding, migration and integration services empower your use of the platform and enable your teams to start nurturing leads and generating new business opportunities quickly and effectively. Feel free to chat with us about your CRM strategy or HubSpot project.
---
Inbound FinTech is an Elite HubSpot Solutions Partner and digital growth agency, based in the UK's financial district but with a hybrid global team. Our HubSpot onboarding and integration capabilities help FinTech and Financial Services businesses to increase performance and grow fast. Get in touch with our team to discuss a project or find out more about our digital growth services.