HubSpot's annual Inbound conference has gone digital this year due to the coronavirus, but that hasn't stopped it being a huge event in the calendar for marketers, digital agencies, businesses owners, developers, sales professionals and customer service teams. During Inbound 2020, the CRM giants unveiled updates to HubSpot Sales Hub Enterprise and its exciting new features. We give you the lowdown and focus on the new tools and how they'll empower Sales teams. Take a look!
More power without the pain
In 2020, you shouldn't have to choose between a powerful system or an easy to use one. The most disruptive brands are those that focus on the customer experience. HubSpot is now ranked no.2 for CRM Software for Enterprise behind Salesforce, and ranked no.1 for user satisfaction.
A growing number of household-name brands are choosing Sales Hub Enterprise. Many of these are experience disruptors. And with the new updates and features launched at Inbound 2020, HubSpot's Sales Hub Enterprise could soon be the go-to choice for countless more big businesses.
One of the main things HubSpot has sought to do with the new-look Sales Hub Enterprise is create a perfect balance between ease of use and scalability. Many businesses, especially those in the Financial Services industry, suffer from legacy CRM solutions and inadequate tech stacks. And their Sales teams suffer as a consequence.
Here are just some of issues Sales reps face with legacy CRMs and problems companies have with outdated systems:
Current Sales Rep issues with legacy CRM solutions
Slow to adopt
System is not intuitive
Difficult to navigate to find the right information
Less time spent selling
Business impact with outdated or inadequate CRMs
High costs and lots of add-ons
Cobbled together tools over time
Insights and reporting time-consuming and confusing
Teams not aligned and inefficiencies with communication
Ok, so how does HubSpot Sales Enterprise help users overcome these issues?
How

the new HubSpot Sales Hub Enterprise tools will help users
There are a few areas where the HubSpot Sales Hub Enterprise can really change the game for Sales teams, such as empowering them with the right usability, visibility and flexibility.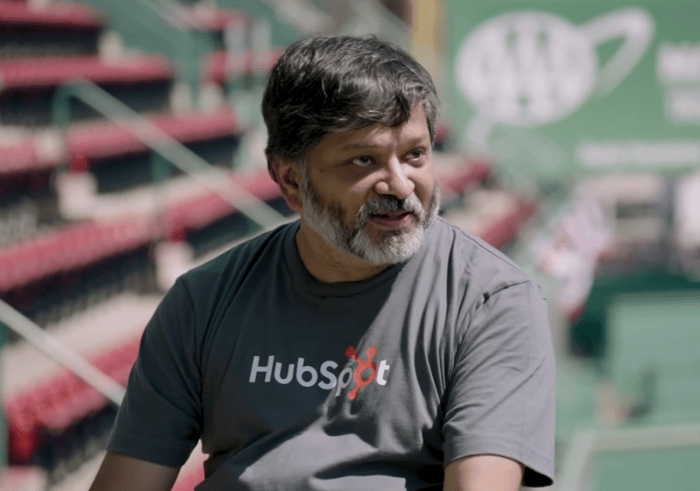 "The operative word in this new age is easy. For too long, Enterprise companies have been hiding behind this idea that things have to be complicated" - Dharmesh Shah, HubSpot co-founder (at Inbound 2020 Spotlight session - How Companies Can Thrive in the New Normal)
Here are the key things that the new Sales features and platform updates offer Enterprise businesses:
Empowering your Sales team
Modern CRMs and sales tools should empower your Sales team not overwhelm them. The ease of use, clarity and visibility of Sales Hub Enterprise empower its users, eliminates friction and enhanced CPQ tools leverage CMS and design features within the platform to create better communications and experiences within the sales cycle.
Sales tools to streamline and scale
Increase power, AI capabilities (which we will explore later) and vast automation features offer greater efficiency for Sales teams, whilst Advanced Permissions make scaling a seamless process. The platform can grow with your business.
More flexibility to iterate and adapt
More customisation and flexibility has been added to HubSpot Sales Hub Enterprise, to enable organisations to more closely match their business offering and its intricacies to the set-up in the CRM. For larger, more sophisticated companies this is crucial. And new integrations and features like Custom Objects make this possible.
An Enterprise-level CRM that's easy to adopt
One of the biggest pain points for Sales teams is the complexity of systems. Sometimes, endless customisation can be overwhelming. That's where HubSpot really makes a difference. It matches Enterprise-grade capabilities with intuitive features, configurable options when and where needed, and world-class support.
---
Earlier in the year, HubSpot made similar moves to boost the power and scalability of its Marketing Hub, again without compromising on HubSpot's world-renowned usability. Read our blog: HubSpot's New Marketing Hub Enterprise Features Combine Power with Usability.
---
HubSpot's new Sales Hub Enterprise features and updates
Let's take a look at each of the new features and the main updates to the platform.
Custom Objects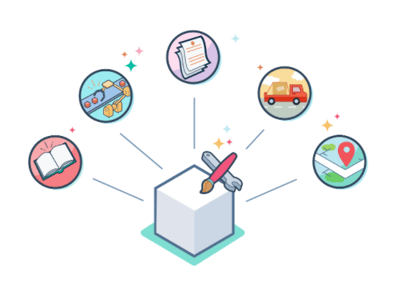 This is a game-changer and a headline update for HubSpot. Available to all Enterprise customers, Custom Objects lets you go beyond standard objects in your Sales Hub, like Company, Companies, Deals, Tickets and Products. Create and name objects for other key things you want to keep track of, like Orders, Shipments, Subscriptions, Events, Locations, etc.

This new feature gives you more flexibility to fully reflect/represent your business in HubSpot. The really exciting thing is that Custom Objects have the same functionality as standard objects, meaning you can view, edit, automate and run reports on the data. The automation capabilities for Custom Objects are virtually identical to your existing object.
This addition to Sales Hub Enterprise enables you to build HubSpot's software around your business rather than trying to fit your business to the platform.
Advanced Permissions
Changes to the Advanced Permissions capabilities include customisation, asset partitioning and field-level permissions.
Field-level permissions* let you ensure the integrity of your data with granular control over which users can view or edit which properties.

Asset partitioning enables Pro and Enterprise admins to make sure certain teams and individuals only view or edit assets that are relevant to them and their roles.

Record customisation enables you to match your records to your team's needs by creating custom layouts based on the team the user is on. These advanced permissions play a vital role in helping Sales teams to scale effectively, keep data clean and minimise distraction. They will be especially valuable to sophisticated teams, like those with multiple brands, products, or those who have recently been part of an acquisition.
Advanced Permissions provide clear separation, focus and relevance, offering more control and peace of mind to businesses.

*Field-level permissions are only available with Sales Hub Enterprise and only Enterprise users can access to hierarchical teams.
AI-Powered Sales Acceleration
Sales teams are under a lot of pressure to hit quotas. Reps need an easy way to work, to reach out to prospects and maintain confidence and control. AI-Powered Sales Acceleration helps teams streamline outreach and supercharge the sales process. HubSpot now has seamless AI capabilities across the platform, which are carefully crafted to combine power with ease of use.
Sales Hub Enterprise saves so much time behind the scenes. Sales data is automatically enriched by information from the contact's email signature, tasks are automatically created so nothing slips through the cracks, and with the ABM tools in Marketing and Sales Hubs (Pro and above), target accounts are automatically suggested based on data in your CRM.
Investment in AI is just one of the ways that HubSpot is boosting sales enablement and helping Sales reps to work faster and more efficiently. Advanced Sequences unlock new possibilities, such as:
Enrol up to 50 contacts in a sequence at once
Pause sequences based on task completion
Add manual email steps to sequences
Personalise your outreach
Add LinkedIn-related tasks to sequences

Bulk enrol contacts into a sequence
Connected CPQ tools
Earlier this year, HubSpot introduced product SKUs and custom product properties. This made it easier to tailor quotes to meet client expectations. Now in HubSpot's Sales Hub Enterprise, the platform has connected CPQ tools to transform what you can do in the later stages of the sales process. The tools includes:
Flexible Products
Custom Proposals
These CPQ tools enable Sales reps to finish their sales process in HubSpot. The enhanced Custom Proposals tool leverages HubSpot CMS and its design tools, bringing these two worlds together. HubSpot is also improving the products objects and library options, so you can better reflect what you sell in HubSpot.

Another exciting part of this update is the improved accounting bridges and integrations. The likes of QuickBooks, NetSuite and Xero can be incorporated into the accounting extension to marry data together. Enjoy new accounting integrations, create invoices, associate tax codes and use multi-currency syncing with your favourite accounting software, directly from your HubSpot deal record. Or you can use the new accounting extension to build your own custom-built solution.
What's really exciting for Sales teams is the custom designs that can be created for sales templates and the ability to customise key information like products, the deal amount, buyer information and more.
There will also become more commerce-related objects later down the line, which will support invoices, subscriptions and orders, etc.
Streamlined Sales Reporting
HubSpot has made big improvements to its reporting features, giving Sales leaders the visibility they need to run their business effectively and making conversations with upmarket prospects much easier. With Streamlined Sales Reporting, HubSpot aims to usher in a new era of modern selling. Updates include:
Sales Analytics
Forecasting tools
Sales reps spend too much trying to reconcile their data. There is often a trade-off between adoption and accuracy. The new and improved HubSpot Sales Hub Enterprise consolidates all of your data and arms Sales reps with accurate forecasting and productivity reports.
HubSpot has made improvements to Sales Analytics. You can get out-of-the-box reports to add to your dashboard, giving you rich insights into the overall health of your sales pipeline so you can better coach your team and improve its performance. Updates include:
Enjoy snapshots of pipeline data
Deal change history reports
Manual forecast reports
The new Sales Forecasting App is fully integrated into the CRM. It rolls up team performance and allows for manual adjustments to let you create dynamic sales forecasts that won't comprise accuracy for ease of use. It also includes a rep view so that managers can look at individual rep performance in coaching sessions and one-on-ones.
Native Account-Based Marketing (ABM) features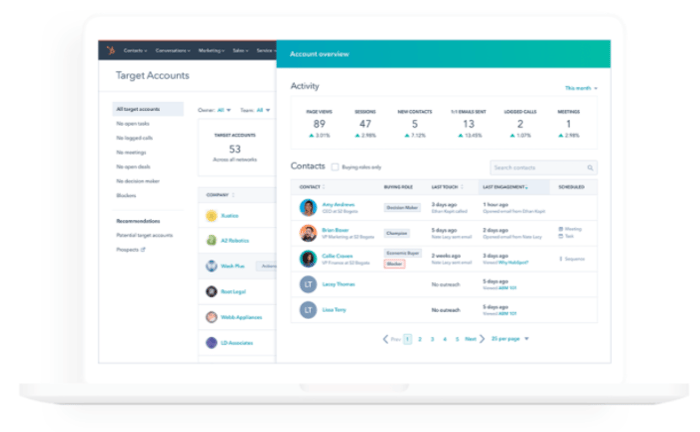 Although you've been using ABM in HubSpot before, it wasn't perhaps that ease of clear how to run effectively run ABM campaigns. HubSpot's new ABM features enable customers to deliver better buying experiences to high-value accounts and unlock new opportunities for growth. HubSpot Sales Hub Enterprise includes marketing and sales tools that help teams work together to:
Prioritise key accounts
Coordinate outreach and engagement
Easily measure performance
Learn more about ABM and how to use it effectively in HubSpot.
Other updates and improvements to HubSpot's Sales Hub Enterprise
The Product and Development teams have also been making significant updates to the HubSpot mobile app, improving usability and bringing more features into the app. And soon a new Android and iOS keyboard will bring snippets, meeting links, documents and quotes to lots of popular apps, such as WhatsApp and Slack.
The growth and vision for HubSpot Sales Hub
HubSpot's vision for its Sales Hub is to build a frictionless experience for Sales reps. This includes deeper Enterprise functionality for more sophisticated customer needs (better matching their business within HubSpot) and a streamlined sales process, strengthening the end-to-end process. The vision is to continue enabling better reporting, CPQ activity, enhanced forecasting and richer prospecting.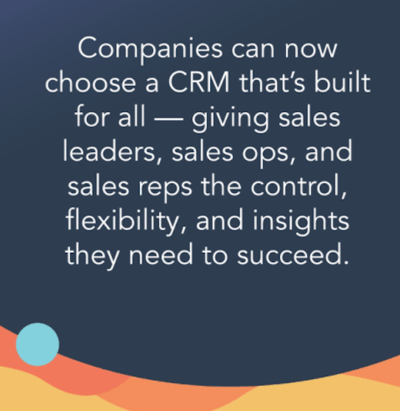 In addition to the HubSpot's new Sales Hub Enterprise tools and updates announced at Inbound 2020, there is also lots of exciting things in development for further improvements to the Sales Hub as a whole.
HubSpot aims to have a comprehensive command centre, enhanced reporting and analytics, better prospecting, pipeline management and forecasting capabilities, plus more customisation for the Sales rep workflow. It should be an exciting year ahead for HubSpot!
Summary: The new-look HubSpot Sales Hub Enterprise marries ease of use with power
HubSpot's Sales Hub Enterprise offers truly exciting capabilities. That's why so many big name brands and digital disruptors are moving over to the HubSpot Sales Hub. The new Enterprise features empower scaling, put people before process and help those who need to work anytime and anywhere.
What businesses really need from their CRM is something that's easy to adopt and maintain. Legacy CRMs have hidden costs, can take months to get up and running with and often need intensive upkeep. Plus, data is still never really centralised or easy to locate or understand.

HubSpot Sales Hub Enterprise offers:
Transparent pricing
An all-in-one solution
Ease of onboarding and adoption
Minimal maintenance
Extensive support
It's the perfect marriage between power and ease of use, where no compromise is needed. Watch this video overview of all the new products and features, across the entire HubSpot platform.
Are you an existing Sales Hub Enterprise user? If you'd like to discuss the new features in-depth, get in touch with our marketing experts or schedule a meeting today.
If you're thinking of upgrading to Enterprise, why not get a free HubSpot portal audit? Our audits evaluate your portal usage, identify where you can make improvements and establish whether a move to Sales Hub Enterprise is right for your business and its current stage of growth.
---
Inbound FinTech is an award-winning Elite HubSpot Partner Agency, with a remote team as well as a London HQ. We know HubSpot and its features inside out and our experts can help you to leverage the platform to drive quality leads and growth. We enable businesses to make most of HubSpot's tools. If you're looking to move to HubSpot Sales Hub Enterprise, we can support your migration and onboarding.