Businesses in the Finance industry are stepping up their marketing spend, and they're increasingly turning to inbound marketing to drive more leads, build relationships with prospects and nurture them down the buyer's journey.
77% of the B2B purchasers prefer to do their own research before ever speaking to a salesperson. (Source: HubSpot's State of Inbound Report)

So, it's crucial to nurture leads effectively and inbound marketing is the ideal approach for B2B financial services marketers. In this blog, we outline 7 proven inbound strategies helping financial companies to grow their businesses:
1. Create a sound blogging strategy and become a thought leader
Most financial companies are aware of how business blogs can generate more content and drive people to their websites, but the main barriers are often a lack of resources and an outdated view that the financial services sector is difficult industry in which to produce engaging content.
Trust us, there's always valuable content to be created by financial businesses. The great thing about inbound marketing is that it focuses on putting the needs of the customer at the heart of its methodology and inbound content addresses customer pain points across each stage of the buyer's journey.

Companies that blog generate 55% more website visitors, 97% more inbound links and 67% more leads than companies that don't. (Source: HubSpot Little Book of Inbound for Finance Marketers)
Here are some things to consider when planning your blogging strategy:

Blog regularly to build momentum

Create blog content focused on your personas needs and challenges

Utilise in-house knowledge to showcase your expertise

Establish yourself as an industry thought leader

Link to credible sources

Interview people in and outside your organisation and use quotes in blogs

Reach out to key figures/brands in the Financial Services industry for guest blogging opportunities
Here's a blogging tip from Goldcore's MD, Mark O'Byrne:

"Don't be afraid to be ballsy in terms of bold headlines and titles – providing they are true to the content. Sometimes I feel like a tabloid editor when searching for a good headline, but it's really important to gain that all-important reader attention."
The Goldcore blog is one of the most shared specialist finance blogs on social media. Goldcore increased lead generation per quarter by over 80% in two years! This is largely due to Goldcore establishing itself a thought leader. The blog is regularly quoted by Reuters, Bloomberg and FT.
96% of B2B buyers want content with more input from industry thought leaders. (Source: Demand Gen Report)
2. Embrace data-driven marketing to tailor content to persona needs
Data-driven marketing plays a key role in improving customer experience (CX), and this was cited as the second most exciting opportunity in the FSI sector. (Source: Digital Trends in Financial Services Report 2018).

See the graph below from the Econsultancy's report (in association with Adobe):


This second graph, from the same report shows Retail Banking as the sub-sector most interested in "data-driven marketing that focuses on the individual". Banks have had to evolve their approach and modify their services, based on modern customer needs and expectations, influenced by online and mobile banking. See chart below:
Part of being data-driven and customer-centric with inbound marketing starts with building buyer personas. Knowing who your ideal customers are and what makes them tick helps you to tailor content to their needs. This is one of the fundamental growth strategies for FinTech and Financial Services companies. Establishing personas helps businesses to better target prospects and customers, for organic content or account-based marketing (ABM) and paid social campaigns.
Leveraging platforms like HubSpot and LinkedIn, for account-based marketing, enables companies to zone in on key decision-makers at specific companies.
We help clients to achieve success with account-based marketing. Apply Financial, a UK software company offering payment processing and validation solutions to businesses, previously focused on events and traditional marketing channels to acquire new customers. Through targeted ABM campaigns on LinkedIn, enhanced by nurturing workflows on HubSpot, we created an effective pipeline of new leads, importantly quality leads. In the first month of this campaign, 65% of leads became SQLs.
3. Use lead magnets to capture leads and move them down the funnel
Lead magnets, landing pages and forms are the backbone of inbound strategies. Lead magnets attract prospects and capture their details through a value exchange. To get visitors to submit contact details and answer form field questions, you need to give them something of value in return.

The most common forms of lead magnets in the B2B world are downloadable guides, ebooks, checklists and white papers. These types of downloadable content are attractive to personas seeking comprehensive and expert guidance to help them understand more about a subject or find potential solutions to their business challenges.

Other effective lead magnets for businesses in the Financial Services industry are webinars, financial calculator tools and free product demos and trials. It's good inbound practice to create lead magnets and content for each stage of the buyer's journey.

If this sounds daunting, remember that the key is to repurpose your content and assets to enable your business to get the most out of existing and future content.

Your landing pages should outline the key benefits of the content or offering to convince prospects to submit their contact details. They should also be gated with a data capture form which demonstrates a fair value exchange, is GDPR compliant and provides details that enable you to segment, qualify and nurture leads.

You can use smart fields to swap out form fields containing information you already have about a contact who is viewing a landing page, replacing them with new fields. This is called progressive profiling and it deepens your knowledge of your leads, helping you to nurture them more effectively to further qualify them.

Lead magnets are hugely effective in FinTech for generating leads and boosting campaigns. For example, one of our clients, PORT (a personal data governance platform for businesses) drove 40 sign-ups for their GDPR webinar from inbound campaigns using optimised landing pages and forms.
4. Nurture prospects with marketing automation
Automation workflows are the key for interacting effectively with your prospects, nurturing leads down the funnel and helping marketers to be more efficient.

This chart below from the 2018 Digital Trends for Financial Services Report reveals marketing automation as the top area of digital marketing that FSI businesses are intending to increase their budget in - significantly higher than in other sectors. This is largely due to the industry's previously slow adoption of sophisticated marketing techniques, such as marketing automation and personalisation. See chart below: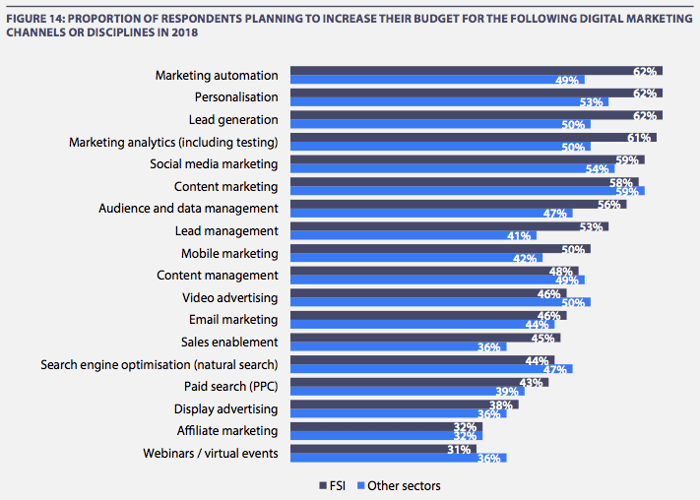 Automation and email marketing combine to make power channel for nurturing customer relationships and email remains the highest performing channel for ROI. (Source: 2018 Email Marketing Industry Census)

Here are just a few ways to use marketing automation to power your inbound strategy:
Set up email automation workflows for your lead magnet submissions
Create triggers rules to set tasks for team members when leads take certain actions
Segment your database according to behavioural triggers and other contact and company profile criteria
Test various elements of your emails, such as subject lines, images, copy length and format, to optimise campaigns
Create workflows based on your personas and for specific stages of the buyer's journey, to qualify, nurture and understand more about your leads
Use workflows to drive website traffic and steer leads towards informative content, loyalty and referral schemes or key money pages
Use personalisation, based on form fields, to further tailor emails and prompt engagement.
Marketing automation is data-driven, efficient and can help harmonise your Marketing and Sales teams and processes.
5. Create content pillars and topic clusters
Content pillars are the future of inbound SEO strategy. They attract your target audience to key subject areas, services and keywords, for which you want your website to be a hub.

Topic clusters are the sub-topics and keyword phrases related to the content pillar. The aim for marketers is to create content pillar pages, which are non-gated pages consisting of sections based on the subtopics (topic clusters), including questions and phrases on the subject that your SEO research reveals people are searching for, and linking out to blog posts and landing pages on your website related to these topic clusters.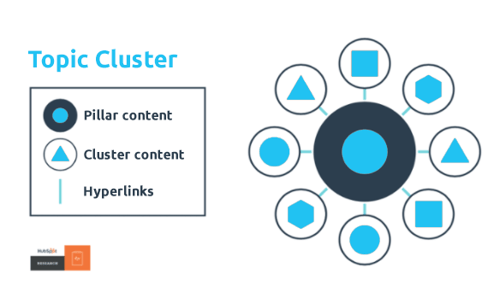 Although not gated, these pillar pages are powerful hubs for attracting leads. Lead flows (popovers) can drive visitors to lead magnets, whilst forms can be added at the bottom of your pillar page for a particular content offer.

You can also create resource-based content pillar pages, which link out to valuable external sources, which is another way to boost SEO.
6. Demystify FinTech and financial language to address buyer challenges
For industries like Finance, technical jargon can be a barrier to purchase and a problem for driving engagement. The key is to simplify the language in your content to demystify your business offering, whether it's FinTech or financial services. Making financial products and services easier to understand greatly influences buying decisions.

Zapier wrote a great blog which outlines the need for plain speaking in business copywriting. It offers lots of examples of over complicated language that could be simplified to help readers understand subjects or statements.

The mobile-only banking solution, Monzo, also published a handy blog on demystifying subjects by using plain English and using a suitable tone of voice to engage (not confuse) your audience. Take a look: Introducing the Monzo Tone of Voice.

The FCA has called out financial services companies for jargon-heavy language and stated that it "adds to consumer misunderstanding and consequently a lack of trust". Content that's written in the language your prospects are likely to use will increase the chances of them finding your website.

Demystifying FinTech through simplified language and visually-engaging forms of content, such as infographics, demos and explainer videos, can help people understand your financial products and aid their decision-making.
7. Create a balanced social media publishing structure
It's vital to promote your content via the social networks that your key personas are most active on. And it's also crucial that your business applies a balanced approach to its social media activity, making sure that your social posts are a healthy mix of your own content and content from relevant sources.
Many marketing experts propose golden rules to content promotion for social. We've outlined a few of the leading theories.

The 80/20 rule comes from "the Pareto principle", which states that roughly 80% of effects come from 20% of causes. However, the 80/20 rule has adapted to all manner of business strategies. From an inbound marketing point of view, the 80/20 rule proposes that 80 percent of content is on topics tailored to buyer personas and 20 percent is about your own business.

HubSpot suggests a 10-4-1 rule of publishing content on social media, where for every 15 social media updates, 10 share other people's content, 4 share your blogs, and 1 promotes a landing page.

The Rule of Thirds is another old theory, which has been applied to marketing. This proposes that ⅓ of your social content promotes your business and aim to convert readers/viewers, another ⅓ shares ideas/links from industry thought leaders, and the final ⅓ is based on personal interactions and building a tribe.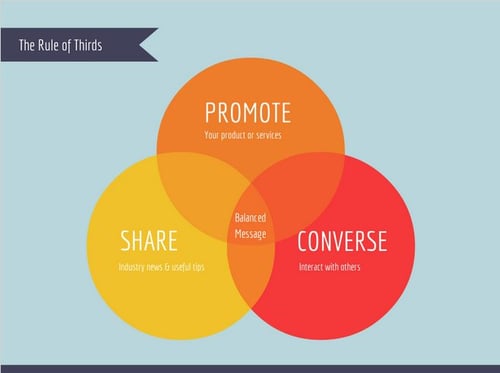 Every business is different, but your social posting should be a balanced flow of content feels relevant for your audience and helps increase reach and engagement.

Samantha Hemmingway, a Digital Marketing and Design Executive at Growthfunders, believes marketing and social posting mustn't feel too salesy:

"Never talk solely about your business or try to be salesy online; offer advice and educational content, as well as sharing and talking about other businesses and relevant articles."
Summary
At Inbound FinTech we know the importance of building strong relationships with prospects, due to the level of consideration required for financial product/services buyers. Inbound marketing is focused on organic growth, lead nurturing and customer retention. The inbound strategies outlined in this blog are effective growth strategies for FinTech brands and Financial Services companies looking for big impact with minimal cost.

If you want to learn more about how inbound marketing help you grow your FinTech business online, download our comprehensive Ultimate Guide to Inbound Marketing for FinTech Businesses.

Inbound FinTech is an award-winning digital growth agency, based in London, UK, in the heart of the Financial District. We specialise in helping Financial Services companies to drive quality leads and grow their business online through effective inbound marketing and PPC strategies. Our expert team of marketing consultants have years of experience in the Finance industry, working with businesses to attract and convert their ideal customers.