As the demand for good customer experiences throughout the buyer's journey is at an all-time high, businesses have started to realise the importance of enhancing their customer service capabilities and implementing tools to support their efforts. We look at how HubSpot has responded with its latest improvements to the Hubspot Service Hub, what's new and the benefits of its new features and updates.

Find out how the product is helping organisations to better service their customers, resolve key issues and create personalised and timely experiences.
Why has HubSpot updated its Service Hub product?
With customer expectations higher than ever, the experience of using HubSpot Service Hub needed to be adapted to empower Customer Service teams to meet and exceed these expectations. Plus, with 'customer trust at an all-time low', new improvements to the Service Hub recognised the need to prioritise delighting and nurturing relationships with existing customers.
The pioneers at HubSpot noticed a flaw with the traditional marketing 'funnel'. So much drive and acceleration were gained at the top of the funnel, but once customers were acquired, that momentum was often lost. HubSpot also noted that customers are an accelerant of business growth, which saw the move from the traditional funnel to the Flywheel.
What is the Flywheel model?
The FlyWheel is built on the principle that customers accelerate future growth, so the HubSpot Service Hub was improved to address those final stages of the customer journey, focusing on customer satisfaction and delighting them with great experiences.
The Flywheel represents longevity and continuous movement within the customer lifecycle. So HubSpot enhanced its Service Hub to address issues that were impeding continuous movement.
Resolving issues quickly, taking on board and actioning feedback, responding in real-time and empowering Customer Service teams to become expert advisors allows businesses to achieve this. With new technology and communication capabilities, users can answer questions accurately and timely, view interactions across multiple platforms and create genuine interactions. Should customers run into difficulty, HubSpot's improved Service Hub allows your teams to help solve their problems quickly and smoothly, maintaining momentum through their journey, delighting existing customers and maintaining advocacy.
HubSpot has introduced a more granular view of interactions, including integrations with Facebook messenger, chatbots and emails - continuity within communications helps to remove silos and disparate teams, processes and data. Meanwhile, Service Analytics, as well as more detailed survey capabilities, enable you to draw from real customer experiences, and evolve and improve in line with customer feedback.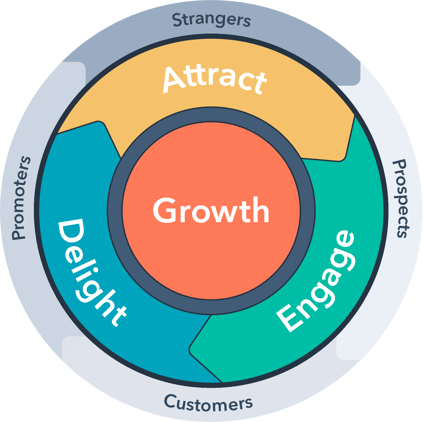 5 exciting HubSpot Service Hub updates
Let's take a closer look at the individual updates to the newly improved Hubspot Service Hub.
1. Omni-channel servicing
Omni-channel communication means you can switch communication modes simply and effectively. The dashboard collates all communications with a customer into one place, including conversations from Facebook chat, website chatbots, emails and information from tickets. So even if a customer begins a conversion in a chatbot, and then switches to email, everything is visible and granular within the dashboard
Key benefits
This removes the potential for silos within departments and teams and ensures the customer receives exceptional, authentic and genuine service. It also helps you avoid inconsistencies and repetition. If a different advisor or department needs to step in, it shouldn't cause any friction or require them to ask the customer to repeat themselves. Plus, when Sales are handed a contact, they too can view these customer insights, so they further tailor the journey. As an added benefit to your business, advisors' time is maximised, as they're able to resolve queries more quickly and efficiently, as opposed to wasting time searching for previous email threads.
2. Post-chat feedback and Service Analytics
With improved Service Analytics and the capability to build tailored surveys, you can access more accurate and personalised customer insights. Post-chat feedback also allows you to continually improve your service based on real customer experience.
Key benefits
For businesses with longer sales cycles, customer insights are vital to informing business direction and innovating the model in line with customer expectations. Service Analytics gives employees the power to take ownership of their interactions, and create their own improvement and learning plans.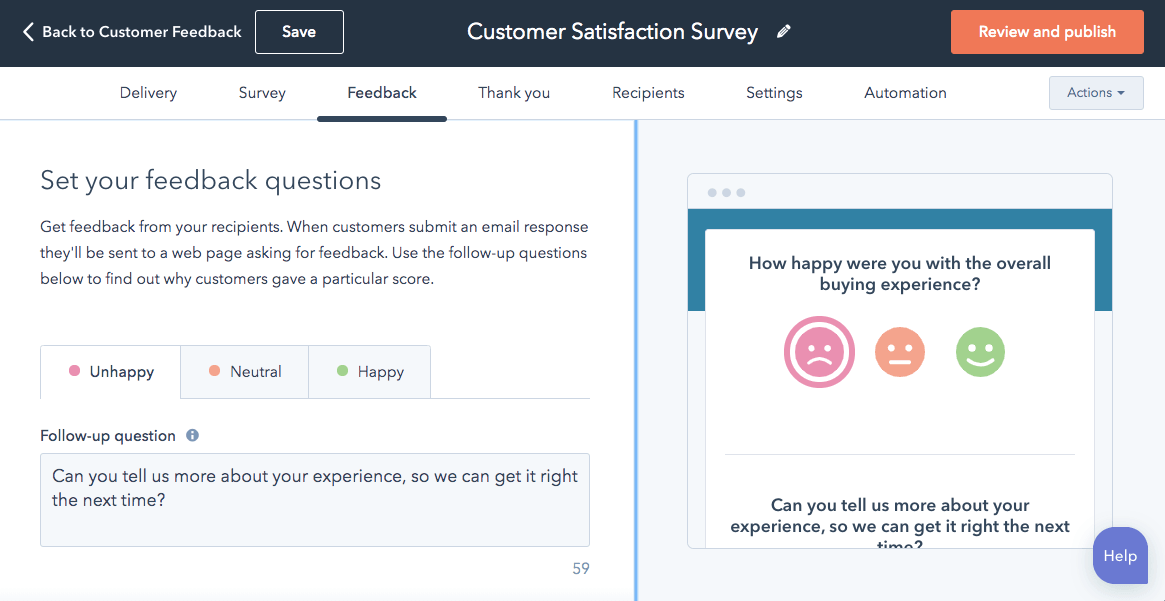 3. Cleaner data
HubSpot Service Hub will now help you stay on top of your data cleaning. With regular syncing, HubSpot will inform you when data is out of sync or outdated, prompting you to update or remove unnecessary data.
Key benefits
Data is known to cause friction in the sales process for Financial Services companies, if inaccurate. This feature can help you stay on top of things and ensure your database is accurate and reliable.
4. Inbound calling
Phone calls can now be logged within the dashboard, as an additional communication mode. This new functionality allows businesses to create a forwarding number which can be tracked within the CRM. This saves service agents from giving their direct lines to the end user, and by providing them with a forwarding number, all call data can be visible within the HubSpot timeline.
Key benefits
With conversation intelligence, the system can identify keywords and terms to help build a bigger picture of customer needs and issues. This will allow your teams to identify trends and analyse feedback more coherently.
5. Improved Service Hub knowledge base
With a wider knowledge centre and capabilities to continuously update this, customers feel they are in safe hands with HubSpot experts who are committed to learning and growing their knowledge. When customers come to service advisors with queries or questions, they can obtain more accurate information and answers more quickly than before.
Key benefits
Self-service options become easier with an improved knowledge base, which constantly evolves with customer insights. But this expansive knowledge centre is also available for your teams to develop their own knowledge and expertise.
How can Financial Services businesses best utilise HubSpot Service Hub?
The improved version of HubSpot Service Hub is enabling Financial Services businesses to empower their teams to provide authentic, personalised experiences for their customers. This is hugely beneficial for the industry. With increasing competition and adoption of tech, the customers are expecting at the very least, genuine human interaction and above average service level.
Service Hub can facilitate this. The solution removes silos with its unified communications portal, offers granular views of service analytics to identify what is working and what isn't and delights customers through faster call-back times. Advisers are empowered to continually improve the experience beyond the traditional marketing funnel.
In the Financial Services sector, it's common for silos to develop between departments causing breakdowns in communication, repetition and other impacts on the customer experience.
Here is a quick-glance benefits summary for Financial Services businesses of the newly improved HubSpot Service Hub:
Generate more authentic, qualified leads
Minimise silos between departments
Reduce downtime
Deepen customer relationships
Move toward a 'flywheel' model and delight existing customers
Empower your adviser teams
Elevate your business above your competitors
Deliver efficient, timely and exceptional service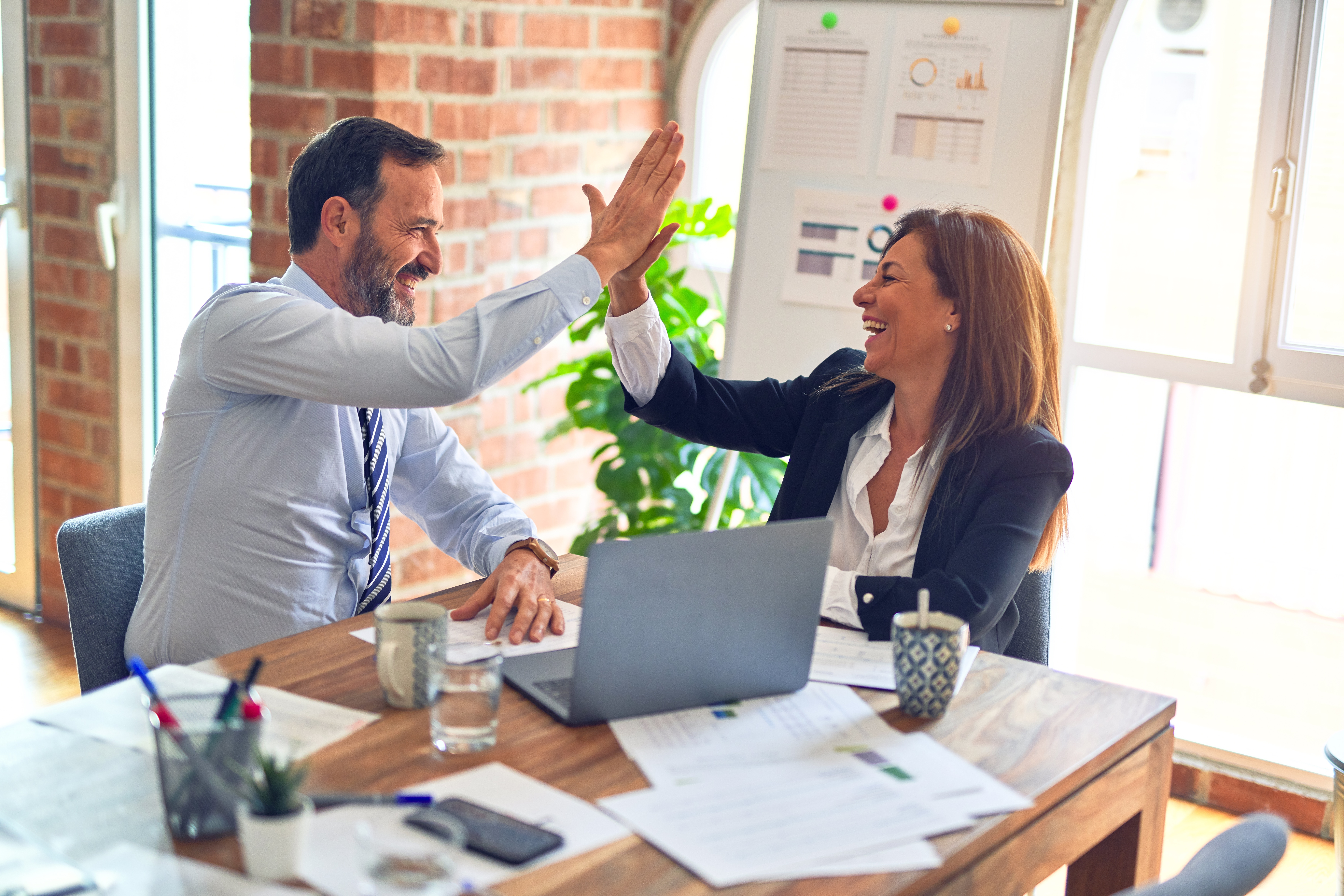 Make customer service and support a priority with HubSpot
The newly improved HubSpot Service Hub was built around the principle that customers are the accelerant of future growth. Nurturing leads and converting them into customers and turning customers into advocates of your business is self-sustaining. And maintaining an exceptional level of customer service is integral to retaining momentum (and long-term customers), and in turn, growing your business and its reputation.
As an elite HubSpot solutions partner, the Inbound FinTech team knows first-hand the impact and results that can be generated from fully utilising the HubSpot platform and all of its tools and capabilities. Backed up with a data-driven strategy and tailoring it to the needs of your customers, HubSpot Service Hub empowers your teams to be proactive, responsive and authentic in their communications. Many of the new features were designed so that both advisers and customers can find solutions and make decisions for themselves - a fundamental aspect of keeping that flywheel turning.
If you'd like to find out more about Inbound FinTech's HubSpot services or what it means to work with a digital growth agency, get in touch with IFT to find out more.
Inbound FinTech (IFT) is an award-winning digital growth agency, based in London, UK, in the heart of the Financial District. Our experienced team of marketing specialists helps FinTech and Financial Services companies to drive high-quality leads and grow their business online. IFT is a Google partner and elite HubSpot agency.