When it comes to increasing the success of your money transfer app, engagement is crucial. This is because the more that your users are engaging with your app, the more popular it is likely to become.
However, despite the importance of engagement, it can be difficult to find marketing tools and techniques that can increase app engagement in a meaningful way. HubSpot is one such tool that can actually do this.
What is HubSpot?
HubSpot is an inbound marketing software program that is offered by the Cambridge, Massachusetts-based company of the same name. HubSpot allows you to run various types of inbound campaigns and monitor performance analytics all from a single, elegant platform.
The goal of the HubSpot software is to help your business turn into a magnet for attracting leads, and to help you convert those leads to sales. Through HubSpot, you can run and manage your email, website, SEO, marketing automation, landing page, social media, and blog efforts, all while being able to easily track performance stats for all of these channels.
HubSpot is so effective that it is used by more than 15,000 companies in over 90 different countries. It is one of the go-to marketing platforms for managing inbound campaigns.
How can HubSpot increase your money transfer app engagement?
HubSpot can increase your money transfer app engagement by enabling you to leverage the power of inbound marketing in an optimized way. Through HubSpot, you can connect with your customer base across a wide variety of channels to provide them with informative and interesting content related to your app. This can not only help to educate your users on the values of your app, but it can also help to keep your app fresh in their minds.
Keeping your app on the radar of your users is very important for engagement. This is because even though the average iPhone user has 119 apps on their iPhone, they spend 70 percent of their time on just three apps. This means that to keep your users engaged, you need to fight for their attention. HubSpot is crucial for helping you succeed in the struggle to get more of your users' attention.
This is because with Hubspot, you can run many different marketing campaigns simultaneously on one platform to promote your app. You will also be able to tell which of your campaigns are working the best, and which need improvement. This can help you to optimize the success of your campaigns.
Inbound marketing campaigns can be extremely helpful for generating interest and leads, and increasing engagement. In fact, inbound marketing yields an average of 3 times as many leads per dollar compared to traditional marketing.



How do I implement Hubspot at my company?
Once you pay your first subscription fee and pay the onboarding costs, you will be able to start using the software to help increase user engagement for your money transfer app. You can use all of the following HubSpot features to connect with your Fintech audience and increase app engagement.
Website –

Having a website is crucial for building a larger web presence. The larger your web presence is, the more downloads your app will likely get, and the more your users will likely engage with your app.

Blogs

– Blogging can help your website get a

434% chance

of being ranked higher on search engines.

SEO –

Which search engine optimization, you can implement specific site design and keyword strategies to help your website move up the search engine rankings.

Marketing Automation

– Marketing automation is technology that assists with repetitive marketing tasks such as sending emails, or managing leads. Marketing automation is so useful that roughly

49 % of companies

are now using it.

Social Media –

Posting regularly to social media accounts will allow you to inform, entertain, and inspire your users and followers. Fintech giants, Lending Club and Prosper, as well as small companies Kabbage, and Ondeck, all

use social media

to fuel grow and user interest.

Email –

As much as

51 % of marketing emails

sent by banks and credit unions are opened when the recipient is using a laptop or desktop computer. This means that email can be a fantastic way for you to reach your users. You can use marketing emails to conduct promotions, to provide useful information, to inform users of any changes, etc. All of this can help keep your users interested in your app.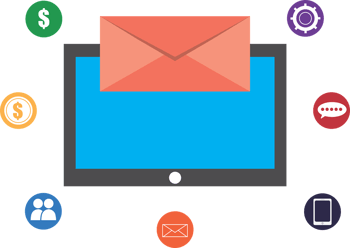 Watch our free on-demand webinar on how to drive high-quality leads by implementing the right CRM system for Financial Services, co-hosted with HubSpot.
Inbound FinTech is an award-winning digital growth agency and Elite-Tiered HubSpot Partner. We help FinTech businesses significantly improve their marketing performance.
We can transform your lead generation process, boost website traffic and help you to attract your ideal customers and generate quality leads through proven inbound marketing tactics and strategies.