In today's digital landscape, marketers have to wear multiple hats and leverage an array of channels to deliver effective digital marketing campaigns. In the B2B space, marketing campaigns can often take a while to bear fruit, especially in the Financial Services sector, due to the complex nature and value of products or services involved - meaning a lengthy sales cycle. Getting the support of a marketing agency can transform marketing strategies for Financial Services companies.
Inbound FinTech is an award-winning digital marketing agency and Diamond HubSpot Partner, which has helped numerous businesses in the FinTech and Financial Services industry to bolster their marketing activities and supercharge their sales pipeline with effective inbound marketing strategies and lead generation campaigns.
In this blog post, we look at the impact that the right approach, marketing techniques and utilisation of HubSpot's Marketing Hub can deliver for B2B companies, as we focus on the growth journey of one of our clients - an award-winning technology provider for the Financial Markets.
Marketing and lead generation challenges
Our client had been a HubSpot customer since 2015 but they were not making full use of the features, due to lack of time and a big focus on physical events. When Inbound FinTech first engaged with them, we were tasked with improving their digital marketing KPIs, complying with GDPR, generating quality leads and maximising the potential of HubSpot's platform and tools.
The main challenge that they faced was with brand awareness on specific channels and lead generation. We were also brought onboard to ensure that the brand was recognised in the marketplace. Specifically, this meant making sure that the client reached the top of page 1 in online search results for specific terms (organic and paid).
Search engine optimisation (SEO)
SEO has not previously been a focus for them, but the team recognised that optimising their website for search engines is crucial for long-term online success and to compete with more established competitors. So, we set to work on improving organic rankings to improve the visibility of their core pages and outrank competitors in the process.
B2B online lead generation
In terms of lead generation, our client's team were doing an amazing job at event marketing but their online lead generation was lacking. They were generating leads online but they were sparse and there was no dedicated plan in place for digital lead gen. The initial target was to generate 30 leads per month online from our marketing strategy and campaigns.
HubSpot optimisation
Previously, HubSpot had been mostly used to send marketing emails and for creating landing pages when needed. Our role as an experienced HubSpot agency was to review and audit their use of HubSpot's marketing and sales tools, suggesting and implementing changes to make the most of the features.
Inbound FinTech's marketing solutions
Initially, we conducted an audit into our client's online marketing channels against its business and marketing objectives, and its competitors. We established their brand positioning, the improvements required and the best approach to meet their goals.
To lay the foundations for an effective B2B marketing strategy and lead generation approach, we started defining their buyer personas.
Inbound FinTech developed three main personas:
Head of Technology Tony
Head of Execution Eric
Head of Trading Terry
The personas could be identified by their job title and the company they worked for. Therefore, it was important to record this information so we could effectively track, nurture and convert leads. It was vital for the Sales team to have as much information as possible about the contact, so they could tailor their content, campaigns and outreach for maximum success.
Persona #3, Head of Trading Terry, was agreed to be the initial target persona, representing the most valuable leads for the business and the campaigns we wanted to create, including promoting our client's cutting-edge market data solution.
When looking to HubSpot and the platform's tools and methodology for digital lead generation, we implemented inbound marketing best practices and created a campaign roadmap to deliver inbound campaigns, supported by paid activity to amplify the content and to target the persona on key channels.
Taking HubSpot's new 'flywheel' model into account, all campaigns were developed with the ideal customer in mind to create the right marketing content and messaging throughout the buyer's journey.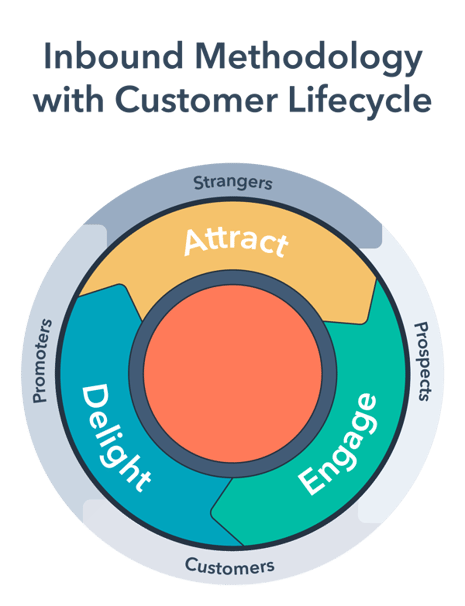 Inbound FinTech developed a multi-channel marketing campaign for the market data solution. Here are the key elements and channels used:
Inbound marketing content creation - alongside other pieces of content, we created a compelling case study as a content offer to attract the key persona.
SEO - we conducted keyword research, implemented on-page technical updates, optimised the product pages and case study page, and created a back linking plan. As part of our SEO strategy, we have also developed the first Pillar Page for the client, which was a success both in matters of ranking in SERPs, backlinks and leads generated.
Paid search - we created new ad group in the client's Google Ads account, leveraging the content that was part of the campaign.
LinkedIn Ads- we used LinkedIn ads to engage and generate hyper-targeted, high-quality leads.
Email marketing - we created multiple nurturing workflows for this campaign, which included emails to the contact, automated triggers, task generation and internal emails to the Sales teams.
All activities across different channels were tracked through HubSpot, and specific dashboards and custom reports were created to show progress, milestones and goals reached by using the Reporting Add-on.
Results of our marketing strategy, campaigns and optimisation
Let's look at the headline results of the marketing strategy implemented, including the key campaigns and optimisation work we delivered.
LinkedIn
Here's an example of one of the LinkedIn ads we created and is part of the campaign: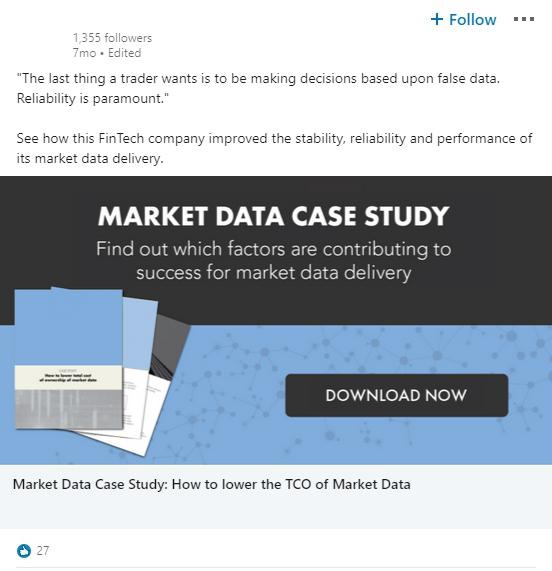 This social campaign, which was tested and optimised, generated 397 leads alone (at the time of writing), with an average cost per lead (CPL) of $26.85, which delivered 320 highly-targeted, quality MQLs for the Sales team.
The paid social campaigns all feed into HubSpot and the leads are enrolled into dedicated nurturing workflows, all within HubSpot's Marketing Hub.
Lead Nurturing
These leads are nurtured with marketing emails, containing:
Content tailored to the persona's interests, qualification criteria and buyer's journey stage, etc
Blogs, industry reports, press releases and relevant articles
Ongoing, the leads that aren't ready to move forward yet, can now be nurtured through regular marketing emails, leveraging and repurposing blog posts, articles, industry reports, press releases, and smart content on the website.
Other KPIs include email metrics for the client's nurturing workflows. The workflow emails that we created and set up for the client have delivered very strong results - see the stats below for one of the campaign workflows:

Sales Enablement
The Inbound FinTech team worked closely with the client to devise and implement an effective sales follow-up workflow process for their internal Sales team. They now have a series of automated workflows set up, which send follow-up emails, internal emails, create tasks and assign contact owners, based on specific criteria. This enables Sales to quickly work on newly-generated leads from the campaigns.
SEO
The campaign has not only seen the conversions mentioned above but influenced existing contacts in the database as well. And for the 'market data' keyword, our client is now in position 1 in organic rankings.

The graphic below shows a three-month snapshot of search position rankings and the growth we achieved for the client whilst the campaign was running:

Our SEO ranking focus for the client has been on delivering results for the following:
Market data keywords
The brand
Direct market access keywords
As you can see, the search rankings for these keywords have improved during the quarter and continue to rise, due to the optimisation done on the website, specific pages and due to the pillar page created, which is also growing over time.
Our client is also outranking its competitors on Google Ads to achieve an average position of 1.9 and over 50% of the total impressions for their target keywords on Google Ads (at time of writing).
From both organic and paid activity, using the landing page, pop-up forms and LinkedIn ads, the campaign has generated a total of 519 new contacts this year to date (up to September).
For a B2B lead campaign in a specific area of the Financial Services sector, and without a huge budget factored in to play with, these are extremely pleasing results.
Overall marketing impact created for the client
The client is very happy with its position in organic and paid search rankings. They were also delighted that the website and its target keywords continue to outrank competitors in both paid and organic search results.
The original target of 30 leads per month has been exceeded every month and we continue to deliver marketing campaign success for the client within the set budget.
The company is now making more use of HubSpot's range of features. They have moved their entire Sales team on the platform by purchasing over 20 Sales Hub Enterprise seats and they're using the reporting feature for the entire business, whilst our multi-channel marketing approach has really driven up brand awareness.
Crucially, the client is enjoying a regular flow of high-quality leads from digital marketing activities and the Sales team has a slick follow-up process in place, thanks to the automated workflows we implemented.
"The overall impact of the agency's marketing strategy and support has helped us to significantly grow and develop the brand online, whilst the content they've produced together with our teams has positioned us as a thought-leader in the industry. In addition, they have really helped us to leverage HubSpot's powerful and intuitive tools, allowing us to use the software to its full potential." - Our client's Global Head of Marketing
Summary:
Marketing strategies for Financial Services companies that deliver results
We were really pleased to create a big impact for our client with HubSpot and our targeted marketing strategies, lead generation campaigns and SEO projects. They've been delighted with the success of our relationship and we look forward help them to achieve more success and growth.
"We are extremely pleased with the campaign results that Inbound FinTech has delivered. The volume and quality of the leads generated have been impressive. The team continuously demonstrates their HubSpot knowledge and expertise, whilst their marketing approach is always data-driven and tailored to our target audience." - Global Head of Marketing

The key to success with HubSpot's marketing tools is the inbound methodology which fuels the lead generation machine. The platform gives organisations greater visibility over the entire marketing and sales process, offering endless potential to improve performance by delving into the portal's data. HubSpot's Service Hub then gives businesses the ability to delight and retain customers and turn them into brand promoters. It's a self-sustaining model.
If you'd like to learn more our approach and how we could help your business supercharge its marketing activities, get in touch with our expert team. Or to download our B2B Marketing Strategy Case Study, click on the button below.
---
Inbound FinTech is an award-winning digital growth agency and Elite HubSpot Partner Agency, based in London, in the heart of the Financial District. We have a proven track record of delivering effective marketing strategies for Financial Services companies and driving fast growth online. Want to learn more about our range of marketing services? Get in touch or arrange a free consultation with our HubSpot specialists.