It's been a great year for Inbound FinTech to date. After gaining Platinum status as a HubSpot Agency Partner, we claimed two HubSpot Impact Awards for our sales enablement work and app integrations respectively. Now, we are excited to be named Best FinTech Marketing Agency in the annual Wealth & Finance magazine FinTech Awards. Learn more about this latest award and our agency's fast growth in this blog.
Award-winning FinTech marketing agency: Success and recognition



It was great to be recognised in Wealth & Finance magazine's FinTech Awards, as the FinTech Marketing Agency of the Year, especially after our recent success in HubSpot's Impact Awards. These accolades follow on from our agency's LinkedIn awards success at the end of last year. Inbound FinTech was selected as a finalist in the 2018 LinkedIn Marketing Awards, where we were recognised by LinkedIn as a stand-out marketing agency for B2B Lead Gen.
The power of thought-leadership & industry knowledge
So what has helped us to gain the awards and recognition we've received? Well, Inbound FinTech has a deep sector knowledge of the Financial Markets, which has enhanced our reputation as content creators for Financial Services companies. Thought leadership and authoritative content is increasingly crucial for businesses the Finance Services industry, as it establishes trust amongst prospects and customers and demonstrates the impact of their products and services.
Our vast experience and network of subject matter experts allow us to arm marketing teams with compelling content to drive website performance and lead generation. Combined with this base of knowledge is our expertise in a wide range of marketing disciplines and tools that deliver effective lead gen campaigns.
Taking a holistic approach to digital marketing
Our FinTech agency has a strong team of marketing experts specialising in inbound marketing, PPC (pay-per-click), SEO, marketing automation, CRM and account-based marketing. We largely focus on B2B lead generation and lead nurturing, and these channels support our overall methodology for driving digital growth for Financial Services companies. We create and leverage relevant content, tailored to our clients' key personas (ideal customers), throughout the buyer's journey.
Our holistic marketing methodology has helped Inbound FinTech to become known as a leading FinTech marketing agency in the UK, with a proven track record for lead gen and digital growth - and a fast-growing client base!
Thoughts from Inbound FinTech agency CEO, Sheila Mitham
Our Founder & CEO, Sheila Mitham, had the following to say about the process in a recent interview with Wealth & Finance magazine about the FinTech awards and Inbound FinTech's success:
"If you want to grow the number of marketing leads you're generating for your business, you need to look beyond the traditional methods of B2B lead generation and embrace emerging digital channels, data-driven approaches and modern lead gen tactics."
Sheila explains the importance of combining marketing experience and technical expertise with industry knowledge:
"Inbound FinTech presents a truly unique offering that delivers a comprehensive range of marketing, media communications and sales enablement solutions to arm our clients with the tools to attract high-quality leads and drive business growth. We have deep sector knowledge of the industry and we know the ecosystem inside and out."
Read the full interview in Wealth & Finance magazine's digital edition. Click on the image below: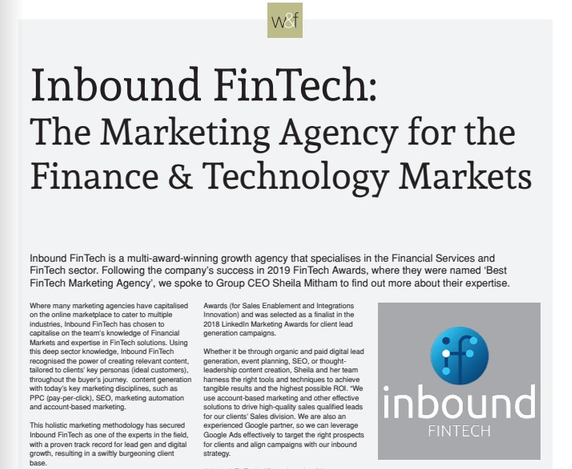 Next steps for Inbound FinTech
As a Diamond Hubspot agency, Inbound FinTech is now in the top HubSpot agencies worldwide – which is no mean feat. The agency's growth has been rapid. We put this down to living and breathing the inbound marketing methodology, and striking a great balance in our team, which consists of experienced digital marketers, subject matter experts and specialists in key marketing and sales disciplines.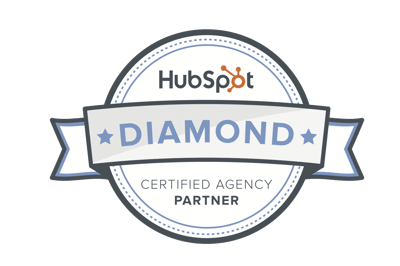 Whether it be through organic and paid digital lead generation, event planning, SEO or thought-leadership content creation, we harness the right people and the right tools and techniques to deliver the right results - and the highest possible ROI for our clients.
When looking to the future of Inbound FinTech, Sheila says, "We have scaled with pace. The majority of our clients have been on the journey with us. We have plans to become the number one Financial Services marketing agency in the UK and grow internationally."
Summary: Helping Financial Services companies to grow
Inbound FinTech works with a wide range of organisations within the Financial Services industry, from Capital Markets and InsureTech to Banking, Wealth Management and SaaS companies. Each come with their own unique challenges, needs and persona pain points. We work closely with our clients to really understand what's required to target, attract and nurture their prospects and customers and to help them become thought leaders in their specialism.
This is how we drive leads and deliver results from our marketing campaigns and digital growth strategies. With many of these companies, the sales cycle can be long, so an agile lead nurturing strategy and continual optimisation are vital for maintaining a high ROI.
Inbound FinTech is an award-winning UK digital growth agency for the Financial Services industry, based in London's financial district. If you're interested in working with a FinTech agency to support your growth journey, get in touch to see how we could help or take a look at our service packages.