Inbound marketing is a customer-centric approach to lead generation and organic growth, which has proved successful for countless businesses, across a range of industries. Putting your customers at the heart of your marketing activities helps you to reach your target audience online, which is crucial for businesses in a crowded and fast-evolving digital landscape. As the Finance world modernises, inbound marketing is now more important than ever.
In this blog, we explore the key ways that inbound marketing is different for the financial industry and how FinTech businesses can utilise inbound to drive quality leads organically.
1. The nurturing process is a longer game in the financial industry
Due to the nature of FinTech and SaaS brands, B2B buyers require a more measured approach to selecting vendors than in other industries. There are more barriers to purchase, more stakeholders involved in the decision-making process and a lot of strategic planning, risk assessment and research required.
Therefore, for marketers promoting FinTech products and modern financial services, the nurturing process is longer and involves building deeper relationships and communication with prospects, to turn leads into customers. FinTech companies and SaaS businesses need to create series of great consideration and decision-stage inbound marketing content, which outlines the key benefits, success stories and effectiveness of their products and services.

Here are some examples of consideration and decision stage content for FinTech marketers:

Case studies and testimonials – builds trust and demonstrates proven results
Product-based webinars – gives prospects information, advice and a chance to see financial solutions in action
Free trials and demos – showcases financial products and services, and allows leads to explore features and functionality for themselves
FAQs – helps to ease fears and reduce barriers to purchase
Cost and ROI calculators – handy tools to enable businesses to assess viability and cost-effectiveness
Live Q&As – gives prospective buyers access the experts and opportunities to ask the questions that help their decision-making.
2. A greater understanding of products and services is required
Modern financial services and FinTech products can be a minefield for B2B buyers when it comes to understanding the finer details of the offering, the key benefits and differentiators, and the technical spec involved. Unless your target audience has a deep knowledge or understanding of the products and services you're offering, there's a fair amount of research and comparison to be done from the prospective buyer.

Many FSI companies are burdened by legacy technology, so digital transformation and overhauling old technology and processes with modern, sophisticated FinTech solutions is a big challenge.
According to Econsultancy's 2018 Digital Trends in Financial Services Report – in partnership with Adobe – nearly half (46%) of respondents from the financial services sector say that technology is "difficult to master", compared to 37% across other sectors.
Inbound marketing campaigns, which are targeted and tailored to your key personas, can really help to address this issue, as you can create relevant content that matches the level of knowledge your personas possess and the stage at which they are within the buyer's journey.
3. More thought leadership content is needed to get your audience excited
Although some businesses might not want to admit it, the Finance industry can be viewed as a sector that's hard to get people enthused about. Marketers have a challenge to engage their target audience about their products and services, due to the so-called "boring" nature of the industry.

Financial security or cloud-based banking solutions don't resonate and excite in the same way that retail brands and B2C products do and can be regarded as necessity for businesses rather than a desire. This is why inbound marketing and content marketing are key approaches for financial services companies, as insightful thought leadership content can really help to both educate and excite your audience.

FinTech and SaaS brands can create more engagement through inbound marketing, as inbound strategies focus on attracting leads with content based on customer needs. But you should use language that's suitable and accessible for your audience, whilst utilising creative visuals, to bring technical and more hard-to-understand subjects to life.
4. It's crucial to demystify FinTech and simplify technical language
It can be the technical language in the FinTech industry that can be difficult to wade through and which can make it hard for businesses in this space to engage readers or viewers via their websites or social media accounts. Demystifying FinTech and financial themes is vital to attract businesses to your products and services and communicate your message effectively.
Video content is a key element of inbound marketing in the financial industry, as creating videos can be a great way to explain and demonstrate how your FinTech products work and how your services can benefit companies and solve their business challenges.
Not only do viewers retain the vast majority of brand messages via video content (95%), 80% of marketers say video has increased dwell time on their website. (Source: Business 2 Community)
Creating compelling video content, such as explainer videos and testimonials, can really help give your website and social media posts more impact to drive more engagement. Here are just a few of the many ways that video marketing can be used to demystify FinTech and simplify your financial service offering:
Explainer videos and product tutorials


Video testimonials and user generated content (UGC)

Vlogs and video snippets added to blogs

Live video broadcasts and Q&A sessions

Social "Stories" (such as Facebook and Instagram Stories)

Business announcements and updates
Other forms of content, such as webinars, demos and SlideShare, can really help to demystify FinTech and demonstrate the benefits of financial services and products in an easy-to-understand and visually-engaging way.
5. Align your marketing and sales teams
We've been singing the praises of inbound marketing in the financial industry in this blog, but account-based marketing is also a key approach for FinTech brands. As the financial services buyer's journey is longer than in other industries, targeting key decision-makers is a key way to convert customers. That's where account-based marketing (ABM) can really get the job done.
57% of highly-aligned companies use ABM. (Source: LinkedIn)
What is account-based marketing and how can it be used alongside inbound marketing?

Taking the key methods of inbound, such as persona building, Smarketing (Sales and Marketing alignment) and lead nurturing, account-based marketing consists of creating hyper-targeted campaigns dedicated to individual decision-makers and key stakeholders from within a particular organisation or account. This helps convince the right people, using the right content, to green-light a project and spark conversations with your Sales team to close a deal.

Account-based marketing can be achieved by using a platform like HubSpot, as the CRM enables effective inbound and ABM targeting and nurturing. LinkedIn is another channel you can use for account-based marketing, from which you can target both specific company accounts and individual decision-makers within key organisations.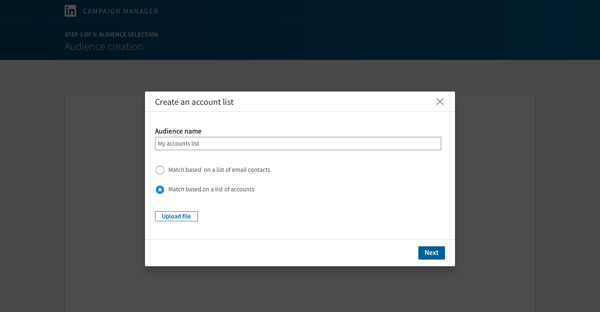 If you want to know more about account-based marketing, get in touch with our ABM specialists.
Summary
The ways that inbound marketing differs in the financial industry, outlined in this blog, should open your eyes to the impact that this customer-centric marketing approach can have on organic growth, lead generation and customer conversion.

With so much noise out there, it's crucial for your brand to stand out from the crowd and drive the right people to your website. Plus, due the nature of FinTech and high-value financial services and tech products, the nurturing process is crucial. Marketing automation workflows and ABM help to move prospects along the buyer's journey, from MQLs to SQLs, so your Sales team can convert leads into customers.

Fancy a deep-dive into the fundamentals of inbound marketing and the essential tactics for driving quality business leads for your business through inbound strategies? Download our Ultimate Guide to Inbound Marketing for FinTech? This comprehensive guide is a must-read for any FinTech companies looking to get started with inbound marketing!

Inbound FinTech is an award-winning digital growth agency, based in the heart of the Financial District, in London, UK. We specialise in planning and implementing inbound marketing strategies for FinTech businesses and SaaS companies looking to drive quality organic leads to their website. Our inbound marketing experts have years of experience in the financial services industry, helping businesses improve their online performance with effective inbound and PPC campaigns.