With the help of technology, everything is now accessible and doable. From shopping at one's own pace to socialising and even financial services are now facilitated using the power and evolution of technology. In 2015, FinTech Startups started to come to light making it easier for people to get loans, make payments and invest.
Having complete access to everything using smartphones, made the FinTech market appealing to millennials because they wanted to conduct financial transactions as easy as they process any other item using their mobile phones.
According to KPMG, one of the world's leading tax, audit and advisory service providers, an average of 66 percent increase has occurred in the financing for FinTech start-ups. Over $20 billion was recorded.
So as a CEO or Marketing Manager for a FinTech Startup, which blogs should you follow to get updated with all that's happening around you? Inbound FinTech has put together a list of the top 10 Blogs you should start following to get full insights of the emerging FinTech Era.
If you want to be a 'game-changer' and not just another FinTech company starting up, I suggest you read, follow and bookmark the following resources.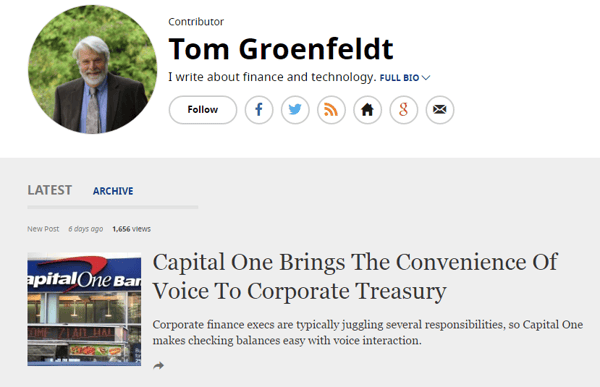 Tom Groenfeldt writes mainly in finance, technology and FinTechs. In 2015 The Financial Brand named him one of the top 25 global influencers in financial services. He now writes for Forbes, International Finance Magazine, Banking Technology and Mondo Visione.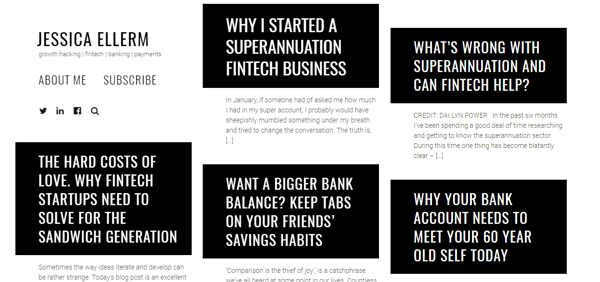 The author shares her personal thoughts on the revolution taking place in the banking and payments industry. She worked in one the most successful FinTech startup in Australia, Tyro. She writes for Brett King's Breaking Banks, Daily FinTech, and Bank NXT.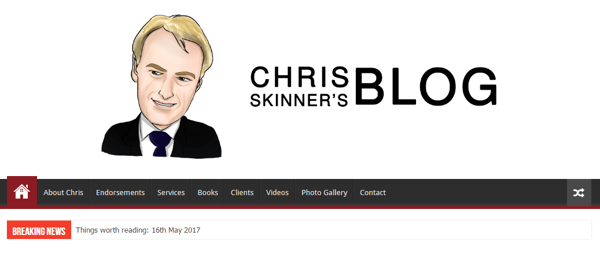 Chris Skinner is well known for his analysis on financial markets and the FinTech industry. He was one of the top 40 most influential people in financial technology by the Wall Street Journal's Financial News. He was also given the title FinTech Titan by New Bank. He is one of the FinTech leaders that you MUST follow.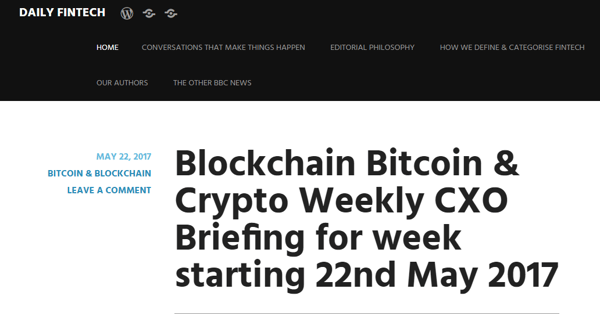 Daily insights from an experienced team of FinTech thought leaders around the world. Blogs are categorised into 5 main aspects within the week. Authors are chosen according to certain attributes including their real life work experience, how they've learned and their passion in explaining a complex topic in a simple appealing way.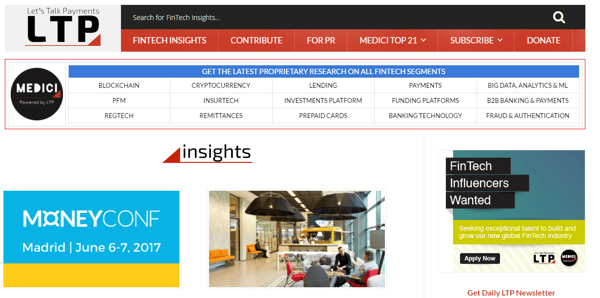 LTP is a global, fast growing payments and digital commerce news source. It is a high-quality content and research platform for the expanding FinTech industry. LTP is well known for their original and in-depth news and insights for professionals in the FinTech industry.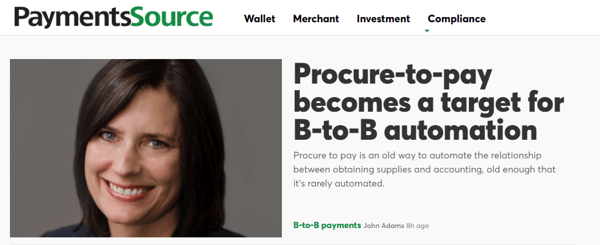 Payments Source is your destination for payments and financial services related news and information. They offer comprehensive coverage in all aspects of the payments industry. They have daily editorial features, exceptional resources for assessing the payments industry, along with reliable and accurate up-to-date news and data.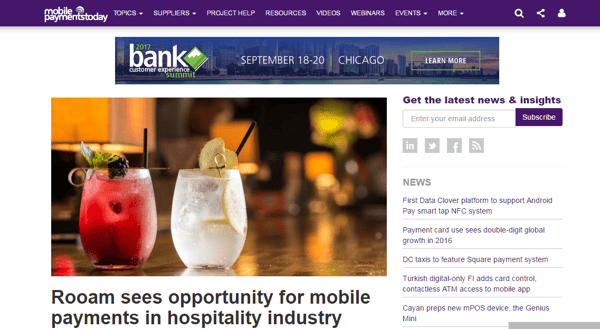 Mobile Payments Today mainly focuses on mobile payments projects and technology. Content available on the website helps professionals realise the cost savings and operational benefits promised by mobile payments. All sort of content types are available such as blogs, news, videos, white papers, webinars, supplier listings, research, product reviews, and event info.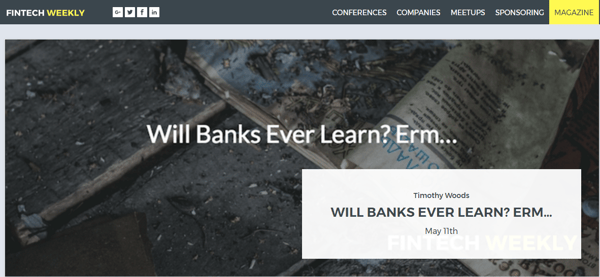 You definitely need to follow FinTech Weekly to know about any upcoming events and conferences in the FinTech Industry. That's not all, but if you need solutions for you FinTech business, you will find it there. They gather what's new, trendy and up-to-date in the business.

FinTech Finance is a platform where prominent executives in the field of FinTech share their experience and knowledge and provide reliable opinions on emerging trends within the FinTech industry. They create monthly video episodes looking at a range of topics within financial services and a constant stream of online news and online coverage of some of the most distinguished events within the sector.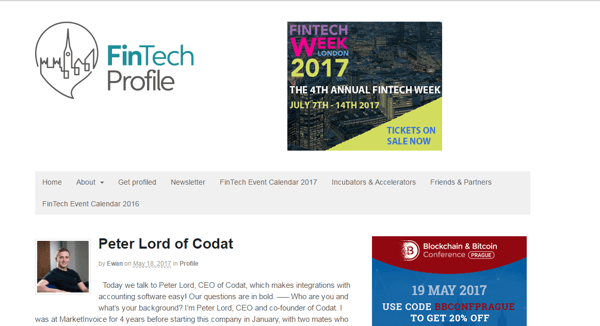 FinTech Profile acts as a directory for all FinTech Startups; they track the newly established companies that are transforming the financial services industry. They interview the new founders discussing what they are doing and what are they up to next.
These are just a list of the main FinTech blogs and websites you need to follow when getting started with your FinTech Company. As a CEO or Marketing Manager for a newly established Startup, you need to keep your eyes on what's going on around you in the FinTech market, the newest data, trends, and information. They might help you in solving the challenges you're facing at your FinTech Startup.
Inbound FinTech is an award-winning UK digital marketing agency, specialising in inbound marketing, SEO and PPC strategy. Based in the heart of the Financial District in London, our experienced team of marketing specialists help FinTech and SaaS companies in the Financial Services industry to drive quality leads and grow their business online. Get in touch with our team to discuss how we could improve your company's SEO performance.
Learn how FinTech and FSI businesses can leverage Inbound Marketing to generate high quality leads and boost their organic rankings by downloading our free Ultimate Guide to Inbound Marketing!


Inbound FinTech is an award-winning digital growth agency and Elite-Tiered HubSpot Partner. We help FinTech businesses significantly improve their marketing performance.
We can transform your lead generation process, boost website traffic and help you to attract your ideal customers and generate quality leads through proven inbound marketing tactics and strategies.