In today's digital world, data-driven decisions are essential for businesses to thrive. Google Analytics 4 (GA4) is a powerful analytics platform that offers deep insights into your online performance. We explore top GA4 features, Explorations and Insights, discussing how you can utilise them to unlock the full potential of the platform for enhancing decision-making.


A recent Forbes article reported that 87.8% of businesses reported increases in data investments during 2022, and 93.9% of organisations are planning to increase their investments in data in 2023. This demonstrates the importance of utilising powerful analytics solutions to remain competitive.
By leveraging the extensive insights available in GA4, your business can make informed, actionable decisions to improve marketing performance, user engagement and conversions.
Introducing GA4's exciting new analytics features
Google's transformative new analytics platform edition, GA4, comes with a range of powerful features to help businesses gain valuable insights into their online activity. Explorations, for instance, allow you to conduct an in-depth analysis of your user data to identify patterns and trends that may not be immediately apparent. With a flexible and visual interface, you can create custom explorations to analyse data, across multiple dimensions and metrics, and uncover valuable insights that can inform your decision-making.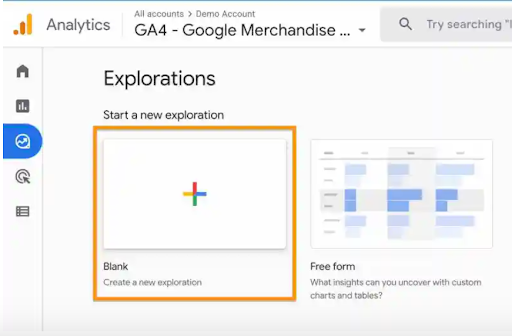 Source: https://bradgerick.com/google-analytics-4/site-search-report-ga4/

Another of the exciting new GA4 features is Insights, which uses machine learning algorithms to automatically detect significant changes in data patterns. This provides actionable recommendations, such as identifying trends, opportunities and potential issues that may require attention.
Source: https://support.google.com/analytics/answer/9443595
By leveraging these recommendations, companies can proactively address areas that need improvement and optimise their content and marketing strategies.
If you'd like to discuss the platform with an experienced digital agency and how to migrate from Universal Analytics to GA4, get in touch with IFT's team of Google Analytics experts.
How GA4 features empower businesses to make more data-driven decisions
The advanced insights provided by Google Analytics 4 can be a game-changer for enabling data-driven decisions. By utilising GA4 features like Explorations and Insights, you can gain a deeper understanding of your marketing performance, user behaviour and overall website or app engagement to drive better results.
Key areas where GA4 features provide crucial insights for your business
1. Acquisition channels
Organisations need to understand which channels are driving the most valuable traffic and conversions. GA4 features provide valuable data into user acquisition channels, enabling you to optimise your marketing budgets and efforts by allocating resources to the most effective channels. This data will also help identify underperforming channels, so you can take corrective actions to create more impact.
2. User behaviour
It's vital for businesses to gain a deep understanding of user behaviour, such as the most popular content, user engagement levels and conversion funnels. GA4 lets you gain a deep understanding of how users interact with your website or app. This helps you to optimise your content strategy, user experience and conversion paths, and improve overall performance. For instance, if GA4 reveals that users are dropping off at a particular stage in the conversion funnel, this can be investigated and adjusted to minimise drop-offs and improve conversion rates.
3. User retention
Increasing user retention and reducing churn rates is a key priority for modern businesses. Luckily, insights provided by GA4 features give you a greater understanding of the reasons behind user churn and retention rates. The platform helps you identify potential issues and take proactive measures to improve customer retention. Insights inform decision-making, so you can take appropriate action, such as offering personalised promotions, better customer support or enhanced products and services based on user feedback.
Summary
As you can see, leveraging the potential of the GA4 features mentioned will empower you to make user-centric decisions, optimise campaigns and create data-driven marketing strategies. By fully utilising features like Explorations and Insights, your business can unlock the potential of its online data to drive actionable improvements. Embracing these great features and incorporating the powerful new Google Analytics platform into your marketing analytics toolkit can help to gain a competitive advantage

If you're looking to migrate to GA4 and harness the full potential data insights, contact our experienced team at IFT.

Inbound FinTech is an award-winning digital growth agency, Google partner and elite-tiered HubSpot partner. Our experts help FinTech and Financial Services businesses significantly improve their marketing performance. We transform your lead generation process, boost website traffic and help you to attract your ideal customers through proven inbound marketing tactics and data-driven strategies.