Earlier in March, HubSpot celebrated International Women's Day in Dublin with a great event titled Empowering Equity, which brought together some of the most inspiring businesswomen to discuss themes such as diversity, inclusion and allyship in the workplace. I was really chuffed to be invited onto the 5-strong panel of speakers at the event, in HubSpot's brand spanking new offices, HubSpot House.
I've knocked up a blog to look back at what was a great couple of days, share what I learnt and to offer a little wisdom of my own. Take a look!
Changing perceptions
We're in a time of real change in 2020, and it's important to have these events to discuss these topics, to champion women leading the charge and changing perceptions in business, and learn how to keep pushing for improvement and show how we can do better.
At HubSpot's Empowering Equity event in Dublin, which tied in with International Women's Day, I was joined on the panel by Margot Slattery from Sodexo, Gillian Harford from the 30% Club and Yamini Rangan from HubSpot, plus the awesome moderator, Kathy Sheridan from the Irish Times. It was a pleasure to share the stage with these ladies and they had so many great things to say about the important topics around gender equality.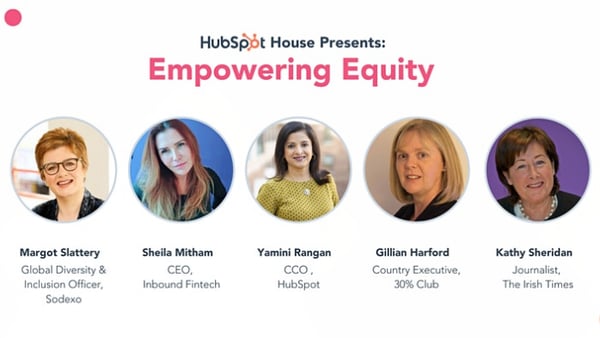 Empowering Equity
The HubSpot International Women's Day event was dubbed "Empowering Equity" and we discussed the following themes during the panel session and Q&A:
Inclusion
Equity vs equality
Allyship
Diversity
There were so many great messages, shared experiences and examples of how women have overcome hurdles to achieve success, make positive change and inspire others.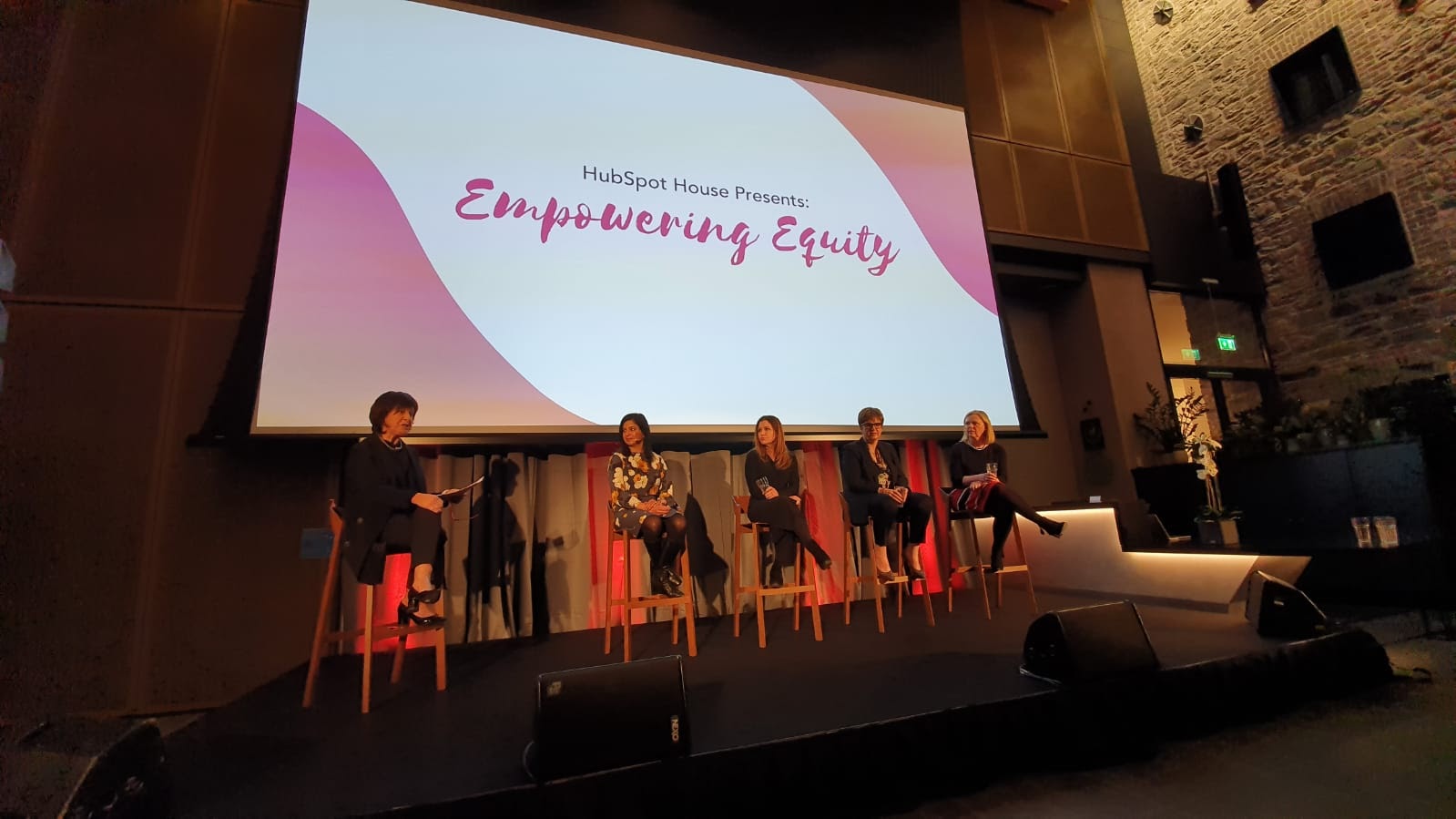 Championing other women
A great message from the discussion was around championing women in business.
"Find your champion, someone to champion you with your work, and pass it forward - someone for you to champion."
Another was on the importance of being bold, taking risks and challenging perceptions, which was a topic taken up by Margot Slattery.
One of the questions I was asked during the session was, "Have you ever felt you needed to work harder than your male counterparts to get ahead in the sector?" Impostor Syndrome takes time and experience to overcome. When you are outnumbered by your male counterparts, it can be difficult but you have to stay confident, believe in what you do, and that's where champions can help to boost your confidence and help you to inspire others.
In fact, I've had lots of great responses from people since International Women's Day event, including a message from a lady who said that my story "restored her faith in the ability to achieve success when we might have our confidence challenged." These kinds of comments really remind us that we are making a difference.
Diversity and inclusion
When it comes to diversity and inclusion, it's important to think beyond just the moral side of things and equality. One of the messages I wanted to get out there was that to get people to really embrace these concepts, it's vital to express the point that diversity spurs innovation, creativity and vibrancy.
Just 12% of C suites in Financial Services companies are female.
In Financial Services, which our clients are predominately operating in, the trend is changing but at an unacceptable pace. There needs to be executive accountability, set clear goals, a cadence of reporting on gender/racial makeup of the company. The world is not one gender, one race! There needs to be a deeper education.
The idea of "fostering inclusion" was mentioned at the International Women's Day event and building a culture that fosters this mentality. For business owners, think about intentional recruitment, re-enrolment initiatives, and have a top-down mentally when it comes to culture and mindset.
International Women's Day 2020
It's great to see so much going on and so many events being created for International Women's Day. It's really building momentum and offering an important platform to voice concerns, make a difference and champion success and positive change.
There are some really influential individuals and businesses helping to get the message out there and resonating with people. This year's theme is #EachforEqual. Individually, we can actively challenge stereotypes, fight bias, broaden perceptions, improve situations and celebrate women's achievements, to help create a gender-equal world.
It's important too that we are not just hearing female voices on the subject of women in business and the need for inclusion and gender equality. Check out this great video from HubSpot In honour of International Women's Day, with leaders across Product, Engineering and UX sharing what "Each for Equal" means to them (both women and men).
Inbound FinTech: A culture of inclusion
I hope you found this blog interesting. I'm proud of what I've achieved so far in my career and most recently with Inbound FinTech. We have established a great culture at the agency, with remote working and a multicultural and diverse team. Although our office is in London and some of the team are based in the UK, we have key team members from the likes of Romania, Spain and South Africa, and elsewhere. We do have a gender mix, but the girls do outnumber the boys!
I'm very particular about who I bring into our team but selective in a positive way, in that I always made sure those who work for Inbound FinTech have the right open, honest and inclusive attitude. We want people who are committed, flexible and welcoming, hardworking and willing to learn, and who help others and share their experiences and opinions. Building a team with the right culture, made up of individuals who think about the collective - those are the progressive characters that are helping the agency to grow!
---
Inbound FinTech is an award-winning Elite HubSpot Partner Agency, based in London serving a global client base, predominantly in the Financial Services sector. We know HubSpot inside out and can help you leverage the platform to attract and nurture quality leads and drive business growth. Get in touch with me to learn more.