If there's one industry that's been thriving despite the impact of the pandemic it's FinTech. In fact, FinTech companies have played a crucial role in helping consumers and businesses to adapt to restrictions and empowering them in this Covid-affected world. So, we're excited for this year's Fintech Week London, bringing together some of the industry's top innovators and business leaders and tackling some of the key FinTech debates, trends and topics.
Check out our FinTech Week London Preview to see what's in store!
What is Fintech Week London?
Fintech Week London runs from 12th - 16th July and this year will consist of an opening day hosted by Barclays' Rise London followed by two conference days, before a virtual day hosted by Level39 and a hybrid final day at Brella. This 5-day FinTech event will be enjoyed by attendees both in-person and digitally - a sign of the new wave of events amidst the global pandemic.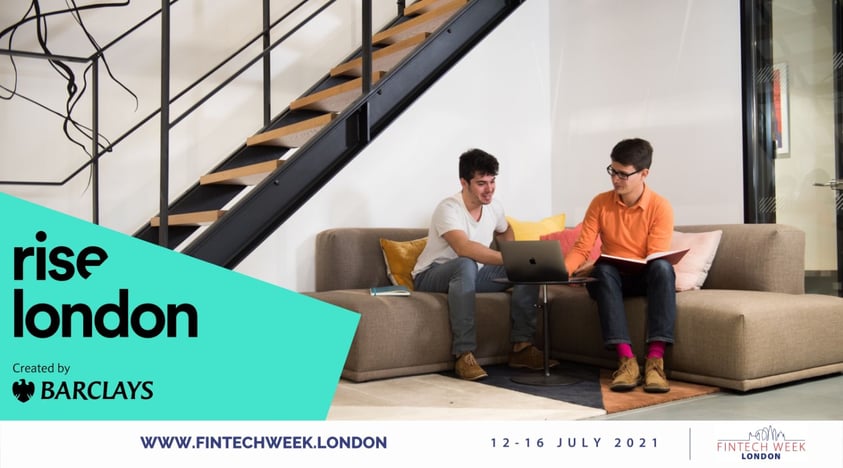 The in-person element takes place in London's financial district, assembling established financial institutions, challenger banks, tech giants and innovative FinTech brands. The event is also open to virtual ticket holders, to allow many more people and businesses to watch, learn, network and get inspired. Eight years since it launched, Fintech Week London this year, with its brand new format, could be the best event yet.
What can we expect from Fintech Week London 2021?
There's a lot to get your teeth into at this year's Fintech Week London, with a packed programme and a host of exciting speakers from across the globe. There are talks from representatives of big-name banks like Barclays and HSBC, leading challengers and FinTechs including Klarna and Starling, tech giants such as Microsoft and Huawei, and industry experts and news outlets like FinTech Finance and Reuters.
Explore the full list and details of Fintech Week London speakers here.
The event is a unique opportunity to engage with industry leaders from the capital, global FinTech innovators and key decision-makers from progressive businesses, whilst discussing the hot topics and burning issues from the FinTech space. You'll get a wealth of insights from keynote presentations, interactive panel sessions, workshops and roundtables. As ever, an event like this is a great chance for networking and collaborative conversations. Here are some of the key event numbers:
Over 2,000 delegates
Five full days of learning and networking opportunities
More than 100 experts speakers
25+ exhibitors
Check out the full FinTech Week London event programme for 2021.
Key themes in focus at Fintech Week London 2021
The organisers of this year's Fintech Week London have outlined the key themes in focus for the event, which are "Big Tech and Big Banks: Coopetition", "Open Banking/Banking as a Service", "Next Big Things in FinTech" and "Digital Identity". Here are a few more details about the key themes in focus during Fintech Week London 2021.
Big Tech and Big Banks: Coopetition
Exploring how tech giants are helping banks and financial institutions drive change with integrated financial products and looking at the rise of neobanks and new FinTech hubs.
Open Banking/Banking as a Service
Focusing on the growing influence of Open Banking and how banking as a service (BaaS) is changing the game and transforming customer relationships.
Next Big Things in FinTech
Looking at the next big things in FinTech, the growth of WealthTech, Insurtech, AI, Blockchain, Cryptocurrency, green finance and financial inclusion, and new regulatory requirements.
Digital Identity
Discussing the importance of cybersecurity and privacy in a fast-moving digital landscape and exploring the role of digital identity and biometrics in keeping customers and businesses secure.
What we're most excited about at FinTech Week London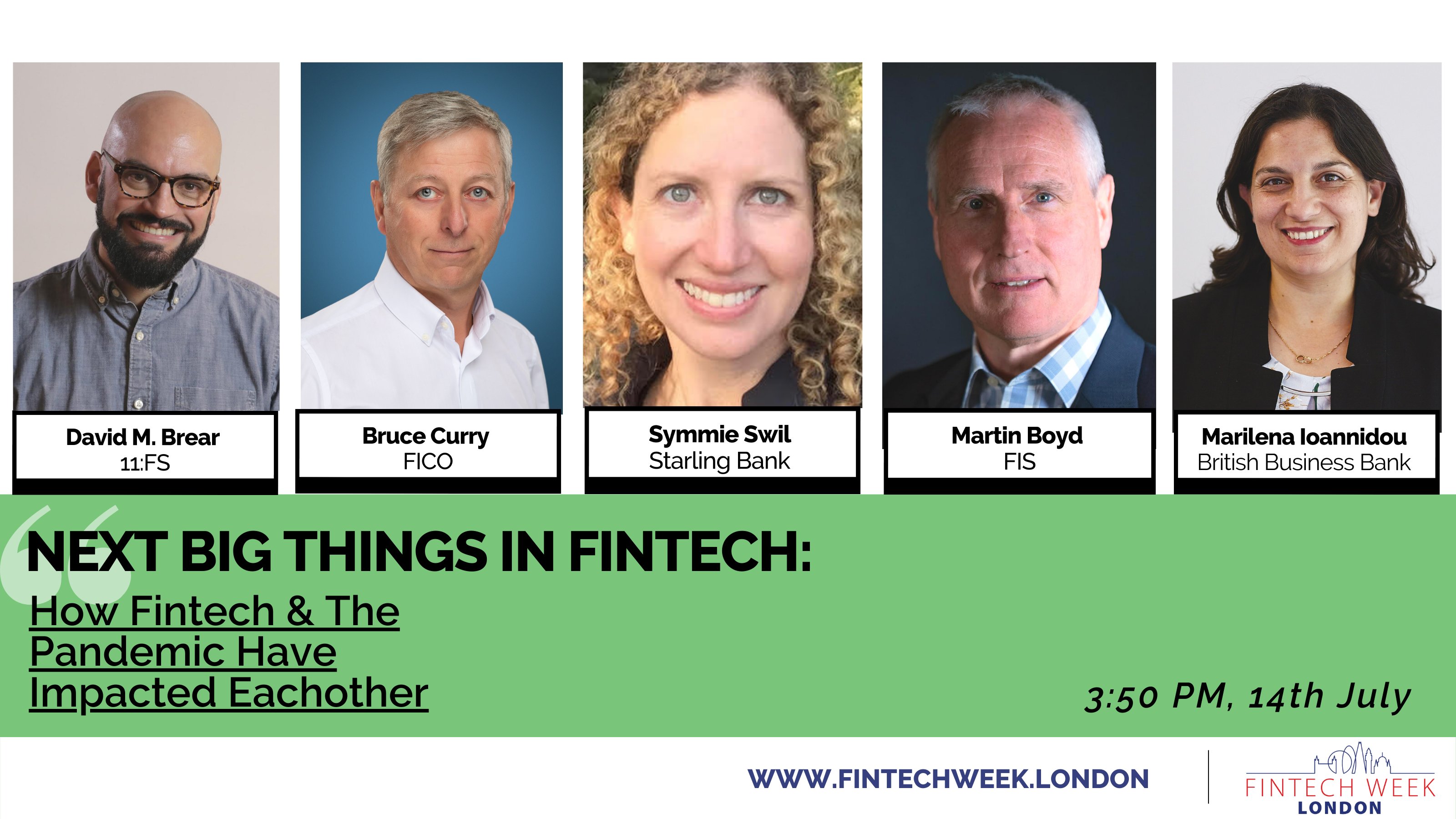 It's an exciting agenda of keynotes, panel sessions and fireside chats, exploring the subjects that matter now in the industry and trends and tech innovations that will shape the future. We've picked out some sessions the Inbound FinTech team is most looking forward to at the event:
Enabling the Future: Green Finance (Day 1) - panel session featuring Claire Whitehead of Barclays, Steve Watson from Cushon and Thanos Bismpigiannis of Plum, followed by a fireside chat with Roman Savova from pensionbee.
Identify of people (Day 2) - featuring John Abbott of Yoti and Christine Bailey of PassFort, talking about identification for business and travel and privacy challenges.
How FinTech and the pandemic have impacted each other (Day 3) - an intriguing 5-person panel session featuring David M. Brier (11:FS Group), Martin Boyd (FIS), Marilena Ioannidou (British Business Bank), Symmie Swil (Starling Bank) and Bruce Curry (FICO).
Next big things we haven't talked about (Day 3) - closing panel of thought leaders, featuring industry expert Chris Skinner, Andrew Vorster from the Banking Scene, Ghela Boskovich from FemTechGlobal and Leda Glyptis of 10x Future Technologies.
Blockchain & Crypto (Day 4) - keynote and fireside chat sessions on the evergrowing crypto scene.
On Day 5, the focus is on FinTech in different areas of the world, with region-specific "City-city" panel sessions featuring FinTech leaders in those hubs. It's an enticing programme with something for everyone and a diverse range of FinTech themes being covered.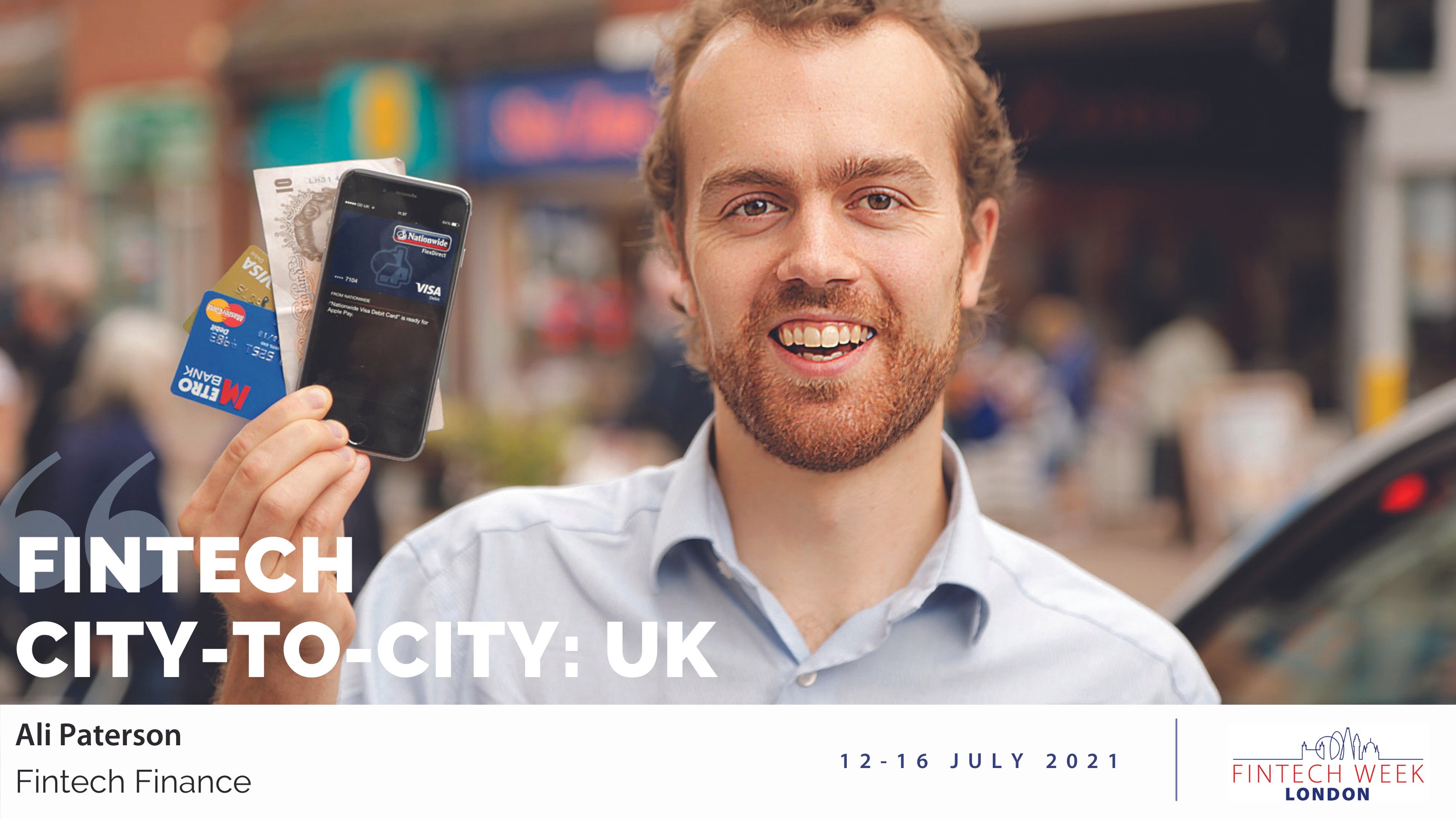 Summary
It should be a really engaging event, as attendees, speakers and sponsors come together both digitally and in venues in the heart of London's financial district. FinTech is in a really exciting time as consumers and businesses alike adapt to new tech and change the way they operate, manage their finances and deliver products and services. We hope our Fintech Week London preview has whet your appetite. For full details about the event, visit the official website: Fintech Week London.
As a digital growth agency in the FinTech and Financial Services space, we work with businesses driving real change in the sector. We showcase their expertise and the value of their financial offering, promoting the impact of FinTech innovation. We also modernise their approach to lead generation, marketing, sales and data management. If you'd like to discuss your business, challenges and growth goals, get in touch today.
---
Inbound FinTech is an award-winning digital growth agency and Elite HubSpot Solutions Partner. Based in the UK but with a global team, our hybrid agency offers a wide range of digital services, from inbound marketing, SEO and lead generation to sales enablement, website development and integrations. Contact our expert team to learn more about how we could help your business.