As a digital growth agency, we've developed numerous business websites. BSO wanted to improve user experience, better reflect its cutting-edge solutions and align with new branding. See how we leveraged design and the HubSpot CMS to deliver a flexible website that meets BSO's brand and vision.
The crux of the website redesign project
Our client, BSO, embarked on a rebranding exercise to modernise and better reflect its position in the market. The culmination of this work was a website redesign and the move to the HubSpot CMS. The structure, look and feel and user experience (UX) of the new site needed to be innovative, align with their new branding and offer flexibility.
What
d
oes BSO
d
o?
BSO is a global pioneering network infrastructure and connectivity provider, serving over 400 data-intensive businesses across a range of markets. Providing market-leading network connectivity and cloud computing solutions, BSO is renowned for its innovation and comprehensive services.
Why did BSO choose IFT to develop its new website?
BSO has been a client of Inbound FinTech (IFT) for years, and on the HubSpot platform since 2019. We provide them with Marketing and Sales strategy, supporting BSO's online growth.
BSO decided IFT was best placed to support this strategic website project, with our knowledge of their business needs and customer pain points.
---
The challenge
Having been through a recent rebranding exercise, it was the ideal time to redevelop the website and bring it in line with the new brand vision. The company's aim was to communicate the innovative nature of its products and their value to different businesses, ensuring the site was easy to navigate, whilst being technically sound and built for growth.
A key challenge was to create a dynamic, flexible website, delivered on a secure CMS that empowered BSO's Marketing and Sales teams, offering the capabilities for Marketing to easily qualify and pass qualified leads to Sales at the right time.
---
The solution: HubSpot CMS
The project began in December 2020 and the new website was rolled out at the end of May 2021.
BSO's rebranding exercise set the tone for the website design and UX, but the project was also directed by fresh SEO work and customer journey mapping, to ensure we nailed the navigational flow, sitemap structure, messaging and visuals.
Key deliverables for the redesign:
Website design

Sitemap
UI
Imagery
User journey
Website development

Fully built website
Customisable modules
Custom-developed connectivity map
Training to enable the client to edit the website as needed
Email templates
Landing pages and system page templates
Addressing the client's main goals and challenges
We applied new brand assets, messaging and vision to the website with UX and UI in mind. To showcase BSO products and services, we developed a dynamic mega-menu, making it easy for visitors and leads to find the information they're after.
To highlight BSO's extensive global network connectivity, we created a custom interactive network map, with four filters, which can be edited and updated directly from HubSpot and CTAs which link to key website pages: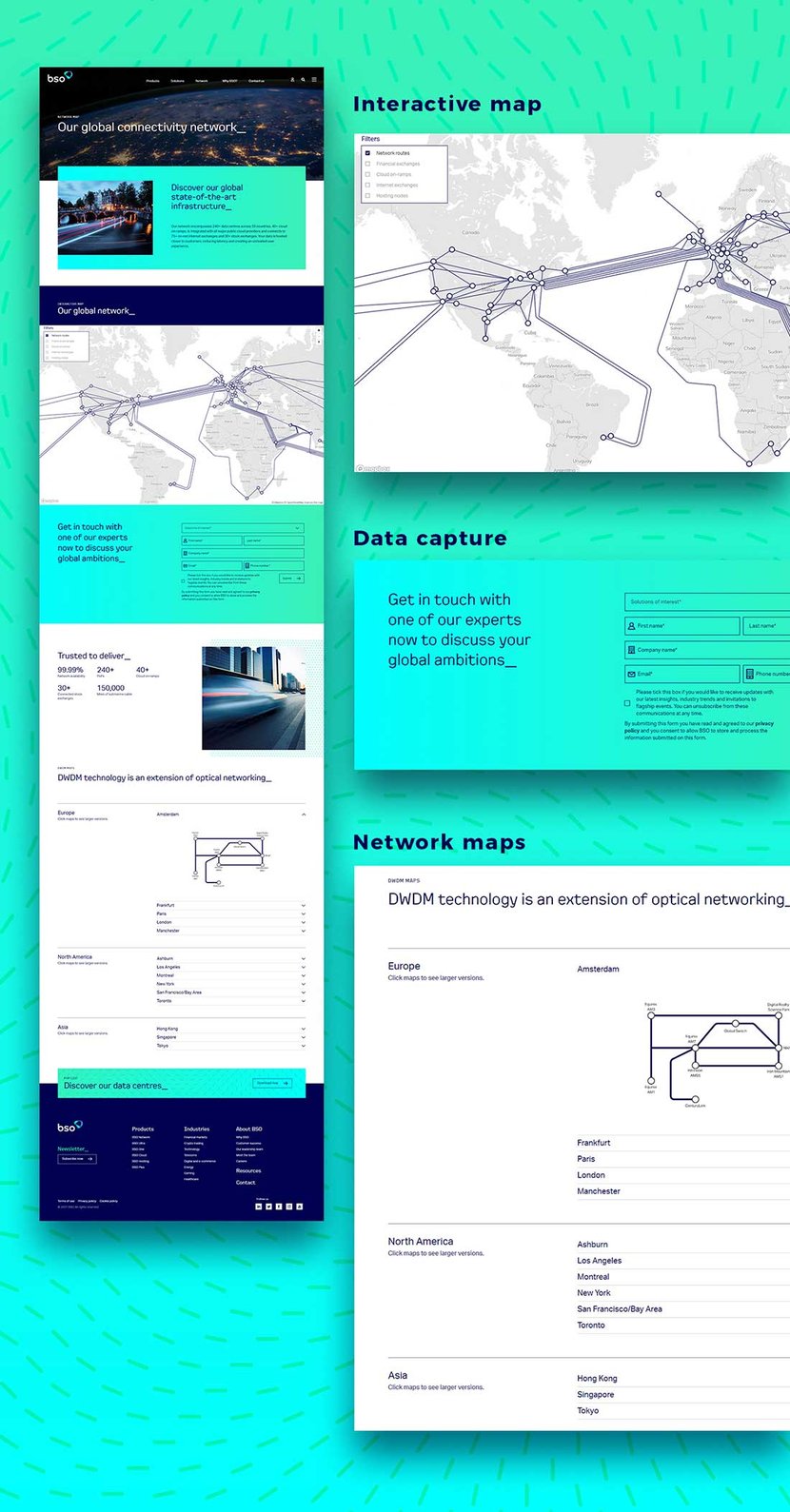 To show the range of industries they cater for, we developed a solutions selector and page with industry and goals sub-pages: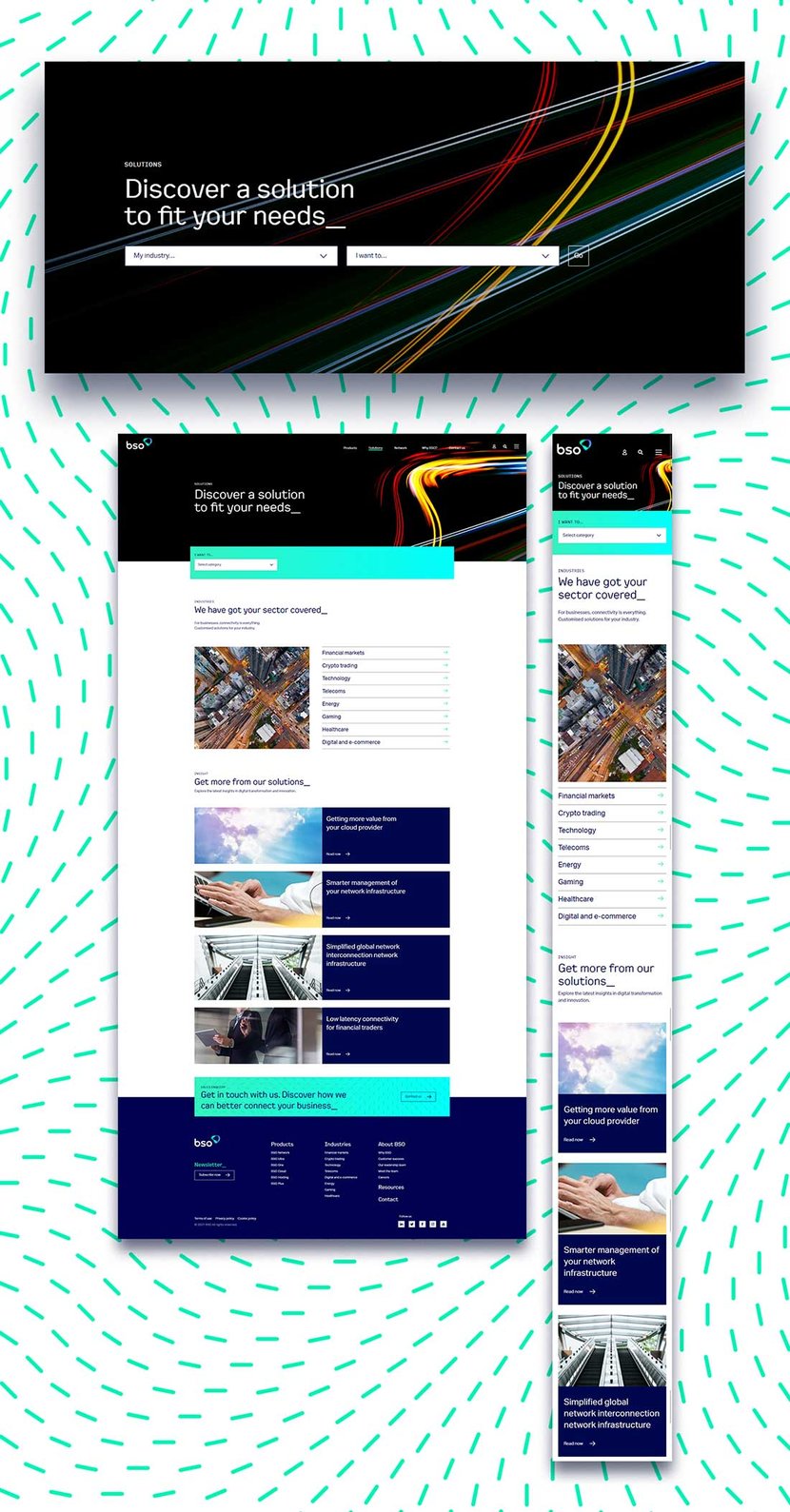 We implemented eye-catching visuals, interactivity and dynamic modules to drive UX and enable visitors to quickly understand the solutions and their benefits and find easy routes to related content:

To ensure BSO could easily manage the CMS post-launch, we delivered sales enablement workshops and HubSpot training, to align processes and empower the teams to convert, monitor, manage and nurture.
What we solved and overcame during the website build
Capturing the brand tone and vision
Although BSO's rebranding process gave us guidance on tone and structure, the guidelines were expanded during the project to fit the whole range of content now included on the website. We had to be flexible, react to new requirements and find solutions to the adapted vision. We worked closely with the client to remain faithful to the brand while moving into unexplored areas.
Conceiving and building custom modules
Our deep understanding of Hubspot CMS allowed us to find creative solutions to render the layout how the client envisioned it. The majority of the website was built with custom-designed modules to get the visual impact and UX required. We built a custom theme, rather than just using pre-built templates. Themes help build brand consistency between templates and our custom theme gives the client more flexibility to update global parameters.
To achieve the desired sleek, modern feel, we implemented micro-interactions, innovative website design features and custom modules, like the mega menu, network map and timeline map.
The mega menu was custom-built to fit the client's brand identity and showcase the full range of services in the best way from a UX, inbound and lead generation perspective.
---
The results
We met all key deliverables, successfully building custom designs and dynamic features site-wide for a smooth cross-device UX and navigational flow, with interactive and compelling content.
The new website was launched at the end of May, and (at the time of writing) we're seeing encouraging results.
The site health is strong and performing well from both a time spent on the website, SEO and conversion perspective.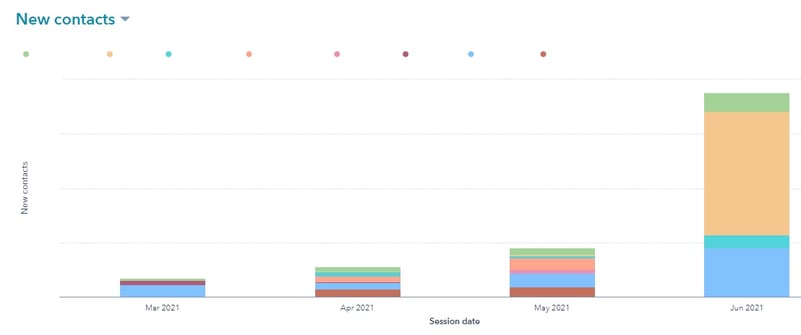 This reflects our Dev team's ability to deliver clean and well-performing code and modules and the flexibility of HubSpot CMS.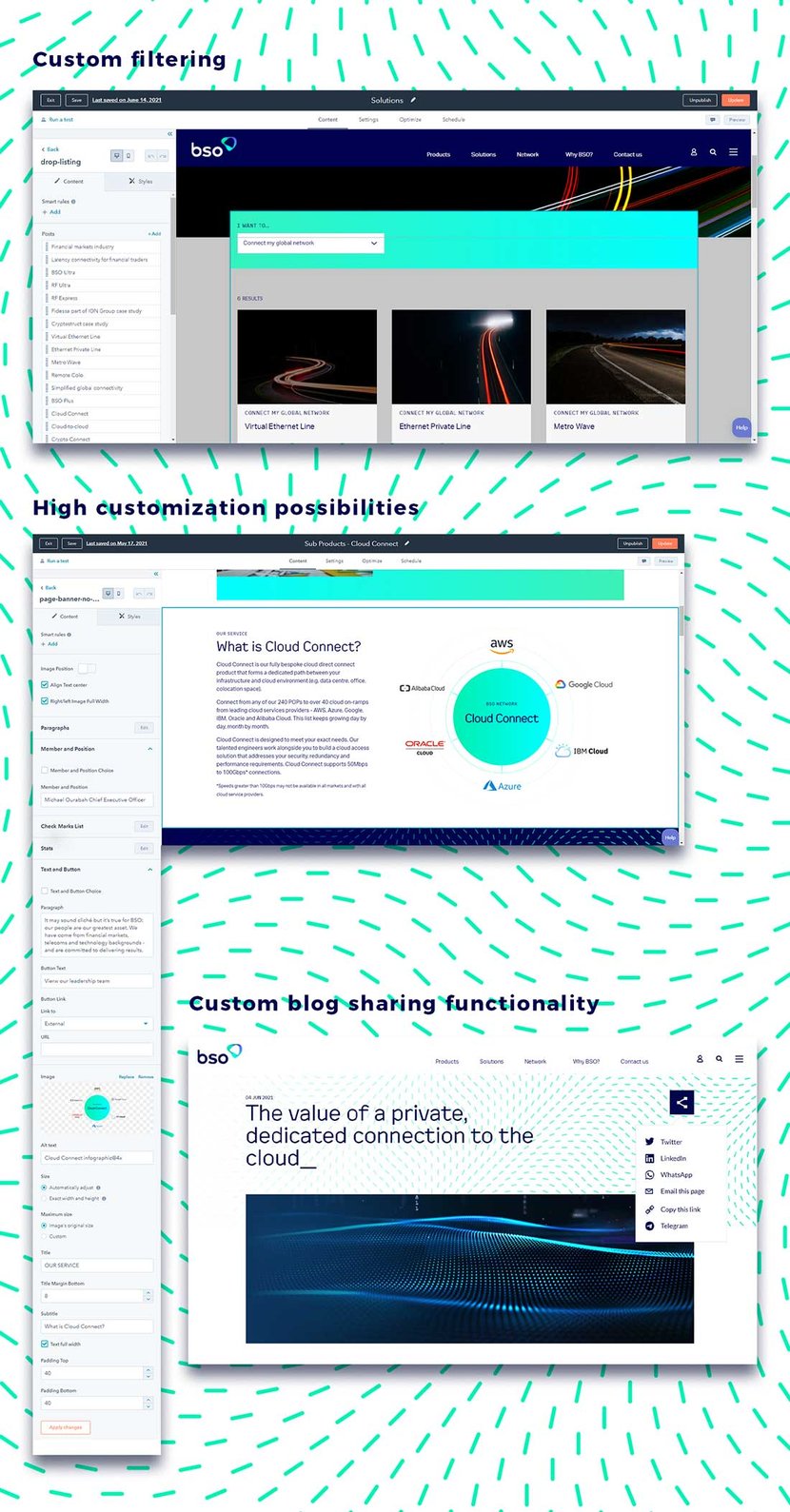 ---
The impact of our flexible website design
Thanks to the flexibility of HubSpot CMS and our growth-driven design, the website has a fluid framework to adapt, optimise and scale. The inbound methodology, sales enablement, segmentation and asset control, enables BSO to manage its data effectively, improve targeting and have more meaningful interactions with leads, prospects and customers.
What BSO said about the redesign project
Summary
We delivered on BSO's vision thanks to our collaborative approach and expertise in UX, UI, CMS Development and SEO. The growth-driven design and flexible CMS future-proofs the website framework and empower BSO's Marketing and Sales teams to have complete control over their assets and be fully aligned.
If you would like to improve your website and integrate your CMS system, talk to our experts or take a look at our HubSpot CMS design and development services page.
Inbound FinTech is a leading digital marketing agency for the Financial Services and FinTech industries. As an Elite HubSpot Partner, we help clients align their sales and marketing teams through effective CMS solutions, and encourage increased growth through optimised, user-friendly website design and development.