When I heard about INBOUND 2021 for the first time from my fellow teammates, I wasn't sure what to expect. This was my first time attending a HubSpot INBOUND event. I'd heard a lot of great things about the event and, with this one being fully digital, I was excited to see how it would all unfold. Here's a recap of my first experience of INBOUND, including what made the event such an immersive and engaging digital experience.


My first impressions of this year's HubSpot INBOUND event
There's no doubt that digital events are different from in-person ones but a digital event experience can prove to be just as valuable. For me, the success of an event hinges on two things:
The depth of the experience that the organiser delivers
The warmth of the community it cultivates
I can't think of a single event that delivered on both of these pillars with the magnitude that INBOUND 2021 did. The sense of community that it's grown – a kind of foxhole mentality that we're all in this together – was nothing short of incredible!
At INBOUND 2021, HubSpot designed the digital event portal with the attendee experience at its core. They programmed and scheduled heavily curated content from world-leading experts in a way that allowed you to build your own agenda, and have it tailor-made for you, at your convenience.
The three days of content invigorated the team's passion for business, marketing, sales, design and customer success. We were able to learn from top marketing and industry experts and make the most of the range of insights available. HubSpot really showed how a digital event should be done!
What made HubSpot's INBOUND event so impressive?
If you're a marketer or biz dev professional who's been thinking about organising a digital event, the following sections will help give you a sense of direction. I've outlined the reasons why HubSpot's INBOUND event should serve as a guide stick for how to deliver an effective online event.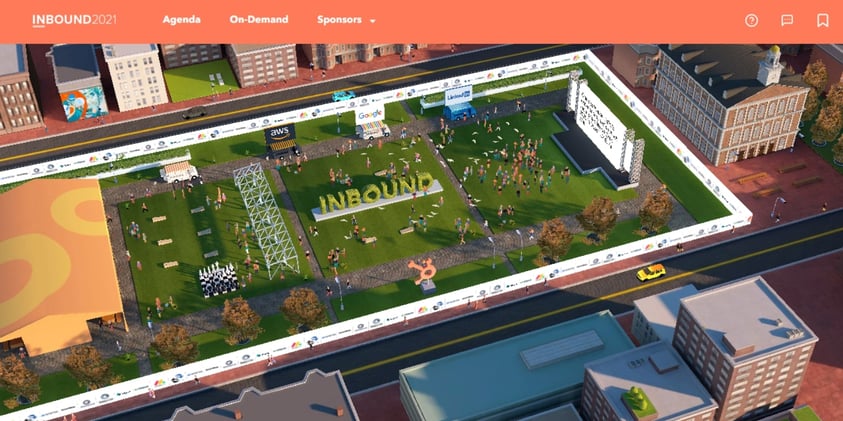 The overall immersive, digital experience
If you've attended INBOUND events in years past, you'll have witnessed how HubSpot puts so much emphasis on the customer experience. Talk about putting theory into practice. And if you're a first-timer like me, expect to be wowed by the content sessions, presentations and leisure activities provided.
HubSpot called INBOUND 2021 an immersive, digital experience. The event offered an interactive digital portal packed with a vast array of webinars, virtual networking rooms and pre-recorded on-demand videos, with live Q&As, topic chats and breakout sessions.
They've done an excellent job of innovating around what an online inclusive event means, how to connect and network, and how to share a live experience across the world. More than 40% of attendees to the latest HubSpot INBOUND event came from outside the U.S. It brought people together, no matter where they lived.
INBOUND 2021 is for (but not only restricted to) HubSpot users and its community. Nevertheless, it's for like-minded people - from business leaders or executives to someone fresh out of college trying to make their blog more successful. Whether it's strategic insights or how-to tips and inspiration, having so many different topics and types of sessions available is what differentiated this HubSpot INBOUND event from any event I've attended before.
Planning for HubSpot's INBOUND event
All you needed before HubSpot's INBOUND event was to create an avatar with your profile details, log in to the platform and enter the 3D INBOUND world. After that, you'd start building an agenda using their integrated scheduling tool, showcasing the events by category, date and time, so you could map out exactly when you wanted to tune into the conference. Then, you could explore, interact and connect with people.
To get the most value from your INBOUND event experience, it was worth planning out the schedule with your team. For example, at Inbound FinTech, we created a team session calendar to plot our agenda. And when we had a few people down to attend the same session, we shifted things to ensure our team covered a good spread of sessions and had a wider net to catch new trends, ideas and best practices. Plus, we created a note-taking document to capture key insights so the whole team could get inspiration for the sessions relevant for them, even if they couldn't attend them all. Most attended the Spotlight sessions (from Dharmesh Shah, Brian Halligan and HubSpot CEO Yamini Rangan - as they were a must!)

Check out our INBOUND 2021 highlights blog for our thoughts on the Spotlight and other key takeaways.
Profit from variety in the sessions and speakers
This brings us to the actual sessions - such variety! Part of the appeal, of course, is the calibre of speakers.
The lineup of speakers at INBOUND 2021 was impressive. Whether you're experienced in the inbound methodology or you're starting to embed it in your organisation, the sessions at this HubSpot INBOUND event all add fuel to your understanding and help to empower business growth.
The whole point of HubSpot's events is to create momentum, open doors, expand your circles, harness your passions and enable you to learn something epic from mind-blowing speakers - and that means getting marketers and business professionals of all stripes (newbies and veterans alike) excited about what they can do.
That's not all. There were also numerous events discussing themes like how to build inclusive environments, including the Black@inbound community meetup. HubSpot remains committed to inclusivity and diversity with dedicated events, inclusive spaces and diverse speakers.
You can't watch it all, and you don't have to
Access to all sessions has been made available to attendees for months after the event, with on-demand INBOUND 2021 sessions. With so much content to enjoy, this is awesome news. Especially for those, like me, who didn't manage to see as many sessions as they'd have liked. Missed something? No problem. You can just go back to it when you have the time, with your Powerhouse Pass.
What's more, selected sessions will be presented as audio-only, so you can have that much-needed break from the screen and still absorb all the valuable information. Thank you, HubSpot!
Sessions I'm still thinking about
Everyone has their favourite sessions, depending on their job role and interests. We provided a summary of some of the top sessions on our INBOUND 2021 highlights blog post, but here are a couple of my personal favourites from the latest HubSpot INBOUND event:
The Right Way to Scale - Sam Jacobs explained how the key to building a scalable business is developing a sustainable competitive advantage that will enable you to grow while remaining profitable. To do this, you should focus on innovating on three primary areas: revenue model, go-to-market strategy and your product. Finally, once all these are established, invest in Sales.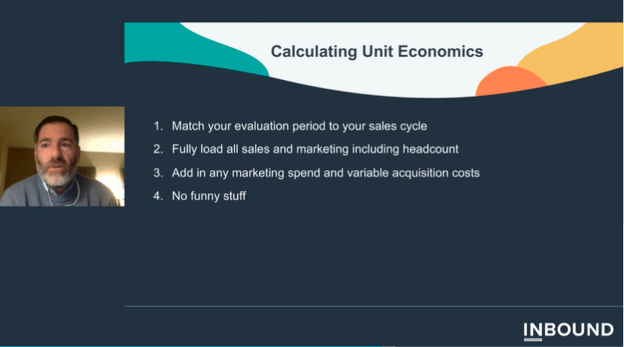 A Crash Course on RevOps - During the RevOps crash course, industry leaders Alison Elworthy of HubSpot, Maggie Butler Builder and Rosalyn Santa Elena of Neo4j walked attendees through the nuts and bolts of the alignment process, from defining the roles and responsibilities of each team member to choosing a tech stack that supports your RevOps goals. They also emphasised the importance of creating a people's strategy in your RevOps, aligning each step in your sales funnels with your customer lifecycle using a supportive tool like HubSpot CRM.
"In order to scale, you need one strong foundation consisting of a single data model, a single system, and unified people strategy." - Alison Elworthy
The latter session was one our team was looking forward to, as we're really excited about the new Operations Hub. Technology can empower your Operations team with information and reporting capabilities that alleviate pain points, increase productivity, save time and make them more effective.
Have you thought about how you can empower your Ops team with the right tech stack? If you'd like to know how our agency has been growing businesses with a RevOps mindset, get in touch with the Inbound FinTech team.
Learning new tricks and maximising HubSpot's tools
My experience of INBOUND 2021 was an overwhelmingly positive one. There were so many opportunities to learn new trends, strategies and approaches. The annual HubSpot INBOUND event also offers the clearest view of the mechanisms of the company, the community and its vision for the platform. It's inspiring to see.
Having a CRM platform that empowers businesses, aligns teams and enables a holistic view of your activities and performance across different functions is so important in today's market. The HubSpot Growth Stack has everything you need to attract leads, convert them into customers and service and delight them.
As an Elite HubSpot Agency, the innovation we continue to see from HubSpot is exciting and further enables us to deliver impact for our clients. We support businesses with a wide range of services, from HubSpot onboarding and integrations to CMS builds, marketing strategy, sales enablement, and much more.
Get in touch with IFT if you'd like to discuss a project. And, if like me, this is your first year attending INBOUND, feel free to reach out. I'm always happy to connect with fellow marketers to chat about experiences, insights and learnings!